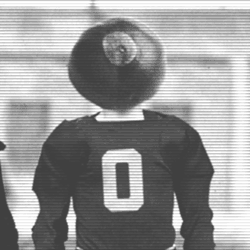 OSUEXT
---
Member since 24 November 2013 | Blog
Favorites
NFL TEAM: Cleveland Browns
NHL TEAM: Detroit Red Wings
NBA TEAM: Chicago Bulls
MLB TEAM: Cleveland Indians
SOCCER TEAM: Bradford City A.F.C.
Recent Activity
Gotta wait for that team vote to occur.
We just beat the #1 team, and all of our losses were to Top 30 teams in the last poll. We'll be ranked.
It will certainly be an adjustment to Ohio State in terms of recruiting and scheme. He's had to build defenses designed to handle the PAC 12, the short offensive possessions of the Leach Air Raid, and Wazzu's below average talent. Moving to OSU where you don't have to scrounge for talent, might create challenges for Grinch. Also I've never been sold on 3 man fronts on defense in the Big Ten. He might never be able to make a defense work in the Big Ten.
That being said, this was a bad offseason for Wazzu. Leach was rumored out the door, Falk was hurt, Top WRs were gone, and Grinch spent time in Columbus. The performance was bad, but all the evidence suggests he's one helluva secondary coach, even if you aren't sold on Grinch as DC. It's a good hire.
I've spent a fair amount of time around competitive public speaking in college. Riveting I know. However, I think that circuit has a strong analog to the question posed. Like in college football, there are many haves and have nots. In a response to not meeting their own expectations rather than introspection/demanding more of one's self, a number of college speech teams have formed their own little leagues with their own championships. The team at Ohio University did this. They were once Top 5 National school to start this decade, now they are a non-factor. Not even a Top 50 program. When they leave their self created bubble, they get destroyed.
When your competition is weaker, you get weaker. Your standards slip. I also think you lose some self respect in the process.
Focusing on your perception of unfairness in a community is unproductive, self evaluation and self improvement is the only way out. Talking about why you aren't "wanted" is just self rationalization. We shouldn't be interested in creating national championships, we should be winning them.
Not to get too conspiratorial but does the Fulmer wanting to be AD thing mean he was in on the sabotage of Schiano's hiring?
It's been well established Peyton Manning knew ahead of time, hard to imagine Fulmer didn't either.
Honestly, if your Les Miles, do even you want this job? Based on recent events, hard to imagine the new Tennessee coach having a long leash. Like if Tennessee is 5-7 or 6-6 is the Tennessee fan base gonna accept that in year 1? Being on the hot seat in year 1 isn't going to interest many coaches, unless you're grabbing coaches where this is their one shot at a high resource job.
I don't necessarily disagree, however, I think this whole thing has made hiring Schiano too politically hot for another AD or a Board of Trustees to hire Schiano right now.
I suspect it will make it impossible for any team to hire Schiano this offseason. Also why even if these reports of Tennessee having to pay 20 mil to Schiano are false, Tennessee will ultimately have to pay Schiano at least a couple mil to not hire him. "We didn't know the fans would get upset about allegations" which have existed for years isn't a very good legal excuse.
It was 4th and 3, kicking was the right option. We had just made a similar kick less than 20 minutes before.
On 4th and 3, we would have had to either call a Weber run or a Haskins pass to get that yardage. The former had just failed on 3rd down, and the latter arguably has more risks than kicking the field goal.
I think an important bit of context here, Beverly hired an attorney less than a week ago. My guess is the NCAA decided letting Beverly play was better than what might have played out in the legal process.
I'll be interested to see how much Tennessee values head coaching experience in their search. You'll hear Tee Martin's name a lot about this job, but I think Martin is the backup option. Two seasons as an OC just isn't enough experience to be a good P5 HC.
I think they end up hiring Matt Campbell away from Iowa State.
Are we basically at the point where Kaleb Wesson has to be a talent somewhat like Jared Sullinger to save Thad? Because that's what it feels like 2017-2018 is riding on.
If we lose to Rutgers, we don't even make the NIT. Pressure would be pretty high on Thad at that point. Plus, I'm not sure we can get Archie Miller after next season. So Gene Smith might need to be proactive.
Does anyone else think CJ Jackson reminds you alot of PJ Hill?
Every possession where Trevor Thompson doesn't touch the ball is a bad possession the way Nebraska is playing.
We pay Thad Matta elite basketball coach money, and we haven't had an elite team in five seasons. With each season since being slightly worse than the year before. It's really that simple. No need for recriminations, just a simple statement of facts and need to make a change.
The program is just too comfortable. Urban made the tough coaching choices to fix his program. Thad never did the same. Thad might have been right about getting rid of the 4 players last year. However, the problem is that reflects back on him and his staff.
Ed might be the best offensive line coach in the country, and he had one great season working with Tim Beck at Kansas. There's a lot of evidence he's an average to below average Offensive Coordinator. I think whoever is advising Ed needs to ask if this is a wise move for him.
Maybe this is the best face saving move for Ed, but if he wants to be a head coach, he doesn't need to be an offensive coordinator. Urban never was, Fleck never was. I think odds are more likely Warinner gets replaced as led play caller in two years than getting a job better than MAC HC.
To engage in the hypothetical: Alex Grinch.
A bit concerned this is a spot where Schiano might get a look. Warinner would take it in a heartbeat but weird things would have to happen for him to be a serious contender.
It's not going to happen. Also, for those saying "But Schiano!" I would note Schiano was out of football for 2 years prior to becoming our Defensive Coordinator. Which strongly suggests based on his resume at the time he couldn't get the jobs he wanted. Not a knock on Schiano, just the reality of the situation.
Chip Kelly might not be able to get another NFL HC job, but his record in college should allow him to be a frontrunner at all the premium jobs next fall.
While Chip might love the game so much he wants to be around it this next year, Urban in his off year scouted coaching talent and it turned out very well for him and OSU. That's my guess what Chip does, tries to finds the Tom Herman of Defensive Coordinators for his 2018 team.
Brandon Saine played two years in the league. Jalin Marshall and Corey Brown made rosters despite some frustrating performances on special teams at Ohio State. He'll get a chance to return punts, play some receiver, or maybe even take a couple carries. Even if he doesn't make a roster out of camp, he'll play a couple years in the league because he does enough well to justify a practice squad roster until an injury happens.
Would seeing if a Co-DC title would make Pepper Johnson interested make any sense here?
Larry Coker 2.0. Lose a national title will define his career.
I think Helfrich would be smart to go be an OC at a well respected program for 2-3 years. Maybe him, Brady Hoke, and Charlie Weis can be an HC/OC/DC team at Purdue!
I'm of the opinion Ohio State only needs 3 things to happen to get into the playoff right now.
1) Win out
2) Oklahoma beats West Virginia
3) Washington State beats Washington
I tend to think for a bunch of reasons, a place like Purdue isn't the landing spot for OSU coordinators. Chris Ash I think is a warning to not take the worst jobs in the conference. If an OSU coach were to take the Purdue job, I'd say its either Zach Smith (Who I don't think gets a look) or Larry Johnson Sr. Johnson makes some sense because I think he wants to be a head coach, has a lot of respect in the game, and probably doesn't have the time to go take the Western Michigan (or another good non-P5) job, and hope he can flip that job in 2 years into a slightly better offer than Purdue.