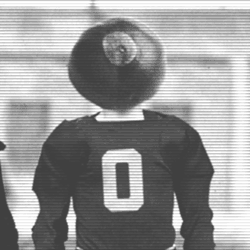 Osueddy
---
Member since 04 December 2013 | Blog
Favorites
NFL TEAM: Browns
NHL TEAM: Pens
NBA TEAM: Cavs
MLB TEAM: Tribe
Recent Activity
Halloran is still there...my home from 97-00!
All those dorms had the same setup as Haverfield.
PC for "Indian Style".... at least that's what we called it.
Great to see a Urinal Monkey getting some respect on Eleven Warriors! I certainly enjoyed my 5 years working at the stadium!
He could hit Curtis Messer from B deck with ease.
You can tell what it meant to him to be part of this team. That's what we hope every kid can feel when they play a sport.
+1 for any Mortal Kombat reference.
It's some dance from a rap video.
Just got back from The Game, and I've got to say it was the most fun I had at a sporting event in a long time.
Sat next to some guy who mentioned that he won 2 pairs of gold pants in the 1960's. Bill Ridder, All Big-Ten defensive lineman as it turns out. Great to hear his insight. Also sat next to some guy that was Bradley Cooper's twin - he was a superfan, not like the lame ones they show on TV.
One comment I have. How about Michigan's band having their sound piped through the sound system of the stadium?! That's the lamest thing I've ever heard. They could honestly just play a CD. Seems like they are trying to gain an advantage by doing that. It was comical though, when they had to turn up the volume to drown out the O-H-I-O chant circling the stadium!
To all those depressed still about last week, you should have been there today - you would've forgotten all about it!
Go Bucks!
The Grind doesn't sound nearly as exciting as The Chase.
A Michigan game is NEVER meaningless!
Can't win the national championship every year.
Perfect summary!
Beat Michigan!
This is like a bad 7th grade football game.
He never has any championship winners on though.
Rodney......you're on a roll.
Those games were fun to watch. Do you think Sparty and Wiscy will be pulling for us that hard tonight?
That play was awful. How did we not stop him?
Those of us in Carrollton will watch that one to see John Lowdermilk's last game.
Now that our playoff aspirations are toast.... Go Gophers!
I'm not dying to be in the playoff this year. Are we really that good? And now, without J.T., I'd rather not play Alabama right now.
The Buckeyes and the Browns both!