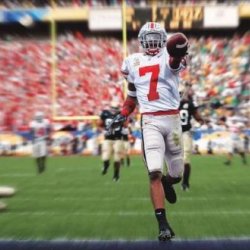 osudray
from Circleville, Ohio
MEMBER SINCE December 05, 2014
Favorites
COLLEGE FOOTBALL PLAYER: Ted Ginn Jr
NFL TEAM: Cleveland Browns
NHL TEAM: Columbus Blue Jackets
Recent Activity
These got claimed via Facebook
I don't understand why, and am kind of surprised, that college football doesn't go to more 3rd down packages. The NFL does it every drive. 3rd and 8, we know we have to throw here, they know we have to throw here, so let's get more guys on the field that can catch the ball and move the chains. I thought too many times last season we tried to stay with our base package just to not sub and it cost us. When we need a 3rd down conversion run out 3 WRs, a TE, and a pass catching RB. This season that could be any combo of guys but would love to see Wilson and Mack out wide, Hill in the slot, Ruckert at TE, and McCall in the backfield. This is a lot tougher on the D to cover all these guys and one should be 1 on 1
trying to be unbiased, how does a HS kid not want to play for him.
1. He is coaching at a power house
2. He was just producing in the NFL within the last 5 years.
3. You get on twitter (as all HS kids do) and there is Hartline running routes in practice with the guys. Then a video of him competing in mat drills with the guys. He brings so much energy. I would be begging him for attention and an offer
Because he also didn't bring a championship to Cleveland? Cmon man, you don't have to like him for not leaving a sustainable team behind, but he did what he had to do to win. And he didn't have to do that in Cleveland. He chose too
Hope this is the last time I ever hear, see, or read Kaepernick's name.
He wasn't on a team because his play did not outweigh the circus he was going to bring along.
There is 100% a Nuthouse bus service on campus that runs through east campus and drops you off at the doors of the Schott
I'm 28 and think they are the dumbest looking things around recently.
makes more sense. Coughlin hates rookies/young players. He almost always ops for the veteran
Whoa whoa whoa! Kenny G never did anything here?!? Go check out the 2012 season and I'd bet you'd be surprised. Sure he wasn't a world beater, not all of them can be. But smooth Kenny G holds a spot in this OSU fans heart.
He also has the longest TD thrown (90 yards) and tied for most TD passes in a game (6)
The top 27 guys are 5 stars. He is #28. He's as close as you can be
Honestly, I liked it.
It wasn't anything fancy. My friend and I split the 6 pack and came to the conclusion that it tasted a lot like Yuengling. I would def buy it again or order it out. Plus, the cans look cool
I'm sitting on the curb with a cup trying to get enough change to get in one day
I was at OSU the same time he was, so it was kind of a cool movement at the time. He was the Joey Lane for a final 4 team, a POY (Evan Turner) and a look behind the scenes before we really had twitter.
I am still young. I will taste things and either like them or not. I don't go out of my way to try random or crazy beers though, if that makes sense
100% will be going back. Was a blast last year and the crowd was really into it. One game got a little chippy and there was a definite home court advantage
To be fair to Urban, we win the NC his first year if eligible. Gene screwed that one up, not Urban. So that puts him at 2 plus the other accolades
Was going to say the same thing. Fist pump Urban for the win!
I've said this on multiple posts but the casual OSU football and basketball fan can not get in anymore. The average ACT score was 31 or 32 this year. I know this might be some fans, but the majority of FANS aren't qualifying to get in. Students are getting in Block O as a resume stuffer, not because they want to lead the student section
I am not throwing anyone under the bus (I guess i threw the whole staff under maybe)
I was there from 2010-2012
I didn't graduate so its a moot point
your average college student is not the same as a college athlete and it's not even close. It is not even 10% of the same thing. A football player at OSU is handed a degree as long as they follow the code of conduct, attend classes, and don't get kicked off the team. They have full time tutors who do their homework if they want them to (I know this because my English partner was on the football team and I didn't write a report or assignment in 4 classes, got As in all of them). It doesn't matter if you play a down in a game, you graduate with a degree of choice, debt free, and in a prime position to land a quality job through Real Life Wednesdays and the fact that OSU football player carries weight in central Ohio
Some on this site were underwhelmed and calling for okudah, wade, and another young guy to get the reps. I think Arnette is not a #1 corner but a great 2nd or 3rd option