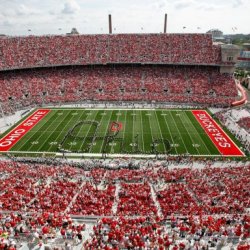 OSUCLAY519
Atlanta, Georgia (via Columbus, Ohio)
MEMBER SINCE May 06, 2014
Favorites
SPORTS MOMENT: NATIONAL CHAMPIONSHIP 2014
COLLEGE FOOTBALL PLAYER: J.T. Barrett
COLLEGE BASKETBALL PLAYER: D'Angelo Russell
NFL TEAM: Falcons
NBA TEAM: Hawks
Recent Activity
We will get better as the season progresses. It's not like it can get much worse. And hey, we beat TTUN.
I would hate Braxton leaving, but if it means better for that man's career and Ohio State football, then I say go for it.
Loving and Kam Williams will also have big roles this season, even if they are coming off the bench. I think they could both average around 10 points this season.
FACE IT. We have lost Harris. I hope I turn out to be wrong, but the truth hurts from one Buckeye fan to another.
I say no Baker... but we get Weber.
Also I think we get
1.Gibson
2.Cager
3.Wariboko
4. Taylor
5. Burrell (maybe)
At this point, I think we all know who the QB should be for next year...and his name's not Braxton. Sorry No. 5, I love you, but there's a new captain now.
So pumped to watch this team play. I think the addition of Lee and the freshmen are going to push our offense to a new level. And as always, we will have a fantastic defense. Go Bucks!
My prediction for the starting lineup I had was the exact same as yours, but I had a hard time on who would start at the 2 guard position, between Kam Williams and D'Angelo Russell. Any word on which will start this year? How did Williams look in practice?
I live for Tress's least favorite moment
Would love to get these studs
I think Bosa will stay for his senior year if his little brother commits to Ohio State, because they seem pretty tight and they would like to play together for one year.
Spencer, Thomas, and Smith will most likely all get the same amount of playing time
I COMPLETELY agree on the UGA part, but BYU eh. may be slightly underrated
Being ranked under Nebraska is an insult. Maybe not to some of you, but it is to me. We would throttle them worse than Cincy
If you didn't know JT was a freshman, and you were watching him play, would you think he's a freshman? Certainly not in my opinion. Looks great and is putting up absurd stat lines.