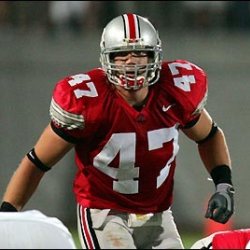 OSUBucks22
Columbus, OH (via Oak Forest, IL)
MEMBER SINCE December 27, 2014
Just a kid from Chicago that is fulfilling his dream at tOSU.
Favorites
COLLEGE FOOTBALL PLAYER: Troy Smith & AJ Hawk
NFL TEAM: Chicago Bears
NHL TEAM: Chicago Blackhawks
NBA TEAM: Chicago Bulls
MLB TEAM: Chicago White Sox
Recent Activity
Rob Mullen's is a moron and or a liar
Fixed it for you!
Watching that entire press conference, I do not think they he answered one question. Danced around every question and gave no insight into anything.
So awesome that the other wide receivers believed in Olave and let him get the additional reps. Really shows the brotherhood.
So what happens if ND has a down year and the best G5 Champ is sitting at 12-15? Do you still want some medicore P5 Champs? I would rather have a team like this years Bama if they lost, instead of a G5 Champ.
He just sounds like he it trying to "shove it" to Urban after he said that he had no idea. Maybe, Urban didn't know but hey that doesn't make a good story.
Yes, this team will be fine and probably next year. But we would still have to replace one of the most prolific recruiters in college football history. It is not the short term where we need Urban, it is the long term.
Oh don't I know it, made it too many times to count throughout college. Had to make it twice already this month...
Talking to the wrong guy, I am a southside guy myself.
Got mine yesterday, can't wait to make the voyage from Chicago all season
The fact that both those games were on ESPN and took 4+ plus hours made it that much worse.
I think we also need LSU to lose to Texas A&M tonight because that would make Alabama's marquee wins an 8-4 LSU and an 8-4 Mississippi State.
How can you say an 8-3 FBS team is "just as bad" as a 5-6 FCS school?
The only people that wanted the Indians to win were people from Cleveland and White Sox fans (myself, included). Every one else in the country wanted to see the Cubs win so its kind of hard when you have everyone turn into Cubs fans for this series.
Way to be prepared #FireZachSmith
One that I haven't seen mentioned is the "The HawkCast with A.J. Hawk". He talks to all different people every week (Aaron Rodgers, Adam Schefter, Brian Urlacher) about everything from sports to life. He does is a great job as an interviewer and is always a great listen.
tOSU Athletic Department also gave $9 million out the $30 million raised in donations when they remodeled the library. So for some bigger schools they actually turn around and give the school money when needed.
The Northwestern tickets would be my first choice.
I meant the Northwestern and Nebraska. I forgot they have something planned the IU weekend. If you can not do the Northwestern game, then I will definitely do the Nebraska game.
TTUN part is hands down the best. Cardale with the stare down.
Any chance you can make an iPhone 6s background? I have not been able to find any good ones.
Do we know anything about Tyvis? How is camp going for him?