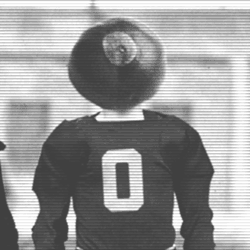 OSUBucks1024
---
MEMBER SINCE February 10, 2015
Favorites
NFL TEAM: Dallas Cowboys
NHL TEAM: Columbus Blue Jackets
NBA TEAM: Cleveland Cavaliers
MLB TEAM: Cleveland Indians
SOCCER TEAM: Columbus Crew
Recent Activity
This was my second year on campus. I was def on that field afterwards.
It could happen.
In a hypothetical season:
Penn State goes 11-1 during the regular season and Ohio State goes 11-1 as well but loses the tiebreaker to due to an overtime loss @PSU early in the season. OSU steamrolls every other opponent.
Wisconsin goes 12-0 and then barely beats PSU in the BIG Championship.
That would give the BIG:
Wisconsin 13-0
Ohio State 11-1
Obviously its not a guarantee. But this scenario is at least plausible.
Holding penalty, but I missed the replay.
In other news, surprising absolutely no one, Desmond Evans committed to UNC. He's #2 on ESPN rankings behind Fleming. I think he's been dropping on the other services iirc.
I should have clarified.
I meant have Gameday/BIG Noon Kickoff been at the same location for a game before?
Fox with the preemptive strike!
Will def. be interesting to see what Gameday does. Have they been at the same place before?
Possible Gameday options:
#6 Wisconsin at #4 Ohio State
#11 Auburn at #2 LSU (Gameday was in BR for LSU/Florida)
#8 Notre Dame at #16 Michigan
Since losing to Alabama in the 2011 season NC, LSU has lost at least 3 games every year since.
IF Fleck wins 9+ its his.
If Fleck doesn't win 9+, Ryan Day will have to go 12-0 and hope that everyone else has 3 plus losses as well which hurts our SOS.
I'm cool with OSU's coach never winning it again. Its basically a meme at this point.
Those who follow recruiting know that Bowden was placed on the recruiting back burner due to undisclosed--and as far as I can tell, unsubstantiated--off-field concerns.
Didn't Bowden just admit to being in a gang? I take that back, he said it wasn't a gang, just a group of guys who liked to fight and smoke and carry guns.
https://theathletic.com/1171371/2019/08/30/kentuckys-lynn-bowden-reveals-how-family-and-football-saved-his-life-and-the-lie-about-that-tattoo-above-his-eye/
These guys are beginning their Jr year in high school. Some of the CB are either a)not accurate/old or b)the recruit only has a couple crystal balls and it weighs the % heavily
This game was wild.
I was at a house party on campus and Gordon Gee was still president. He was known to walk around campus and into parties a lot. (He made it to at least 3 parties I can remember in my time there).
Since the game was so close he decided to stay and watch with us. I will try and find it, but my friend has a picture of Gordo Gee, me and a friend of mine with our arms across each others shoulders as we watched the last couple minutes of this game.
Man, I really miss college.
IIRC every OSU lineman who left before their eligibility was up, started for at least 3 years.
The ones I can remember are Pace and Michael Jordan.
This isn't a 2020 recruit, but I'm not starting a new topic and didn't know where else to put it.
A friend of mine is a Georgia fan and says that Mathis might end up a medical hardship.
They will finish 9-3 and PJ Fleck will win the BIG/Ohio State COY award.
If we are 10-0 and can't get up for back to back games to win out then we don't deserve it.
I would agree if it was in the middle of the season, but at that point we would technically have to get up for 5 games in a row (albeit with some decent time gapes between).
Logged in to basically make this comment.
I can't tell if this is sarcasm or not so sorry if you are, but that's the whole point that Miller tweeted it.
Its funny that TE thought that Batman was raised by bats but probably not tweet worthy.
What made it worth a tweet is that he corrected himself to something even further from the truth to the assumption that Batman was bit by a bat.
I feel like you have to count JT/Cardale (and even Braxton to some of the fanbase) in 2015. Cardale was named the starter and just wasn't playing well.
IIRC the JT in the Redzone package started bc Cardale wasn't getting the job done, then JT took over full time, then he got a DUI.
But 2018 you had: Haskins/Burrow/Martell as well.
And a JR Noah Spence/SO Joey Bosa
But that was self inflicted.
Ohio State lost the best player in college football after 3 games due to an injury.
Its hard to think what 2019 would have been like with a healthy Nick Boss.
Except when home wants you to play defense and you currently want to play offense..
That is one very overlooked benefit of having night games. Much easier to get recruits (who just played the night before) into town for a game at 7:30pm instead of high noon.
Michael Geiger's cousin is a good friend of mine (and an OSU grad). We watched that game together (on campus).
i've never seen anyone angrier at a family member for being successful.
Flags fly forever.
As much as I would like to, we aren't going to beat Michigan every year for eternity.
But add a '19 next to the '42 '54 '57 '61 '68 '70 '02 '14 can never* be taken away
*unless you're USC