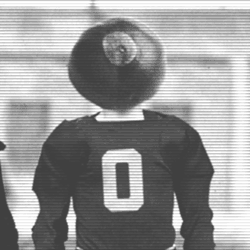 osubuckeye4life
MEMBER SINCE February 13, 2012
Favorites
SPORTS MOMENT: Buckeyes winning the National Championship in the 2002 season.

My Red Sox coming back from the dead against the evil empire. The Evil Empire shot out to a 3 games to none lead. All hope was lost until miraculously, The Sandman surrendered a lead off walk in the ninth inning. Roberts was put in as a pinch runner and stole second! Mueller was at bat and hit a single off The Sandman allowing Roberts to tie the game!
Later in the 12th Manny Ramirez hit a single and then Big Papi crushed a two run homer over the Green Monster.

Game 5 was a 5 hr and 49 minute barn burner with the Sox winning.

Game 6 Red Sox ace Curt Schilling pitched a gem.

Game 7 The Red Sox would not be denied and destroyed the Pinstripes.

After that the Red Sox swept the Cards to win their first World title in 86 years!
COLLEGE FOOTBALL PLAYER: Eddie George
COLLEGE BASKETBALL PLAYER: Greg Oden
NFL TEAM: Indianapolis Colts AFC, Green Bays Packers NFC.
NHL TEAM: CBJ I still believe!
NBA TEAM: I don't like teams I just follow players
MLB TEAM: Boston Red Sox AL, Atlanta Braves NL.
Recent Activity
Nice suggestions Highwire!
People looking for a guy who plays country like the good ole days.
Look no further than Sheton Williams aka Hank III
Shelton Hank Williams, also known as Hank Williams III and Hank 3[born December 12, 1972), is an American musician, singer and multi-instrumentalist, including guitar, bass, drums, banjo and vocals. In addition to his honky tonk recordings, Williams' style alternates between country, punk and metal. He is the principal member of the punk metal band Assjack, the drummer for the Southern hardcore punk band Arson Anthem, and was the bassist for Pantera singer Phil Anselmo's band Superjoint Ritual. He has released seven studio albums, including five for Curb Records. Williams is the grandson of Hank Williams, Sr., son of Hank Williams, Jr., and the half-brother of Holly Williams.
Exactly, Stanford normally gets it done as long as they are playing Stanford football.
Before we played and beat the Ducks in Pasadena they were not a consistent preseason top ten. After that every year they have been in the top 11 preseason sand finished in the top 10.
That said I bet some TSUN fans are beside themselves for pushing Rich Rod out the door.
The future of this offense is very exciting to us and terrifying to the rest of the country.
Saturdays output is actually third best all time.
715 against Utah on Aug. 27, 1986. The school record is 718 -- all on the ground -- against Mount Union in 1930.
This is the same way I'm approaching this year.
Thanks for the great content Birm!
The everyone is doing it excuse. DOESN'T WORK!
It is ingrained in the culture of the program. DOESN'T WORK!
College students are highly sexualized and have been for years. DOESN'T WORK!
It is all in good fun. DOESN'T WORK!
This is TODAY, not 20+ years ago.
Also, some of stuff continued to happen on Water's watch.
It is terrible, but it had to be done.
A diamond in the rough.
Welcome aboard Denzel!
Oh boy here we go:
- Seven Nation Army has to go!
- I used to like Notre Dame and actually rooted for them during the Holtz and Willingham years.Not a Kelly fan but if the right person gets the job, that could change.
- After the loss to Texas in '05 I really started to question Tressel. I had this feeling that he would have lots of success but strike out in the huge games.
- I like Dantonio.
- Past foes I like - Bo, Alvarez, Carr and Paterno (before Sandusky).
- I think Michigan beer is far better than Ohio.
- USC and ND fight songs are money!
- As far as rooting against Michigan, it depends on who they play and how it affects tOSU.
- I rooted for Michigan to beat Tebow and Florida in that Gator bowl.
- I like Boise State. The field was what really caught my eye at first. I remember seeing it during on the Humanitarian bowl game in 99 vs Louisville. Also, thought it was rather odd that a bowl game was not being played at neutral site.
- I pretty much gave up on the basketball team last year. I'm excited about the future though.
- After 98' I started to really care less about tOSU in football and actually started hoping they would be so terrible that Cooper would get fired so I could care again.
Welcome to the family Dre!
I'm way late to the party.
Welcome aboard Nick!
Keep up the great work Kenny G!
I love it! A life long Buckeye and a homegrown kid.
Welcome to The Ohio State University Mr. Hill!!
This kid has the tools to be a force in a few years!
Welcome to The Ohio State Univeristy Mr. Green!
Anyone else thinks he kinda looks like the Little Animal in the face? (minus the glasses of course).
Welcome to The Ohio State University Grant!
Welcome to The Ohio State University Liam!
Sounds like a great young man.
I hope if Hilliard picks tOSU, this bodes well for Harris coming in as well.
I wonder if ole Meechy has been 'Thurmanized' yet?
Prior to that he was bagging groceries at a supermarket in Cedar Falls.
This kid is quite a talent. Welcome aboard Mr. Burrow!