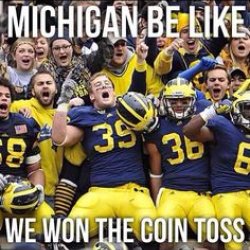 osubuckeye134
Member since 13 August 2014 | Blog
Recent Activity
McCall is in line for a medical redshirt this year regrettably.
Read the details folks - this is like buying options in the stock market. If Ohio State doesn't end up making it to the National Championship, you're out the money. Obviously, this would be cheaper than buying on the secondary market if/when the Buckeyes make it to the game...but...buyer beware.
-IO!!! Damn...people left you hanging for 2 hours on that...ouch!
I guess something more accurate would have been - it's STILL in place due to these political pressures. Many states have carved out exceptions from at-will employment due to the balance of power in the relationship being shifted to the employer vs the employee.
It originally came out of common law, I believe...but we're talking about pre-organized labor type regulations here.
I'm sorry, but this justification happens way to much in our society of "my situation sucks, so tough luck!". At will employment is something put in place because the politicians feared big business more than they fear their constituents. Would any of us vote yes for "my employer may fire me for any reason (outside of discrimination), at any time, without notice"? Of course we wouldn't...so why do we allow it to happen? Politicians will argue that it would make the state less competitive, but that's only if you have people in other states not fight for their own self interest either. ~political rant off~ 6 DAYS TO BUCKEYE FOOTBALL!! OMG...IT'S SO CLOSE!!!
May I just say, what an embarrassment of riches we have when 20 hours of discussion the worst case scenario is a 1 loss national championship team! GO BUCKS!
Is anyone else thinking regarding this post, TL:DR, I need a Terrell Pryor specific thread?
Ahh - Damien Harris as a backup... enjoy that young man.
Amen - I refer to this as the "Rod Smith Effect". A kid who desperately wants to help the team and he's not getting touches. So when he does get a touch he runs his ass off and gets a little loose with the football trying to hit a home run that would say to the coaches "give me the ball". On Weber's last fumble the way he truck sticked the defender was as hard as I've seen him play all year!
I'm in a 100% committed monogamous relationship with THE Ohio State Buckeyes.
That being said, if someone hot comes around (i.e. non-SEC school w/ a chance to beat SEC or any team close to beating a team higher than us in the polls) I'd likely check her out...
Ha, love Billy shouting out 11W!
And...to the dude above complaining about the rap music...I think the walk on grabbing the INT works perfectly with "they ain't givin' it, I'm takin' it". We want a scrappy team down for a challenge.
Primary recruiter was Fickell according to 24/7 - got to give him credit, could turn out to be another D Lee.
Anyone think this is a response to Jalin leaving early? Obviously someone was giving him some bad information, I feel for the kid...1 more year with the good guys could have been the difference between round 2-3 money versus UDFA money.
So I used to live in Red Tail - the neighborhood that this house is in, in Avon. It's a country club/golf course community, where everyone knows everyone...and let me just say that nobody ever saw Johnny. I honestly don't know if he ever slept in the house. People saw him driving in and out of the neighborhood, primarily on Sundays - so I'm thinking it was his game day house or something. The infamous choking incident that happened in Cleveland though was on the freeway not far from the house...so there's that though.
I hear the only reason he didn't sign is that he's waiting for his SAT scores because he really wants to go to Stanford and didn't get in based on his last test.
First off - love Watershed, Columbus distillery that takes great pride in what they do. I've been to their distillery (in Grandview) for the tour, and still rock my Watershed T-shirt out here in the bay area from time to time. That being said, not a big fan of their Bourbon, and I love Bourbon - if you want their best, go for the Four Peel Gin...outstanding stuff.
If you are just starting out with Bourbon and want something really good that isn't going to break the bank, go with Four Roses Yellow Label (you can also do their small batch or single batch if you find it instead - they are both a little more money). Keep it at room temp, and serve over a couple of ice cubes. Can't go wrong with that, and welcome to the world of Bourbon!
Man you're right, as a matter of fact instead all of us being on here writing about our thoughts on these comments - we should be getting better at something. How about we all go into work today, it's a Sunday after all. How about we go work on our fitness for 12 hours today. But no watching TV when you get home, no logging into 11W, no decompressing - because that would be a distraction!
Played TE in high school and we were definitely a run first (err....run only) type of team. Sophmore year and we finally called a pass play where I able to release and run a route. Caught the ball and had some room in front of me, but the OLB was coming at me head on. Did my best #XBraxOne spin move and made him miss me in truly comedic fashion. I was big and slow so the DB brought me down about 7 yards later, but the play lives on in my mind like it was in slow motion.
My wife is on the same page as me, got an invite for a wedding for this weekend as well in Columbus and that was a quick RSVP for ZERO.