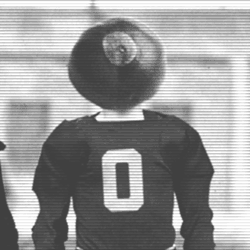 OSUandUofMGrad
---
MEMBER SINCE December 18, 2014
Recent Activity
Gulp. What comes next asks my inner Bengals fan?
OSU Engineering, baby! And fairly serious poker player...
While Vegas oddsmakers generally, but not always want half the action on each side of the line, they are MUCH more a reflection of very mature computer models than public opinion. Otherwise, professional betters with equally mature computer models would exploit their lines. I do think the line is more important here than some realize as it will generally indicates whether picks were "smart" (meaning aligned with Vegas models) or not. This will show much more bias than the planned analysis, which even with 5 years of data has a woefully small sample size for something as highly variable as college bowl games.
Even cooler, if he then went on to lose to Day.
No definitive info from me, but at the bottom of this page, you can sign up for event updates, which presumably would include ticket sale announcements.
https://cbssportsclassic.com/
Seems like a great trip - wish it wasn't so close to Christmas (which is something I say every year)...
Well, since there are no fresh tattoos visible, I'm gong to consider it very questionable judgement, but not necessarily the worst judgement ever by tOSU players.
This (TCU) is the obvious answer. Early, out of conference, and probably forgivable...
Agree - Only way Urban is back is as head coach and only if a couple of huge stars align. 1 (the bad one) - Day either sucks and needs to be relieved or is awesome and heads for the NFL, and 2 (the good one) - He gets his health in order to handle a few more years of the grind.
I can confirm that after a large noticable uptick in people wearing Michigan gear in the Detroit burbs, those clothes are once again working their way to the bottom of dresser drawers.
He even suggested it in the quote above, BUT then he kept talking...
Why not come back? Well the line and most receivers AREN'T coming back, so if there are predictable growing pains and the offense goes backwards, it could be a very bad and expensive business decision.
Agree so much with this post. I clicked it expecting to roll my eyes at some Ramzy conspiracy theory nonsense, but actually was persuaded to agree with his point. Delany campaigned after the thumping of Wisconsin, and again last year, so why not this year?
L - Loathes
C - Columbus
T - Traitors
The weather is what led the coaches to tighten up to the degree they did. Agree, offense was bad all year, but disagree with evaluation of the game, b/c the weather caused decision to take play calling to another (really bad) level. OSU probably wins indoors or in the sunshine.
I think four 16 team conferences is plenty.
Just disband the B1G 12 and distribute those teams. Setting Delaney B1G Network dollars aside, ideally with OK and TX going to the PAC to establish some balance.
4 champs - 4 playoff spots. Easy solution as long as the football world is willing to be honest w/ the group of 5.
P.S. - Enjoy that ACC travel Notre Dame.
Dissolve the B1G 12. 4 real conferences. 4 champions. 4 team playoff. Enjoy the long trips to the ACC Notre Dame.
3 legit gripes regarding Smith are:
1) Gatorbowl appearance instead of a self imposed bowl ban that may or may not have kept OSU out of the title game the following year.
2) He wasn't alone, but was pretty dopey at the Presser announcing Urban's suspension.
3) He should get he arse off the playoff committee, so tOSU has a B1G 10 advocate and not someone who has to be recused from discussions about the only consistent team from the conference to be under consideration.
OSU athletics are in tip top shape. I chalk those up to nobody's perfect, but some are less forgiving, about mainly #1 above.
You're missing the sarcasm.
"Coach of the year incentives". Urban's first job mentoring him should be to inform him that he coaches The Ohio State Buckeyes, and is therefore ineligible for the award.
Your wish could come true if you have a computer and a phone...
Even back in the 90s, it was 60K in company sponsored tuition. I do still carry the shame though...
100% Agree from a football standpoint. I don't know the kid, but there are some possible/arguable non-football advantages.
1. If he prefers the smaller college town environment, as much as it pains me to say, AA is actually nice (except for the scourge of Wolverines living there),
2. Don't get your egos out of whack here, b/c both are fine schools, but there is an academic perception advantage. My undergrad degree from tOSU was much more academically challenging than my grad degree from UofM for what it's worth - but perception is reality to some degree.
3. I think it was covered, kind of, as lower expectations which for a local might be more of "not playing under the local microscope".
Still - if he's as good as advertised and is passionate about the game - everyone is spot on. He'd be nuts not to head south.
That was bad, but the worst call was the 2nd and 25 pass near the end of the 1st half. They should have run the ball to kill the clock with Oklahoma with no time outs. They let the worst scenario play out; giving up a late TD to a team that deferred and was getting the ball to start the 2nd half.
Your AFC mentality is no bueno.