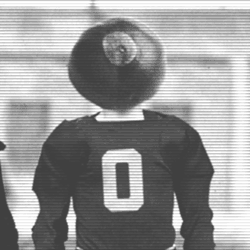 OSUandUofMGrad
---
MEMBER SINCE December 18, 2014
Recent Activity
@Maryland between the 2 big ones is the trap game to watch out for.
When I read about this in the Detroit News it made me wonder if that wasn't the case, since his destination turned out to be the SEC and his dad claimed over and over to have no clue why his kid's recruitment ended. No real evidence, but some sort of red flag had to cause UofM's hard stop on a 5-star that's 20 minutes from campus.
Pretty sure once the BTN began, the B1G did in actuality become a huge overflowing piggy bank.
Assuming, and it's a huge assumption, that the conference only approach actually works with the majority of games being played, the cancelled opponents should get paid a meaningful percentage of what was agreed upon. If the season is cancelled they probably won't.
By shortening the season they create open dates in case of inevitable outbreaks.
See above: "Year after Year".
Troy would have crushed it in a modern offense and would have even better numbers in this era. His unparalleled performance year after year in "the game" when Michigan actually would field competetive teams is the clincher.
My 2nd favorite Michigan game ever not involving OSU beating them. Obviously App State #1. Too bad Army didn't pull of the victory last year to push it down to #3..
I was at that game - it sucked. I was also at the game that Eddie went for 314 against Illinois - that didn't suck and is still the single game record.
Having made that move north, the cries of skunkweasels can be remarkably soothing.
My kid was about 11 when I gave him the last version. He didn't like the cover for obvious reasons. So he got on the internet printed a photo of Braxton, cut it to fit, and covered up the skunkweasel cover that came with the game. Side note - he just enrolled - OSU Class of 24.
This is how I see it. The counterpoint is that some elites may opt to be the only big fish in smaller ponds because all the endorsements come their way. Will be interesting to see how the economics skake out, but I suspect you are right that on balance it's a win for tOSU.
I've lived in the Western Burbs of Detroit for about 25 years now. I get to Ann Arbor every now and then and consistently tell people that Ann Arbor would be an awesome town, if not for all the f'ing wolverines.
Beyond happy for us as fans, but too bad for Kenny the transfer portal wasn't a thing yet.
1994 = Cooper era. At no time since, would tOSU have lost Kijana Carter to a conference foe. At that point the rumors that Coop was about to be canned were rampant and the perception of the OSU program was VERY different.
Who is your employer if you don't mind sharing? I think they deserve a shout out for doing the right thing - not that all employers are in a position to pay staff during trying times.
See #5 on his list.
The problem with this sim that ran 1,000 games to get to the likely outcome is that's exactly the opposite of what makes the madness of post seaon college hopps fun. It arrived predictably at the predictable outcome. A better model is to run each game once. but run the whole thing 1,000 times. Then, let us know how often each team cuts down the nets.
The guy has very sokid basketball skill, but is limited by a lack of athletecism. He'll earn is living in Europe.
Ironucally. I think most OSU fans wish he would be a bully. Too much finese for such a big guy.
Odd flip all around. I thought the weirdest part was asking tOSU captains what it was (heads or tails).
Well, that solves the playing time issue.
Not the same. 1. Road games are tougher in basketball. 2. Injuries to key starters are a bigger deal in basketball. 3. More parity and variation in outcomes in basketball.
Agree with this philosophy. I'd rather turn our guys loose and take our chances they have the talent and luck every game as opposed to the "complex" nonsense the coaches tried on defense in 2018.
@RillDill - Hard to say b/c UW made an excellent choice in colors, which causes them to blend in! Not that there were a lot, but I was personally surprised how many made the trip to see a fairly predictable outcome - it's a long way from Madison.