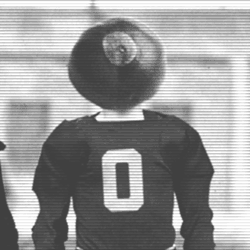 osu992
---
Alexandria, VA
Member since 21 December 2015 | Blog
Favorites
NFL TEAM: 2015 Ohio State Buckeyes
NHL TEAM: New York Rangers
NBA TEAM: Cavs, if I need one.
MLB TEAM: Cleveland Indians
Recent Activity
We're back, baby!
Well...you aren't getting down voted. In your case, must mean you're doing something wrong.
People forget that space helicopters are really just high-speed, ineffective anal probes. Just what aliens deserve.
It's a thing you say...and a thing you forget. He'll be back, doesn't yet know he'll come to terms with it sooner rather than later. Heck the last paragraph basically says there are reasons he'll be back.
They don't call you the Mod In Name Only for nothing.
well, 'for nothing,' actually.
People forget that I'll ally with everyone simultaneously as long as you don't expect much from me.
Sounds like you're agreeing.
The best stuff in Cleveland is better than the best stuff in those places, but there's some not great stuff in between and Columbus is in a pretty package (unless you crave the water).
Urban Meyer is an overrated in game coach.
The internship program is a BS PR stunt.
Buckeye Jack is good for you.
Sounds like we agree that Rudy sucks.
HEY - get back to work!
OK. We'll be here if you want to talk.
Just did it again.
destination URL: http://www.lindsaycadillac.com/?cs:pro=cadaolvid&cs:e=aolvidlux&cs:a=cad_aol_video_ct6_lease
player supporting video: https://www.jwplayer.com/learn-more/
same source info.
and am barely to the 4th season.
4x05 yet?
I get that sometimes here too.
Are you using Chrome? Sometimes flash is shut off and needs to be reenabled.
Doesn't BTN just play repeats of games that only interest 1/7th the B1G fan base 50% of the time anyway? You'd think they'd have room to support their own network in that schedule.
Lord. Your my boy, Kevin, and you run this place. But that game against Clemson was literally the most recent game J.T. played. Couldn't this have be written after the Michigan game instead?
...and where are the molecular genetic bonus points? I think that's a rule.
Euro really climbed against the dollar last week.
I think you missed by '/s.'
He's basically what Rudy would be if Rudy didn't suck.
Didn't the law already change that people like Linndale no longer get to keep the revenue to fight back against their ruse?
He's a better player and a better person from that experience. I changed positions a few times.
Wow! I didn't know Worley wasn't sure how he felt about J.T. /s
And use the @ feature to call attention to our memorabilia users?
@ + IL_PADRINO...who knows what you'll get.