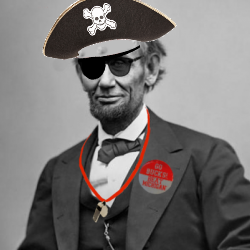 osu992
---
Alexandria, VA
MEMBER SINCE December 21, 2015
Favorites
NFL TEAM: 2015 Ohio State Buckeyes
NHL TEAM: non-2017/18 New York Rangers
NBA TEAM: Cavs, if I need one.
MLB TEAM: Cleveland Indians
Recent Activity
I think he has to sit out a year unless he got his (graduate) degree.
An infinite number of monkeys working for an infinite amount of time could not guess the passion of his first hashtag back.
Did not say that. Though, note players don't have accounts here.
LR and strictly business only mean going pro. He can't be on LR as an OSU athlete.
We didn't want TTUN to know.
Probably took the job to get the girl.
That would have been my play. #longcon
Pro Tip: Evaluate the reliability of the source of information prior to learning the accuracy of the information.
Trying to goad Urban out of retirement. Where they have Dabo by comparison is ridiculous.
Apologies to whoever hates RPW.
If Dan wasn't biased, then is Dabo obnoxious? :-D
Yeah, but you need to accept that such is the point of the Heisman. It's a tug-of-war between the media to determine who shaped the narrative of (read: upon whom was built the narrative of...) the college football season.
This is OK. Think about the times before widespread national broadcasts. Heisman votes were (still are) allocated regionally. The beat writers with votes might see the other regions a few times per year, but never with the consistency to truly say if someone from another region was the best. However, here's what they could say: I know the best player in my region. And guess what: so could every other person in that region. Heisman voting isn't about picking the best player, it's about developing a critical mass of votes. If a player sufficiently defines the narrative of an entire region more than any other player does in other region, they are well on their way to becoming the Heisman winner. It's an award for "the most outstanding player [as far as we can tell from here]."
Burrow is a 5th year senior. Three years at Ohio State.
That's 2.6 candidates.
My math checks out.
Sounds about right. None of the RBs defined the national narrative sufficiently to standout for what is historically a QB award.
You forgot the last part where Urban gets hyperbolic and said Colin is "the best."
Probably distracted by whatever music is playing through those AirPods.
Keep in mind, no chance LSU was beating Clemson. This is the only way we get the NCG matchup against Burrow we desperately want.
If I'm Clemson, I'm developing dirty tricks to go after Arnette. It was obvious last night they he lacks discipline. Got away with two personal fouls, only called on the one. Make him do something stupid because this secondary is getting exposed when one of the DBs is off the field. So the coaching staff gets to do whatever they can to get Arnette to understand they ego and fouls are bad, and discipline and sportsmanship are good.
This is what I heard
Left an official alumni club watch party and went to a Michigan bar.
What else do you need to see?
How do we not have quick slants and executable crossing routes in the playbook?
These teams make me so thankful for recruiting prowess.
No chance Urban wants to deal with Jones.