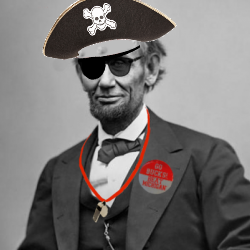 osu992
---
Alexandria, VA
MEMBER SINCE December 21, 2015
Favorites
NFL TEAM: 2015 Ohio State Buckeyes
NHL TEAM: non-2017/18 New York Rangers
NBA TEAM: Cavs, if I need one.
MLB TEAM: Cleveland Indians
Recent Activity
How do we not have quick slants and executable crossing routes in the playbook?
These teams make me so thankful for recruiting prowess.
No chance Urban wants to deal with Jones.
Other than a couple plays on that last stop, Utah looks so terrible.
Return to coaching cancelled.
Utah, but only because we've done Oklahoma twice and Utah presumably has a defense we can strategize against. Don't fear about opponent quality.
Wet gloves were the only think that stopped the Buckeyes the first time around.
If that punt isn't blocked
Don't you have a rule against applying ifs to past seasons?
Screwed around with 538 too to cross check. Nothing to see here.
Uhh...if it's percentage odds, it's probably the result of running a large number of simulations in a model that can only be so well defined. Would never happen in real life, but the model doesn't know that.
You can feel Michigan looking over its shoulder already.
Source: Greg Schiano has agreed in principle to become the next coach at Rutgers.

— Pete Thamel (@PeteThamel) December 1, 2019
Better than a finger in the butt.
I did not differentiate between headline and body, but also relied on the lack of ESPN branding in the screen grab.
Associated Press, to be fair.
Also, "handle" is a rather ambiguous verb.
Reading requires too much attention.
Don't worry about it
At least Clemson had the decency to just take the day off, not insult us.
I think the committee needs to do more than shift teams around based on today's results; they need to reevaluate the assumptions/benefits-of-doubt they've provided thus far: 1) LSU 2) OSU 3) CLEMSON 4) ALABAMA 5) GEORGIA 6) UTAH 7) FLORIDA 8) PENN ST. 9) OKLAHOMA 10) MINNESOTA 11) WISCONSIN 12) MICHIGAN 13) BAYLOR 14) AUBURN 15) OREGON The Georgia offense is such trash and Oklahoma had nearly lost 4 of it's last 6...and lost another: they don't deserve to move up.
Meatballs
Would not mind scoring more in the second quarter than Penn St scores all game.
Wade won't have Pryor to worry about either.
Wait...this isn't the vasectomy thread I was looking for.
If you need to wear the suit regularly, ignore advice like Jos A Bank and Suit Supply. Those aren't meant to last. If you only plan on wearing a few times a year and don't want to spend much, then fine.