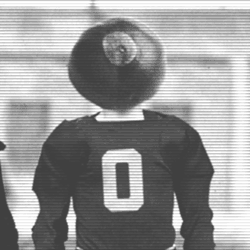 OSU86
---
Member since 11 September 2013 | Blog
Recent Activity
I think everyone has missed the better option, put Samuel back to do kicks.
Buckeyeairguard
Off the deal if you have 49 (4 face cards and a 9) you get a single point and if you have 5 face cards(50) you get 2 points
Buckeyeairguard
The tonk that I played was a 5 card rummy like game that involved having the lowest number of points in your hand with ace as 1 pt up to 10 for face cards. You could lay your 3 card runs down and you could play off the other guys runs which would freeze them from knocking for 2 trips. If you had the lowest point total on a knock you won 1 pt and if you played all your cards with no discard you won double or 2 points.
I have a nasty burn game called Guillotine that always dominated our dealer choice poker nights. Played like 5 card draw to start off with with depending on the amount of players you may need to limit the draw because you have 5 community cards in the middle laid out similar to hold em except they are turned over one at a time. After the third card is turned over anyone who bets is in and burns to the winner the pot. You can fold after the third card but you owe what is in the pot at the time of folding to the eventual winner.
Like Buckeye 24 mentioned earlier grades was the reason for Esa going to West Virginia. Look at Elijah Macon at WV, couldn't stay eligible at Marion Franklin but has been academic clean at WVU. The problem with a lot of the Ohio recruits is that we haven't hit it with a 3 star guy lately and the timing has been bad on our PG recruiting. I know its been mentioned earlier but Burke was verbaled to Penn State so he wasn't exactly a can't miss guy. Hopefully Thad will change his philosophy a little and start to focus on shooters, I feel we have recruited athletes more than shooters and unfortunately it caught up to us.
Our front 4 is already the strength of the team, if they get coached up they will be ridiculous!!!
I find it humorous that the baseball bucks got off to a "pretty strong start" after losing 2 games to an Indiana State team picked dead last in the Missouri Valley Conference.