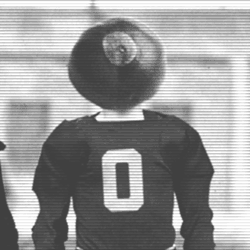 OSU725
---
MEMBER SINCE July 05, 2014
Recent Activity
Does that qualify as a BOOMerang??? Considering he left and came back.
Unfortunately that is a pretty low bar to set. That dude did whatever he wanted to all night abc OSU had NO answer for him.
But that's the thing, I feel like a lot of college coaches will say whatever to get the kid to sign on the dotted line.
Honestly his thought process doesn't bother me. He seems like a hard working kid. I think it is a smart approach to see what the reality of your situation is, not what I am sure many coaches are willing to say just to get you to sign on the dotted line. If they are honest that is one thing, but I think a lot of recruits are fed the bag of roses story. Him talking g to highly rated former recruits that are working their way of the draft chart but are happy and feel like they are at the right place is important. How many kids to you see transfer out, think about transferring out, or get upset with their lack of playing time early on?
To me the issues are not with a recruit taking their visits (I would as well, though I may have waited to commit). I think the rub is that you have a top ranked Ohio kid that initially gave of the impression he was going to the leader of a recruiting class that is seemingly publicly visiting OSUs top competition every weekend.
In all fairness Zach Smith "uncovered" a story that DJ had admired to and linked to on his own website. Something else that was mentioned that is interesting, is that DJ mentioned that a married Zach Smith filmed a sex tape in his work office with another women and then showed it to his players....
not defending DJ at all.
i would be curious what Earle Bruce would think about his grandson today.
I agree with the sediment that it wouldn't go over well in today's climate. I just recently rewatched it, I enjoyed it again but I remember thinking that a few times. If anything maybe on an edgier channel, but not CBS or ABC.
One of my favorite shows, probably my favorite sitcom other than Sienfield. What was a bummer is that while it fell off initially when Carroll left, I felt like it was coming into its own in the final season.
Bill told him, you line those linebackers up at the line of scrimmage one more bleeping time then you better pack your bags
Sports injuries are so mind boggling for me. You have guys like Babb that have such awful luck and other guys that are doing the same exact thing and have 15 year careers. Really hoping he can keep his head up, not only is he physically injured but I am sure the emotional let down he is experiencing is crushing.
And when enough is enough, both in accomplishments and monetarily. Would think it would be easier to retire for somebody after that has won championships, nothing else to chase (though there are those that do continue on).
You are absolutely correct, I should of added that Haskins impacted their play. But I also believe a big part of Haskins success was from the wide receivers. A few of the long touchdown passes were short plays the Parris took the distance purely on his play making abilities.
Very happy for Parris Campbell. Amazing the difference a legitimate position coach can compared to a drunk tweeting clown. Hopefully the same can be said about the linebackers next season.
I would say little, unless tattoos or gold pants were involved
At first glance on the headline, I was thinking oh crap. But that is great to see and he should be proud of his improvements.
Some good suggestions here. Check out the Higline. It is an old above ground railroad tracks that have been converted into a walking path with green space. It covers a nice little chunk of the city. Cool change of pace and gives a different view of the city.
For whatever reason I was surprised that he is the tallest of the three senior WRs. Dude really came on at the end of his career. He will get drafted and any team will be happy to have him, he can ball for the special team unit.
I hope not for Jones, because as I am sure someone has said "the tape don't lie". He is just another one of those guys that I think needs to end up in a beneficial system where he can shine.
Please New Orleans draft another Buckeye WR!!! Would love to see what Campbell could do down there.
Good for him. I hope he lands on a nice spot and has a great NFL career.
I have younger children. But what really worries me is due to social media and the prevalance of cameras everywhere, the mistakes I made that have been forgotten compared to the ones they make will live on forever.
This is a discussion that I have often. Are things really worse or are we just much more aware about things that are going on. Something crazy can happen half way around the world and word spreads within a matter of hours. Where 15 years ago you could have never heard of it.
while while often things are happening, remember a few decades ago hanging a person from a tree because of the color of their skin was not an uncommon occurrence.
That is disheartening to hear that kind of language coming out of the mouth of a man named Fran.
This and if a car is on the side of the highway get yourself out of the right lane if you can.
I agree with your premise. But I also believe if they have decided that playing with each other is that important to them, they have every right to make sure OSU or any other school understands that. Honestly making sure everyone is on the same page and honest (both OSU and recruits) is what is best for everyone.
Now you and I know probably making the best decision for each kid is what they should be doing, but try telling that to a teenager
Yeah, I bet his parents keep his birth certificate in their wallet. Sure they are asked to see it at pretty much any away game.