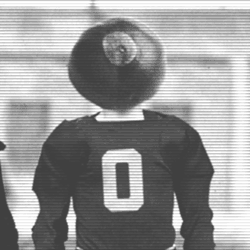 OSU60657
---
MEMBER SINCE August 15, 2020
Recent Activity
I vote for the Big Ten permanently firing Kevin Warren.
Under the current contract, Fox picks 1st game of the year. The pick the Game every year. ESPN has 2nd choice. They always take the PSU game. Then it's Fox again, and then ESPN, and so on. Makes you wonder how much would OSU command for its games alone. I am thinking WAY more than our cut of the Big Ten contract.
ND and TTUN have been historically most overrated per an analysis done two years ago on teams who were in AP poll start of year vs end of year. There are multiple teams who had a great season or good streaks that somehow makes people think they will come back. Most never do. They have their fluke seasons and then hibernate for a decade or so, looking at you, LSU. TV talkheads always say how teams who hire New coaches will come back, but if they all came back, then do any of them really come back.
Ron Paulus is a HS football coach? I guess they ND degree is good for something.
That shirt on him yesterday gives me hope.
The kid looks like a football player, potential for the NFL. I am not a huge baseball fan, but I don't think there are any non-pitchers in MLB at 300+. Good luck to him.
So they are the Michigan of baseball?
Haskins had a great season at OSU, but he should have stayed for another year and continue his development. The NFL is starving for good QBs and will take one much earlier than any position hoping he is their guy. Sadly too many never develop right. Look at all the QBs the Browns have drafted.
As long as the Buckeyes open up a 6 pack of whoopass every week, they will be just fine.
5 for $5, good times. I also remember college, 2 Big Macs, $2. Add a coke 99 cents, get it to go, and pay tax only on coke. Total $3.05 at the Mickey D's on High Street for lunch. Good days.
Texas and Oklahoma ranked in the 40s in defense. Kinda high, if you ask me!
Whether Ash or Hafley, they are new to the job, lots of so and so players they have to deal with, not OSU caliber players. On the other hand, Herman and Gingrich, yeah garbage.
The MAC will likely vote to play tomorrow. How bad do the 4 conferences that cancelled look in light of the fact they are all going back to play!
7am Hawaii time I am guessing? Maybe Alaska?
He's just doing it for the upvotes he knows he will get from people like me
I bet future contracts will have a pandemic and/or zombie clause.
My favorite comments are multiple instances where they agree that basically TTUN to OSU is what Indiana is to TTUN
Nebraska game is big noon kickoff. PSU will be ABC 7:30pm
Given what we just went thru, they will schedule a meeting in order to schedule a meeting, and it will take place over Spring break.
You would be amazed how often the espnu guys on siriuxm have no idea what they are saying, especially regarding rules. Often times I just role my eyes at the nonsense they throw out.
Doesn't matter. He might have helped them lose by less than 30.
WOW. Talked about a rollercoaster ride of a day for Scott. RIP Mr. Frost