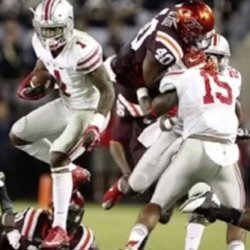 Osu244
---
MEMBER SINCE July 09, 2014
Favorites
COLLEGE FOOTBALL PLAYER: Braxton Miller
COLLEGE BASKETBALL PLAYER: JaeSean Tate
NFL TEAM: Cleveland Browns
NHL TEAM: Columbus Blue Jackets
NBA TEAM: Cleveland Cavaliers
MLB TEAM: Cincinnati Reds
SOCCER TEAM: Columbus Crew
Recent Activity
Absolutely, thanks for the info.
Harry and Jack Miller are not related.
Not even close. Leigh is heavy favoring LSU. Egbuaka to Ohio State, possibly Oklahoma. Burton is going to Kentucky.
It absolutely is dangerous from a long-term nagging injury perspective that could turn into major injuries. They will have very little time to rehab muscle strains that players typically can play through but need the offseason to recover from.
Big Ten leadership has screwed the pooch here. If they're really worried about player safety (they're not), they would know a spring season is way too dangerous for these kids to have two seasons in one calendar year.
My God, Harbaugh is an idiot lol. He had to look so stupid walking around in football cleats.
Late scratch due to a sprained ring finger.
Everything sucks about this season already and we're four games in.
Colin, say Ohio State strikes out on all of those mentioned above, who are some plan-B names that could pop up?
Probably just getting in my own head but this post made me nervous.
Transfers won't hurt recruiting, it's not just happening with the Buckeyes, it's all over the country.

689 transfers in 2017
704 in 2018
694 in 2019
I didn't follow recruiting during Matta's early years, but I do know, it's clear he wasn't cheating during the end of his tenure lol. Some of those classes were abominations.
Wait, did I miss something or are you guys just concerned about Johnson heading to Kentucky or Duke because he's so good?
Yea, sorry, should have specified this was unrelated to Branham. I was just curious about Brown. Thanks.
Kendall Brown out of the picture?
Coach Day nails it again. McCord's footwork is miles ahead of McCarthy's.
He has a pink driver. But he does use yellow golf balls. It certainly isn't illegal. Callaway even has a bright red ball out right now.
Fox has an argument for sure. As I noted, I was just a huge fan of Chekwa, probably a little bias showing in that selection.
Thanks for stopping by, Urban.
The other side of that is the RB position is much deeper than guard for OSU since 2000. Due to my reasoning with Clarett, Jackson should maybe be slotted at #3 instead of #2. Clarett was #4 for me due to how effective the three ahead of him were, for a longer period.
Price struggled in his first season as a starter. The national championship season he was really, really good beside Elflein. As good as Mangold was, have to disagree that he was better than Bentley. If Bentley doesn't get a staph infection (I think that's what it was), he would be in the NFL HOF. That basically ended his career. But, we're splitting hairs with those two IMO.
Nugent for sure. Cameron Johnston is the punter who you're thinking of.
All fair points, and Jenkins at safety because it seems to be a better position for him, even though he was insane at CB in college.
That's certainly a fair argument. He's really good.