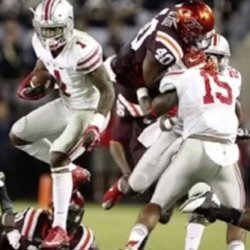 Osu244
---
MEMBER SINCE July 09, 2014
Favorites
COLLEGE FOOTBALL PLAYER: Braxton Miller
COLLEGE BASKETBALL PLAYER: JaeSean Tate
NFL TEAM: Cleveland Browns
NHL TEAM: Columbus Blue Jackets
NBA TEAM: Cleveland Cavaliers
MLB TEAM: Cincinnati Reds
SOCCER TEAM: Columbus Crew
Recent Activity
This is a horrid look for this kid IMO. He comes off looking like a d-bag.
I know Mack Brown is doing good things down there but I'm having a hard time not laughing at, "our team, at that time, should be competitive with Ohio state."
I'm personally thinking Smith and Pryor.
Nothing groundbreaking. His visit schedule and Ohio State is back in it due to Coombs, which we already knew.
For me, it's Stefon Diggs without a doubt. I thought we had him locked up.
I get the star power Brady brings but if I'm Tennessee I want nothing to do with him after the way he performed during the second half of the season.
It's definitely difficult to find anything wrong with this team, but for my money, I'm taking Lattimore over Ward.
I'm as big of an Andre Wesson fan as there is and I love what he brings to the team. That being said, he cannot be the offensive focal point on a good team.
18 of his 83 catches went for a touchdown? That's mighty impressive. Congrats on a fantastic career and good luck at the next level.
No disappointment from me, my confidence level isn't high on him coming here, his film is just fantastic.
So, I just watched some highlights for Gibbs for the first time. LOVE his film.

Not sure what his actual top end 40 is, but he looks pretty fast. However, his best attributes are his burst and acceleration, sheesh. And he is also incredible at maintaining speed in and out of his cuts.

I need he wasn't TECHNICALLY option A for us at RB, but if we can someone pry him out of the South, we will end up with a legit top-end running back.
He says later in the thread: "I mean right now I would predict he isn't going to be a Buckeye."
Kurelic now stating that Phillips could go either way after saying yesterday he did not expect him to sign with Ohio State.

https://247sports.com/college/ohio-state/board/120/Contents/kurelic-winwin-hafleys-commits-burrow-and-stroud-140580277/?page=6
This guy from the Clemson board is unbelievable. You complain about your posts being grey but no others. There's a reason for that, you're being downvoted to smithereens because you're not trying to have a legitimate football conversation.
We all recognize Clemson is a great team. But the fact that you come over here and continually spout off about 2016 and blow off the fact that Ohio State is also a great team (and different from 2016) is hilarious.

Fun fact. I went on vacation this summer to Myrtle Beach and went golfing one day. My cousin and I were paired with a father and son tandem, Clemson fans. They were very nice people and we talked about football quite a bit. Both of them said "man, if Justin Fields is as good as advertised you guys are going to be great. Both of us should make the playoffs."

They also brought up 2016. But they were more in shock of how it turned out than rubbing it in. I told them I was somewhat shocked by the result but not surprised at the same time due to JT run left, JT run right, repeat and that Ryan Day was different than Urban. They agreed.

Point is, I have no problem interacting and discussing games with opposing fan bases when they are level headed and not total D-bags. Be more like those Clemson fans, Vitamin C.
I love the thought process here. He knows how much talent the Buckeyes have and he also knows it only takes one big year, as Lattimore proved. Keep grinding!
Garrett Wilson is something else. Next year should be fun with him, Olave, Jameson, and the freshman wideouts.

I just want to mention Victor, Mack, and Hill though.
First with Victor - The 3rd and 18 play where he made multiple badgers miss was one of the plays of the games and kept the momentum on the Buckeyes' side. Just an incredible play.
Mack - Only had one catch, and it was phenomenal. However, he drew two big PI calls because the DB lined up across from couldn't guard him. Really happy for him with all of the injury struggles he had last year with the foot and this year. He played very well last night.
Hill - Last night may have been his best game as a Buckeye, and that's saying something for the all-time leading receiver. He also looked quicker in and out of cuts last night than I can remember out of him. A masterful performance but an all-time great at OSU.
Well, this is terrible news. Hopefully, he is good enough to give it a go.
BK reporting that Texas OT Donovan Jackson will make his fourth unofficial visit to Ohio State for this weekend's game. Four visits, on his own dime, seems like a good thing.

Edit to add link - https://247sports.com/college/ohio-state/Article/Donovan-Jackson-Ohio-State-Buckeyes-football-2019-138850719/
Lol what, no it isn't.

Please watch from 1:47 on, it's clear he's pulling at his helmet.

https://www.youtube.com/watch?v=_PMHlURlxus

Truly not trying to. He screwed up. He should be suspended for a really long time.
Apparently you skipped over the part where I said I wasn't defending Garrett. That was way out of line, so your first statement is pointless.

Statement 2. Garrett taking him down was likely a little excessive, but there is a case to be made that he didn't see the ball come out and no whistle was blown. I don't know that to be true, but I'm fine with the actual on-field play there.
Rudolph tried to rip Garretts helmet off, that's why he retaliated, which is what happens in every football fight ever. You can then see it's over, DeCastro (who de-escalated this entire thing perfectly and should be commended), is pushing Garrett away and you can see Garrett relax for a split second until Rudolph comes flying back in.
All I'm saying is Rudolph isn't some innocent victim here, he has a part in it, Garrett went WAY overboard and whatever suspension he receives would be acceptable (it's going to be lengthy). But I don't agree that he totally started it, they both have a part in it and Garrett went over the line. Just because Garrett did something way worse doesn't make it a one-sided incident.
Not defending Garrett AT ALL, he should be suspended for the year, or longer. But Mason Rudolph started that shit. The only reason Garrett had his facemask in his hand is because Rudolph tried to rip his helmet off. It was over, DeCastro had gotten Garrett away from the situation and Rudolph comes sprinting back in.

Again, don't take this as me defending Garrett because that was incredibly dangerous and there is no place for that, but Rudolph escalated that whole situation. In football, during a fight, the unwritten rule is that when a helmet comes off, it's over. When the lineman get involved, the QB leaves it alone. That didn't happen which led to Garrett losing his mind and going wayyyyy overboard.
Penn State deserved everything they got. USC has an argument, perhaps.
I'm with him on sentiment. The NCAA has always been way more harsh on Ohio State than it has on other schools it seems. However, Ohio State absolutely shouldn't play Young until he's cleared.