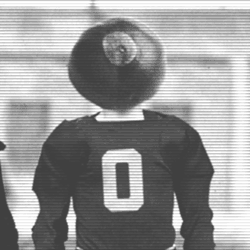 OSU_Alum06
---
SEC Territory (via Columbus)
MEMBER SINCE December 10, 2018
Favorites
SPORTS MOMENT: Holy Buckeye
COLLEGE FOOTBALL PLAYER: Eddie George
COLLEGE BASKETBALL PLAYER: Mike Conley
NFL TEAM: Browns
NHL TEAM: CBJ
NBA TEAM: Cavs
MLB TEAM: Indians
SOCCER TEAM: Crew & Tottenham
Recent Activity
I hate feeling this confidence, but wouldn't be surprised if OSU wins by 30.
Looks like Fields just went to talk to Chug. He's done.
Who would have thought first Q1 TD all year would be Rutgers?
So what happens if the expected attrition doesn't happen? Encourage someone to leave? I would think that's terrible for morale and recruit trust.
How many folks would have predict KW with 0 points, yet Bucks up 19-3?
Walker on a mission here early. Looks more like the guy we saw at FSU!
Fun question: What happens if OSU, Clemson, and Baylor win out, with UGA beating LSU? Has to be the three and UGA , right?
Was scrolling down to post the same.
Drives me nuts. Why do we even play the games if we're just going to use a subjective measure like eye test. OSU in 2015 would have wiped the field neutral site, but they certainly didn't deserve it. Has to be resume with the "eye test" and stats as the tie breaker.
For all of those questioning the Baylor and Minny teams, 2002 OSU would like a word. If you're in the Power 5, just win baby...
If one more person tries to make an entry pass from the top of the key... Middle school fundamentals.
Biggest questions being where do they put the Fighting Flecks and the Tide. My wild guess with what they do is as follows:
1. LSU
2. OSU
3. Clemson
4. UGA
5. Bama
6. Oregon
7. Minnesota
8. Utah
9. PSU
10. Florida
11. OU
12. Auburn
13. Baylor
Day might want to put up 100 spot.
I've had to laugh at the notion (from the uninformed) that OSU knew about the situation and waited to report. Right, because we wanted to wait until the stretch run to be without the best played in college football. We were really worried about those FAU , Cincy, and Miami games at the beginning of the year... Give me a break.
I thought Liddell looked much better in the second half too...
And not play exclusively 25 feet from the basket...
Sloppy or not, a good non-conference win. With the tough slate, this was a needed one at home.
Well that was terrible defense...
First time tonight with Carton and Walker on the floor at the same time...
Holtmann repeatedly mouthed who was that on?
Washington was a liability on D last year and he's gotten lost a couple times tonight. Would love for him to take the next step...
Carton with a layup, gets backdoored on D, Holtmann is pissed and sends two to the scorer's table, decides he's jacking a three. Bam!
I don't think the refs have been all that bad honestly. Did Liddell actually get him on that one though, looked like a decent close out about a second late?
Can we combine Muhammad and Washington into one player? Is that a thing?