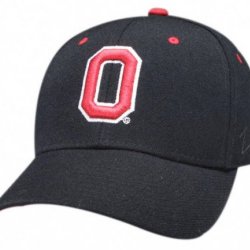 Ostate84
---
Janesville, WI (via Bay Village, OH)
MEMBER SINCE August 07, 2018
Favorites
SPORTS MOMENT: Many
COLLEGE FOOTBALL PLAYER: Nick Bosa currently
NBA TEAM: Cavaliers
MLB TEAM: Indians
Recent Activity
The resemblance is remarkable.
My thought as well, didn't seem like he should have gotten anything but he does get a rest so he'll be ready for the last 2 games.
Just hoping we as a team can stay away from the "one loss" that is completely out of character.
Very happy with this move. I have a feeling he is a bigger part of the recruiting of D-linemen than he is given credit for. He definitely deserves this.

That, That, That,
Guess I was a bit literal in my response.
Heck,
You can end your career doing lots of stupid stuff off the field, riding motorcycles, playing basketball, and simply walking across your living room in the dark. You truly never know when this kind of stuff will happen. Sure it is more likely to get hurt on the field, but this is how he plans on making his living.
Go out with a BANG and improve your draft position, no shame in that.
Good luck and Godspeed.
from what I have heard mid first round
Thanks for the memories this year, that INT for a touchdown is going to be one that is etched in my memory for a while.
Good luck at the next level, keep healthy and hungry.
Thank You, for a really great run. Being able to walk around with our head held high with you at the helm has been a great time.
He also was on Sportscenter in preparation of the game, wanting to be a part of the Michigan versus TTUN rivalry.
we had to rewind the DVR because we thought that was what he said but...
I connected the dots with the Iowa "wave to the kids" and the Purdue guy as well.
I know we come off as a cold heartless bunch but when they started with the Purdue guy on the broadcast, I looked at my wife and said OSU is hosed, they always play poorly in these type of games.
I truly do not wish ill on any of these folks, and understand this was his dream come true. But when you walk around with a target on your back you disappoint fans of other teams.
Good points, if we are trading punches early, If we win the coin toss and defer, I have yet to see a team that scores before and half time than the Buckeyes, and the 10-14 point swing is a big difference when you haven't seen the ball for a while.
So Buckeye's going 1-2? I could live with that.
Wouldn't like it but I could live with it.
Nope, need another RB. Corner the market.
Looks like Dre'mont is taking it in a landslide.
The shovel pass back to the house was just soooo fun to watch the 4th and 5th time they replayed it. QB and RB's reactions were of shock, which made it that much sweeter.
Thank you for making this clear as mud.
But what did I expect when I asked a smartass question.
So a question here. If you use italics, and the /s in the same post is it like a double negative? Or is it a reinforcement that you are really just being sarcastic and want everyone to know about it.
Inquiring minds want to know.
Somehow I think this may not be entirely truthful.
This x 1,000 I want him no where near the Browns.
So if Joe keeps them winning, then it would be a shame to have to beat his team in the playoffs.
Hello TheAFBuckeye, thanks for sharing.
To me it is fairly irrelevant what the other fan sites say, as well as the mainstream media. They have an agenda, and a narrative that is pretty popular right now. BUT, the main point is that when you are good, not many folks are going to say pleasant things. Is it jealousy, bitterness, yes and yes, are they tired of losing to us on a regular basis, sure so tip of the hat isn't usually going to happen.
And by the way, it is 1:42 central and Xichigan still sucks.
Once they tap out it would have been classless to rub it in. When you break your opponents will and they surrender it is not bad form to call off the dogs.
If they fight to the bitter end, then yeah, score because it's their job to keep you out of the end zone.
So while I am welcoming in Urban with open arms, we now have taken the veil off our OC as a target for other teams as their head coach. The future is bright for the padawan. Let's just hope we can keep the kids from growing up and leaving the house, because it would hurt to lose Day in the long run.