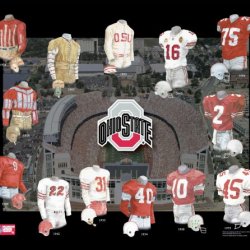 OscarSierraUniform
Grove City, OH (via Westerville, OH)
Member since 15 July 2014 | Blog
Favorites
SPORTS MOMENT: Watching THE Ohio State University defeat University of Miami for the BCS National Championship.
COLLEGE FOOTBALL PLAYER: Any Buckeye - past, future or present.
COLLEGE BASKETBALL PLAYER: Aaron Craft
NFL TEAM: Not an NFL fan.
NHL TEAM: Columbus Blue Jackets
NBA TEAM: Cleveland Cavaliers, Boston Celtics
MLB TEAM: Cincinnati Reds
SOCCER TEAM: I don't follow soccer.
Recent Activity
Is he part canine? I thought only dogs bared their teeth when mad. Weird.
If 11W had a hall of fame for posts, this would belong in it. So awlsum!
I wouldn't eat a bowl of suck even if it were safe to eat.
That's a big, healthy bowl of suck.
In the States, I like the high-desert of Eastern Oregon, Coastal and Palouse of Washington, Texas Coast, Acadiana part of Louisiana, Colorado Rockies, Blue Ridge in Virginia, Berkshire Mountains in Massachusetts, Old Orchard Maine, Rehobeth in MD, Charleston, SC and the UP in *ichigan.
St, Maarten, French and Dutch side. Jamaica, Costa Rica, Chile and Peru. Trinidad and Tobago are decent also.
French/Swiss Alps. Bordeaux region in France. Anywhere in Germany prior to refugee invasion.
The blonde in the black tank, upper right looks like she might be some fun.
Because they are close to a lot of good recruiting grounds. All it takes is the right coach who can recruit well in areas like NYC, Philly, Jersey.
Why have a basketball program if you're unwilling to sink money and invest in it. Especially when you've become a member of a coference like the B1G. It makes no sense and that's why it amazes me.
My thoughts echo MN Buckeye. Thanks a lot for posting that. Kid is a freaky beast.
Absolutely unreal a head coach of college football, a leader and molder of young men would react like this to a player who did the RIGHT thing. Freaking mindblowing.
Need to be smart with this possession and get something.
Remember Jim Smith? Late 70s, early 80s. He'd have 3 fouls in the first minute of the game. He pounded people.
The Nuthouse sounds pretty loud tonight from where I'm sitting on my couch.
Blue Ash Chili is a must!
They pulled together and peaked. Plus the football team had talent. What I was trying to say is do they have the heart to pull it together and simply play better and maybe win a game or 2 of the 3 remaining and then go on and play better in post season.
Like I stated, I'm not expecting any kind of championship at all. Just better play. Smarter play.
No. Not at all. But, are they capable of pulling together IF he experiences any absence. The furthest thing from my mind with or without Tate is a championship of any kind.
That's awesome news. No more floor slaps for him! Hopefully, he will be on the floor the remainder of the season....or however deep we go in whatever postseason bracket we wind up in.
Any word on Tate yet? I have a feeling it's not going to be good news.
Wow. That is tough. I'd have faith in just about any QB listed.