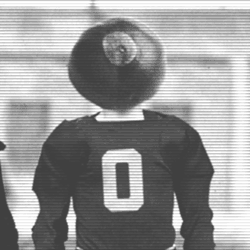 O'Rourke
---
MEMBER SINCE September 30, 2014
Recent Activity
Few and far between but I think it could happen.
Crazy. He got a new deal and out of Pittsburgh when he had 3 years left on his contract and no leverage other than being such a PITA that the Steelers would practically give him away. Can't remember anything like it in the NFL.
Zeke ran an official 4.47. I thought Weber would be mid 4.5's at best he had a good day.
I'd take the kid in a second if he wanted to transfer here. No such thing as too much talent IMO. Also, if Tate wins the job we've got a 5'10" ~200 lb. QB that likes to run it. I certainly hope he stays healthy just saying you better have a backup who is ready.
Even with Tressel's approach there are going to be more D1 caliber HS players from Ohio than we can take each year. They will play somewhere, better at UK than up north for example.
He's gotta at least be in the conversation IMO. Pretty crazy what he's done there.
I understand the negative reactions to this but if I was a first round pick, especially one who was there in person when Jaylon Smith blew his knee out in the Fiesta bowl that's a hell of a hard decision to make. I'm not going to think anything less of Denzel Ward for sitting out and I wish him nothing the best at the next level.
Looks like that 1-tech/NT type that people have been clamoring for.
I expect some hot debates on the starting QB the first time whoever wins the job throws a pick or even misses a throw.
Grew up watching the Cooper years and no matter how bad TSUN looks I'm always wound up about The Game when mid-late November gets here. You younger guys don't know how good you have it and you older guys at least pretty much broke even. So many Thanksgivings ruined.
Did you feel the same way about Schiano last year after the way we reloaded in the secondary and had two guys who had only started for 1 season get drafted at 11 and 16 in the first round along with Conley going 24? We've been losing a lot of guys early to the NFL, some of them with 2 years of eligibility left.
Not a fan but I do like these better than the black ones we wore last time PSU came to the Shoe.
Might work as a road jersey, not a big fan of wearing these at home though. Gotta have some scarlet on there for a home game IMO.
Pretty crazy to think he played DT in HS and college, guessing not too many NFL LB's have made that transition.
Guessing he's on one of the special teams units with Dixon so he had to switch.
Lol, yeah those are definitely to be taken with a grain and/or boulder of salt.
Billy Price was listed as a DT as a recruit as well.
I see nothing but upside for the student athletes so I'm in favor of it.
A lot of these 4 and 5 star QB's end up transferring from their original school. Heard on the radio it was upwards of 50% that transfer at least once during their college careers.
Hell yes. Granted I was in HS and hadn't developed a taste for beer... but Sprite that gets you drunk? Where do I sign up?!?
LOL, yeah I'm with you there. What the hell are you going to do against 10 other guys? Not sure how I'd get into a 10 vs 1 fight but pretty sure there's not a damn thing I could do other than try not to die.
Long way to go considering NLOID just happened but I think Meyer has built a machine here. You're never going to get every kid you want and star rankings don't mean everything but looking at the ratings of the classes coming in and the amount of talent going out to the NFL it's hard to argue we aren't recruiting as well as anyone in the country.
Don't really like him and don't really dislike him but I can't give you a good argument for anyone over Brady.
And, with the caveat that I think he's a complete dick 99% of the time and would cut his own father to sign somebody cheaper, IMHO Bill Belichick is the greatest coach the NFL and perhaps sports in general has ever seen considering what he's done, the amount of control he has over that entire organization and the era he's done it in with the cap, free agency etc... Managing the whole roster the way he does he's basically a GM and a head coach at the same time and he's been killing it in both regards for a decade and a half.
Local kid, watched him play in HS. Wish it would have worked out here but hope he gets on the field for Cincy.
I agree 100%. I trust Meyer and this staff. If they think a kid has earned an offer I'm good with it whether he's a 5 star all everything recruit or a lower rated prospect.