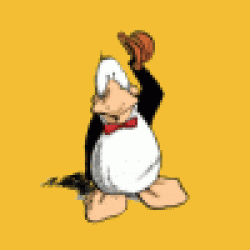 opus
---
Member since 22 July 2013 | Blog
Recent Activity
I mean, you'd think Oregon would have learned to plan for a backup QB by now.
"Wait, the YMCA can field football teams? Get them on the phone!"
- Baylor
Because Xbox is the only platform with BC (right now). And I don't think they made a PC or Wii version.
BTW, this is up to EA to implement, so I wouldn't hold your breath. That User Voice thing is just a poll.
Seconding the recommendation for downtown. Be sure to venture off Fremont and check out East Fremont and the Container Park, where there are a lot of really cool bars and shops (RIP Insert Coins).
Cosmo is my favorite hotel, though I mostly stay at Aria/Vdara when I go. Cosmo was absolutely dead when I was there in early November. It was kind of sad.
Also, check out Giada's at Cromwell. Wife and I went shortly after it opened this year, and it was amazing. It's a regular stop for us now too.
UNC played two FCS teams, I believe. That should be an automatic disqualifier.
I live in Seattle, and this is 100% correct. I even had one tell me that TAMU wasn't even the first to use it, then proceeded to tell me a story about a guy that came out of the stands, and stood on the sidelines in uniform waiting to play, and that was where the 12th Man came from. But it most definitely wasn't at TAMU.
I was like, "uh..."
And yes, they refer to themselves as "12s", the official slogan is "We are 12", and I think their highest selling jersey is the "12" jersey because, as one "fan" told me, "it's cheaper, and I don't have to waste money on a guy who's not going to be here that long anyway".
tl;dr Seahawk fans are the WORST.
Someone asked Hancock if weather were a reason for Minneapolis and Detroit's unsuccessful bids, and he joked, "We had the game in a cold weather city last year."
Nobody laughed. He was getting grilled pretty good about it.
Three? Buck I Guy, the Big Nut guy, who's the third?
I was watching WWE Money in the Bank last night, which was in Columbus, and my most favorite thing were a bunch of Oregon hats in the crowd that had been painted scarlet. Living in Seattle, that would come in pretty handy.
So, for some reason, when I started playing this video, the WWE Network feed I had in another browser started playing. It's an old Attitude Era RAW. The audio was Michael Cole interviewing Sable, and he's talking about how Luna was going to "humiliate her, and strip her down to her bra and panties." This was happening as Zeke was slicing through the Oregon defense in sad black and white video.
And I thought to myself, "man, this is the weirdest hype video I've ever seen."
What's the difference between "jail" and "banned"?
To go more recent, I'm gonna say Selfie. Yeah, yeah, I know, but that show got significantly better after its dreadful pilot, and was shaping up to be a solid show when it got cancelled. Thankfully, Hulu aired the rest of its run, it's worth checking out.
And here is where I complain about ABC's run of torpedoing good-to-great shows with horrible names that turn off the audience:
Better off Ted, GCB, Don't Trust the B in Apt. 23, Cougar Town, Selfie, and Happy Endings, just to name a few. Thankfully, blackish and Fresh Off the Boat seem to be spared that fate.
Go On had a great ensemble cast. I miss that show-it was loads better than Perry's Odd Couple remake.
The best part about the XFL were the presentation concepts the NFL just blatantly stole, and yet never bothers to give VKM any credit for them.
I loved both Friday Night Lights and Chuck, but they both ran for five seasons. It's hard to say they were "cancelled way too soon", considering they both ran for two seasons longer than they probably should have.
My vote would be for Happy Endings, but the stars may be aligning to get another season after it's way too short run, so I'll say Better Off Ted.
Damn, 2X gone already. Are these slim fit? The Homage shirts run small, so I always have to order a size larger than I normally do. Wondering if I can get by with an XL.
This might be the first time I've regretted living on the West Coast. Stupid time zones.
This is amazing. And there's a championship poster coming soon, too? LAWD.
Is there a link somewhere where I can download the entire season of posters? This was the only season I didn't get all of them, and picking back through the site was a bit of an exercise in frustration, last I tried.
I was a huge Flair mark when I was a kid, but he's just a sad shell of his former self now. I can't watch him.
Also, give me "Conspiracy Victim/Man of 1001 Holds" Chris Jericho over Y2J any day.
Oregon called a timeout with a minute and half against Michigan State up by 12. They then proceeded to score a touchdown on 4th and 2. They won 46-27.
I'm surprised they forgot about that, since they spent the last week talking about how they were going to do the same to us.
I wonder what happened to that National Champion commercial Nike filmed for Oregon?
If it helps, it's a food and beverage guarantee, not a "ticket" per se. I was in the same boat, and my buddy and I hit that hundo no problem. We might have got it on drinks alone!