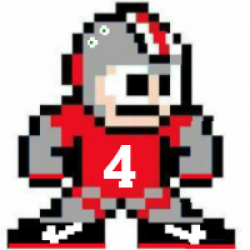 oprettyricky
---
from Sylvania, OH
MEMBER SINCE January 31, 2015
Born and raised in Ohio. OSU alum. CWRU alum. Living in Texas.
Favorites
SPORTS MOMENT: Witnessing Ohio State beat Alabama in New Orleans and Ohio State winning the first college football playoff
COLLEGE FOOTBALL PLAYER: Kurt Coleman
COLLEGE BASKETBALL PLAYER: Danny Green
NFL TEAM: Wherever Kurt is. If he retires, the Browns
NBA TEAM: Cavs
MLB TEAM: Roll Tribe
Recent Activity
some....but then i realized it was vs UCLA
saw them at the rose bowl last weekend...they looked good, not gonna lie. Jalen is on a mission.
and now im officially checked out for the week and ready for football
and by lose, I mean Wisconsin will have more points than them - just to clarify
im sure if they lose they will use it as their excuse....but i think with/without him, they will lose
sense of humor....amazon has them on special. get one.
Yep, D will be necessary whether Penix is in or out
Also, ESPN is completely biased and I think it should be evident to everyone.
Oh lord.....you did not say that lol....prepare yourself
Still here for the Penix jokes and puns
Yep, I will take the laugh above with pride. That is well above average for my usual zingers/jokes.
prepare yourself for the wrath of Cincy
If OSU isn't in it, give me basically anything other than Bama-Clemson again.
THIS
I still am looking forward to it. Aside from all the lames DV'ing them. It is just a name. I think at some point we have all been made fun of with our name whether its for the name itself or something that rhymes with it or a nickname containing it. Stop being so sensitive people.
Are people seriously DV'ing this ....take a joke y'all....smh
UCLA / USC may become relevant again
Donated over $652 MILLION over the years....WOW
I really hope this kid is in a similar situation if he plays football and chooses the good guys [over UCLA] when he is in high school. That would be such a cool story.
OSU Alum here. this was the stupidest thing ever....so is LeBron for acting like he came up with Taco Tuesday. That has been around for decades..
before everyone bashes the schedule...they already have home and homes with oregon (2020 and 2021), notre dame (2022 and 2023), washington (2024 and 2025) and texas (2025 and 2026).....no reason to play a top 25 team each week...tune up games are clutch for adjusting and trying things out.
Love seeing the defense was not on the field as much as the first game. Headed in the right direction.