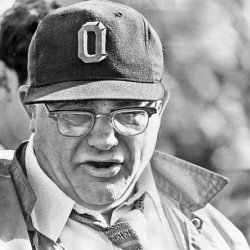 onewiseburdman
Colu/bus (via The Bus Baby! But I hail fro/ NJ.)
MEMBER SINCE May 18, 2014
I've been a buckeye fan for the past 20 years that I have lived in Ohio. I love College Football as a whole, and know that UF/ is one of the best coaches on the planet. I bleed scarlet and gray 24/7/365. GO Bucks!
Favorites
SPORTS MOMENT: When Ohio State Beat /ia/i, 2014 NCS
COLLEGE FOOTBALL PLAYER: Troy S/ith, Cardale Jones, Zeke Elliot
COLLEGE BASKETBALL PLAYER: Fair weather fan...
NFL TEAM: The Jets -- They just suck
NHL TEAM: The Bluejackets
NBA TEAM: The Cleveland Cavs
MLB TEAM: The New York /ets -- They choked!
SOCCER TEAM: What is this soccer that you speak of?
Recent Activity
Bucknuts was reporting this since earlier during the week on twitter.
One can see it that way, or one can see it as him struggling mightily and the only common element was Fickell. I stated it in another comment, the game has changed - he has been here a long time. It reminds me of a guy I used to work with like 12 maybe 13 years ago. He worked at the same place for years, happy and content - a good engineer but not great. I would always tell him hey man, there is more money out there - better experience, he used to save hey Avraham after I get my drive time I am going to move on. He has been at the same place for 19 years - and he has become fat, happy and complacent. He now is stuck with the same skill set, and after getting laid off - couldn't understand why no one would hire him. In that case Technology passed him by. I personally think the game is passing Fickell by and I think College Football has evolved. I never said he wasn't a great coach - nor did I say fire Fickell. I should have stated it more eloquently but I said he needs to go. A great recruiter - absolutely, a good line backer coach - yes, but a great play caller - not convinced. There was a reason Meyer hired Ash - the loss to Clemson and MSU. The game has changed, athletes are stronger, faster and the B1G in general is recruiting at much more elite levels. The 3 yards and a cloud of dust are now power read options, spread options, play action etc... I just think we need younger fresher blood. Tressel was very involved in the Defense, much more so than Meyer - he also played a different kind of game, and when Tress met Meyer on the field - we all painfully know that outcome. The Defense got smoked - and the line backers were out played (under Fickell). So... all that being said - I think you get my point.
I agree entirely that Beck stinks. I am presuming after watching the Michigan game he will be gone. If you re-watch the game you will see him leaning to side, literally on his fist as though we was board. Not a good telling sign. The other side of this coin is sometimes one can hire someone on paper that looks good, but really was just not a good fit - or just sucked. I think this is the case. I think Beck will find a better "opportunity" and move on. My presumption is also the same for Fickell - Ash righted the ship as displayed by performance - or he needs a complete demotion and needs to only focus on the line backer corp. There are serious issues with stopping the run and the deep ball threat seems to be there again - one cannot completely say that it is solely on Fickell as Apple may just not be a very good corner - or perhaps its somewhere in between. If I was meyer and I'm clearly not - I would take my chances. The offense looked and performed extremely pedestrian till he took over during the Michigan game. The defense while performing at an elite level - was heavily placated on Bosa - whom is a first round draft pick, arguably number 1. The questions that really needs to be answered - was the defense performing so well because of Bosa? Or was it because of play calling. We still had issues up the middle, and for some reason never stacked the box? Bottom line - only time will tell, but Ash is gone, and I'm happy for him. He has a bright career ahead of him and most likely will end up in the NFL. As much as I love TOSU, I would never want someone to hold themselves back from making millions of dollars - that seems to be contrite and frankly a bit selfish. We should be happy that Meyer was able to put these guys into a position to make all that money and it should speak volumes about his recruiting abilities (outside of Beck).
Look man we can disagree, people are interchangeable and if you really ran a company you would know that. At the end of the year we shall see what will happen. You think one way, I think another way. It's not a "major" turnover either - Ash aside.
Welcome to Football man - in the NFL teams change entire coaching staffs in one season and win the Super Bowl the next. It's the way it is. What you feel is ridiculous I see as reality - there is a difference between our thought processes. Personally I think what you are saying is ridiculous. It still doesn't warrant a mob mentality - nor does it warrant your persistence in trying to prove your point. You insulting me didn't help the situation in any way shape or form. Nor did Kurgis for that matter.
For the most part, I enjoy talking about College Football in general - and I really love The Ohio State University - after I got out of the Marine Corp it gave me a very clear career path and set the way for me to go to a very good school afterwards. It becomes childish to continually try and push your opinion down my throat. Down voting and not allowing someone to have an opinion is not kosher - its mean spirited. You could have said like the other guy - i respectfully disagree and moved on. Instead it had to be major theatrics - and you cannot see that others have an opinion. If OSU does turn over 4 coaches this year, all of them will be extremely well compensated. Meyer has a rolodex of people that can get the job done, and can pull from the NFL. I wouldn't be too worried about it. If it was an interim coach - then I would trust Gene Smith to go out and hire another great coach like Meyer. TOSU is built upon the principals of higher academics, elite athletics and deep ties to tradition. I really have no worries about finding three new anything - if we were at Akron, or Hiram College - yes I would be worried.
Lets leave it at that. The conversation is getting stale fast.
Yes I would fire 33% of my employees if I had to. If my directors weren't performing they would be gone. I don't need to fire shit, because my people perform and we make some very serious money doing it. That being said, if sales started to dip, or if my developers starting writing un secure code - they would be out in a heart beat even if it was 33%.
What is ridiculous is your thought -because the coaching staff is way deeper than 4 guys - its more like around 14 - 16. You only see the high profile guys and think thats it? So in essence you are turning over 10%. Whilst the NCAA limits the coaching staff to 14 - the "volunteers" actually make up an additional 5 to 6 or so. Add in the other staff and admin and its around 50 to 60 deep. So in essence that being said its 20% of the direct coaching staff.
Plus I pay in the upper tier ( we are proudly a 95% company). So if I had to fire 15 people tomorrow - so be it, in Columbus or in California or Jersey City I can find 15 more tomorrow. The thing is though you like to be smug - i've seen you do it to other people many times in the past. I think you enjoy arguing and trying to make people look small for your benefit. This really wasn't about football at the end of the day - it's about you bullying people.
http://www.footballtimes.org/Printer.asp?ID=217
So now you are what? Scratching your head - give it up man.
I never said he was a bad coach - that's where all of you are wrong. I said he should pack his crap and take warinner and beck with him. You all jumped on my shit and read way to much into what I said. Now thanks for the down votes instead of a civil conversation. People get way to jump on here, its like for some reason they get a herd mentality and start running with pitch forks in hand. I said its time for him to leave - I guess if I would have said leave it would have been okay? I still love this forum but sometimes people go way overboard.
I think he fit under the Tressel system - I don't think he fits under the Meyer system. Different coaching philosophies and different playing styles. I am not saying he is a bad coach, I am saying that he's past his time. College football in general is changing, under Tressell it was all power I as well as much of the big ten. It's changed now, the read option and the spread means you need fresh blood who understands this schema. Hell Meyer pretty much well invented the west coast offense. So at the end of the day, I think he's past his tenure. Warinner doesn't understand the spread - or at least until this past Saturday he didn't (and neither him nor Beck knew how to take advantage of a passing quarterback). The failure falls on Warinner and mostly Beck for the lack of progression for Jones - Warinner for not getting the O-line set and squashing what apparently appears (appears being the key word) to have been locker room issues - to validate that go back through a lot of the different videos of the players this year post game and pregame. Beck stunk and that is validated by actually reading the same complaints from years past on the Nebraska boards - why does he run it up the middle, same routine over and over again. So all that being said - it's time for a change.
So here is the deal - it's actually very good for him as a Coach. And very, very good for these guys to move on and make the money. Tom Herman made something like 780k at OSU with his Bonuses. Now he stands to make $3-4 Million. Ash will most likely do the same. It's good for the program, and it's good to keep things fresh. He asks for a two year commitment which is what any good boss will do. Unlike most of the haters on here, I actually own a company, and I am very happy if my staff moves on and makes more money or gets a promotion - same as Meyer. If you run anything now a days you are lucky to get two years out of anyone. Meyer will find a very good replacement - that being said, people put blinders on when they see a narrow window of success. IF next year we started to go into a tail spin they would be hollering fire this coach or this coach. I also stand by my convictions that there are better coaches for TOSU. Meyer went out and hired Ash and the Defense turned around - now he has to find the guy to bring continuity. He hired Herman and there was supposed to be continuity. Reality dictates that if you win National Championships you leave and get the money while you can. So with all that - whilst I can appreciate the angst, Meyer will hire whomever he can that he feels will fit his system.
I'll make a deal with you - you pay off all my student loans that I owe to Ohio State and I'll gladly go.
Yes it would help us a hell of a lot. These are almost all freshman, and sophomores. All of you who have this love jones with the coaching staff, clearly weren't watching us play this year. Ash was very good, and so was Herman. Herman is gone and look what we got - Warinner and Beck were not good. Fickell already has the DC spot once and we lost to MSU and Clemson as I recall. Be in denial all you want - but Meyer can recruit pretty much well anyone in the country to play for him and coach for him. There are way better offensive coaches- and way better defensive coaches out there. Ash is leaving and going to get much more money. Last year most of you were calling for Warinner to go, and most of you this year were doing the same. The difference is here - I am a realist. Reality says we should have been playing like we were against TTUN all year. Reality says, turn over in management is always a good thing - it keeps you fresh, and it keeps the team hungry. We already are a player factory, so there would be nothing but greatness to say that we are a coaches factory too.
Whatever Kevin Kurgis - you might be great in the courts. But thats a bull shit comment - this isn't playstation - the staff is not great, and you damn skippy know that Warinner was going to leave once before and should have. Fickell and your love fest because you played for him ( if you really are Kevin Kurgis) doesn't mean he is the cats meow. There are many better coaches than him. Beck sucks and you have to admit it. Its pretty amazing that Herman and Ash show up and the Buckeyes are dominating folks. Fickell plays soft coverage with a 10 yard gap - they get burned on the deep ball. He also couldn't stop the run up the middle. Fickell can recruit and I give him that, and he may be a good line backer coach - but there is no way that he should be in charge of the defense again. I appreciate his loyalty to the program, I really do. Like all things though, he has run his course. Same as Warinner and most definitely Beck.
I love the team, hell I'm an alumnist, but still - there are better coaches out there - and TOSU can more than afford to pay them.
So i'm not allowed to have an opinion? I just said my mind and get down voted? Then up voted later on? People need to face reality - Fickell is not a great Defensive Coordinator, Beck really sucks and Warinner is just ok. We need Elite Coaches to go with Meyer. We have an entire freshman and sophomore team that is about to take the reigns next year. I didn't say I hate Fickell - I said I hope he backs his bags, and with all honesty it was Ash that was the real good Defensive Coach. So I stand by my statements. We need fresh coaching now that Ash is gone. So down vote me from here to Sunday - but the fact is that they need to go.
I don't think so - especially if we can get into the CFP, that's enough recruiting for anyone to want to come here and play. Or if we get to the rose bowl. They come for Meyer and the NFL prospects. Let's hope next year we are talking about a three peat with our new Offensive and Defensive coordinators.
Ain't going to happen man - he's going to Syracuse. Whats good for him is hopefully he has two (2) national championship rings to use on his recruiting trail.
Sorry man - I hope Fickell packs his crap in a cardboard box and takes Warinner and Beck with him. Fickell while a great Buckeye is not the best defensive coach out there. There are many more much better qualified coaches - lets hope that Meyer hires some of his former Florida Staff - or goes out and finds the next Herman x 4. Two for the offense and two for the defense.
Well, all things considered - the guys that should leave don't and the guys that shouldn't leave do. That being said - go get that $$$ Coach Ash.
It took me a second to get that one. Nicely done.
Regardless if we win the CFP or not, let's hope he takes Fickell, Warinner and Beck with him.
I doubt it. MSU or IOWA drop out.
To add to that it would be poetic justice to smash MSU and Clemson round after round.
If Clemson drops one they are done. I personally hope its Bama and Stanford. I want the Clemson rematch - and I want us to stomp them into a mud hole.
Welcome to 11W or welcome back anyway. I have been reading bleacher report, espn, cbs sports and fox sports - none of them have the depth of conversations that we have on this site. Glad to see you got to watch the emaciated TTUN get their rears handed to them.
Then Nick Saban abandons the SEC and defects back to the B1G.