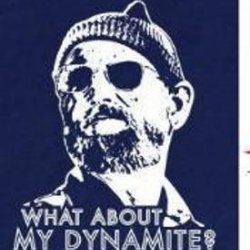 OnceaBuckeyealwaysaBuckeye
---
MEMBER SINCE February 03, 2015
Recent Activity
Can it be September 3rd...like...tomorrow???
If there was such a thing as a 'football erection' I'd have had one for the last 24 hours!!!
Thanks 11W, this made my day much easier as I was able to simply iMessage the link for the article to my kids who are spread across the country and want to buy something for their old man for Christmas!!
Link, etc. seems to be working now (I had similar problem earlier).
Just read 'a reliable source at *ichigan says he's decommitting from OSU and committing to TTUN' to play for Hairball. Don't know how accurate that is just yet...
Regardless of all the arguments he'll be walking with a pronounced limp by the time he's 30-35 for the rest of his life. It's just sad all the way around...
'The future's so bright, I gotta wear shades'!!!
Still have 7/8. Did it occur to anyone else how huge these remaining teams are? And how about the thought of Russell having gone to Louisville instead of OSU...wow!
As a professor of anatomy & physiology I can tell you if anybody stops eating pizza, burgers and fries, bread, etc and, in addition, stops the intake of alcohol and high fructose corn syrup, etc, eats small (4-6 oz) portions of high protein meats, high fiber vegetables and fruits and limited amounts of complex carbohydrates while drinking 8-12 glasses of water a day combined with moderate excersize, is going to lose weight. In other words, you don't need to spend to spend money on fad products to lose weight, you simply need to eat wisely. Also, the long term effects of many of the ingredients in the products can be very detrimental to the body, for example, sucrolose, non fermented GMO soy products, sunflower oil, and synthetic vitamins just to list a few. Not meaning to burst any bubbles, just be sure you're careful about not using this stuff long term (more then a few months).
I love Thad but, as a practicioner, I am concerned about his health, and not in a bad way or that he should be fired. It's hard to watch him on the sideline. He's clearly in pain. Kinda breaks my heart a bit...
Kind of at a loss for words...thank you so much...!
This is fricking awesome, seeing these lists! Pretty wild to find that many of us were at the same shows 25,30,35 yrs ago. Brings back some great memories.!!!
what about Humble Pie, anyone mention them yet?
Well researched post. Don't think I've ever felt so informed about cookies. Now I'm hungry...
Signing Still so he would have health insurance and his daughter could be covered was a class move. Hearing she's in complete remission brings tears to my eyes. I lost my wife to cancer, malignant melanoma, for which my fair-haired light skinned children will also be forever at risk. My 21 yr old son had suspicious moles removed just last week, so I have imagined the terror of the moment the Dr. tells you your child has cancer...
Lot of young pups here! In the 'old days' there wasn't much to do like there is today so concerts were what we did, and usually for only a few Bucks. I remember being pissed when we had to pay $5.00 for a show.
First show: Montrose (with a then unheard of lead singer named Sammy Hagar).
Best show: too many to list but a few come to mind - Bowie (Ziggy Stardust and the Spiders From Mars tour), The Rolling Stones (in Cleveland), Queen (Freddie Mercury - absolutely dynamic stage presence), The Faces (before Rod Stewart became a pop princess), The Pretenders, The Who in Cinci (yes, THAT concert, Google it if you don't know what I'm referring to), English Beat (Del Mar Raceway, San Diego), Yes (several times), Eric Clapton, Traffic, list goes on... Clearly we were rock and rollers 'to the max', and loved those stadium shows when you were guaranteed a buzz by just breathing...!
Small world... I was at both of these. I live close enough that I was able to listen to Mumford and Sons from my porch.
Sounds like I wasn't the only one wavering on this kid, but not now. Loving the attitude and commitment! Loving the fact he's going to be absolutely dynamic, surrounded by the best backs and receivers and protected by the best line in the nation! Loving the fact that I'm a BUCKEYE!!!
The students who continue to drive around for hours to find a place to park certainly have not been impressed with his body of work, but what the hell do they matter anyway...
I have a feeling things will work out...
In Meyer We Trust!
Thrilled to hear about the recruits, thanks!
Bleacher Report, USA Today Sports, even ESPN have all become intolerable. They clearly exist for the sole purpose of ad revenue rather than sports reporting. The 'suggested just for you' ads are just too obnoxious, even invasive. Hell, I can't even logon to Facebook anymore for the same damned reason...
Nor is one game the definition of a career.
Congratulations to the family!