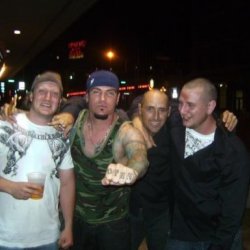 Ole Buckeye
---
Adrian, MI (via Columbus)
MEMBER SINCE June 07, 2013
Lifer. CBus native living in TSUN. Picture is my son and his buddies with Vanilla Ice on High St.
Favorites
SPORTS MOMENT: OSU-Purdue, Oct. 1968. In the Horseshoe.
COLLEGE FOOTBALL PLAYER: Mike Sensibaugh
COLLEGE BASKETBALL PLAYER: Jerry Lucas
NFL TEAM: Saints
NHL TEAM: Red Wings
NBA TEAM: Pistons
MLB TEAM: Tigers
SOCCER TEAM: Gahanna
Recent Activity
Well maybe the problem is they went to bed at halftime.
Exactly.
I'm happy that the Bucks are opening with Clemson. It will be like 2014 again, where the more feared team, Alabama (in my opinion) was our draw, and we beat them.
You know, Clemson will be tough, but I do trust in Day and our coaches to come up with a good plan.
And, I'll be thanking Wisconsin for giving us a good scare!
All I can say is, good time for a 3-week break!!
Taylor by 20 yards, because he plays all four quarters, and Dobbins will watch the fourth quarter from the bench!

Taylor: 107
Dobbins 87
Teague 92
It will be nice to be inside for the CG, but remember, we didn't get Coan's best game last time either. I think he's a good QB; it will be interesting to see how much he can step up his game this week.......
amazing, 2 games, 93 yards.
Dobbins probably 250 yards total.
And yet, a lot of people think we will be throwing the ball a lot this Saturday!
Yes, one can watch the Buckeyes talk, just can't LISTEN to them. Bad sound drives me nuts. Arrrr.
I seriously don't care where the Bucks are ranked, as long as they are in the CFP.
In 2014 we might have hoped to play FSU first, but we drew Alabama and that worked out f***ing awesome!
It was hilarious driving to work in Ann Arbor this morning, listening to these three old dudes (my age, actually) who are on 1130 The Fan after 8 a.m. They went through a long explanation about why and how the CFP committee was keeping Michigan, Wisconsin and Cincinnati, etc., highly ranked to make Ohio State's SOS look better and everything... "because they want to keep Ohio State #1". Never said why in the world the CFP would want Ohio State #1....???!!
They're really grasping at straws to explain the deep chasm that the Wolverine football program has fallen into.
Of course the other two old dudes agreed with him. Then they started talking about how their new hope is that Harbaugh walks away, so he doesn't have to be fired.
Yeah, in the TUN game, I kept waiting for Young to do the standup MLB bit... I thought against Wisconsin the first time it really threw them off.
I also hope we get to see some Tommy Togiai and Zach Harrison this week. I think they were both pretty effective against Wisconsin... Harrison with his speed and Togiai basically helping to wear them down in the trenches with his strength.
Just heard Devin Gardner on the radio explaining that that's coaching - - running backs aren't used to receiving the snap, there's usually a delay before the hole opens, which fits the time it takes for the QB to gather the snap and turn and hand it off.
Haskins should have been coached to get the ball, hesitate, bounce on your toes a little, and wait for the LG to come around.
The timing was all off. So yes, it's the RB's fault, but coaching is needed to tell him how it works.
Clemson seems to always be prepared, and I'd have to attribute that to their coaching. Swinney plays up the "us against the world" and "us against ESPN" element a lot.
Driving to lunch in Ann Arbor, listening to WTKA the AM Wolverine station. I almost feel sorry for these guys.
Michael Spath, host, has Devin Gardner on, and they're pretty much perplexed trying to see some light at the end of the tunnel.
They, along with other locals, basically see the OSU offense was powered by Fields, JK and the "huge" offensive line.
You all probably know this, but they're crucifying the DC up here. He's not being fired but at his age he might just quit and tell them all to GF.
Yep, and I also recall Cie Grant getting nicked up in the NC game and we had to put a freshman in... whatever happened to that freshman, A J Hawk or something like that...??
Not only can we not complain about not having enough top shelf athletes, we have a DB coach in Hafley who is already being hit on to be a head coach. I trust Hafley will figure out how to adapt to this situation.
I'm hoping we see a lot of Hilliard, who, like Werner, has the speed and field awareness to help out in mid range pass defense. And remember, we have Brenden White back there, who is spawn of William White, one of the best CBs we've ever had.
somehow, I'm not that worried. Crazy, huh?
Maybe another question would be (which actually was answered the last two years, I think),
"If you were going to have one conference loss, would you rather lose to a second-tier team like Purdue and beat Michigan? or would you rather beat Purdue and lose to Michigan because they are a higher-rated team?"
Just for stats' sake, some people might say there is more shame in losing to Purdue than to Michigan, but I would much much much rather lose to Purdue and then beat Michigan 62-39.
The trick is to do it early in the season a la 2014 so you can still get into the CFP....
VB_Bucks, welcome to the world's largest support group! The first step is admitting, "I am a Buckeye fan".
Eleven more to go!!!
Tae, I'm not sure he meant YOU, Tae, when he said, "if you had to ask". He might have been referring to the reporter who asked Day, or to any hypothetical "you". Like "no matter where you go, there you are", also doesn't refer to YOU, Tae.
Or maybe he did, I don't know...
I personally didn't have a problem with what either of you said, we're all just working off our nervous energy until Saturday noon gets here!
Working in Ann Arbor, I have the sense that Xichigan will play pretty well Saturday, but they have not had any doxinant gaxes this year. The last two gaxes they have rushed for under 100 yards. I xean, you can beat Indiana that way, but not OSU.
Even when they "sxoked" Xaryland 38-7, they had like 340 yards of total offense.
So given how Ryan Day has the guys playing fired up but loose, not tense.... I got the Bucks like 34-19.
But who knows?????
Kudos for the Jimmy Crum tribute, WCB
I didn't keep stats, but it seemed like in the second half we were so much better with Carton in the game.
they take their share of bowl money, too.
Very sad. Time for a divorce?
The optimist in me says that the Penn State game was our "bad game" for the year. and we beat a #9 team by 11.
It wasn't a bad in that we couldn't move the ball, or couldn't stop PSU. It was sloppiness and turnovers.
As a positive, hopefully it keeps the team from getting over-confident. Also, after playing two bad teams (Rutgers and MD) it reminded them what it's like to get hit by good athletes. So as a lead-in to The Game, I like it.
And Justin Fields has got to be embarrassed about not holding on to the ball.
next week feels like 45-22.
I realized something about Day in this last week.
With Meyer, Tressel, Cooper for sure ---- even when we were winning, there were times you thought "geez, coach. your play calling is so 1. predictable or 2. boring or 3. stupid. I mean, you know how fans are! As much as Tressel was loved, we still make jokes about running Dave and punting, right?
But I never experience that with Day. I am constantly happy with the play calling, the adjustments, the timing of when he pulls a player, puts in the second string, goes for a 55 yard FG instead of punting, etc. And let's not forget, calls an onside kick in the first quarter!
So against Rutgers, I was a little irritated with the 4 Dobbins dives into the line, and we turned it over on downs... It was later I realized, there was no point in doing anything else. Indeed, the game, the poor level of competition hardly deserved anything better. If we made it into the end zone, fine, if not, okay, Rutgers you can have it.
So stop and think back on this season. How much, if at all, have you found yourself frustrated with, or second guessing the play calling? Not much, I'd bet.
What a coach. Destined to be one of our all time best.
I hope Arnette is back like everyone says he will be...
the point Ryan Day was making this week is, we HAVE made some blunders... but they haven't hurt us against Rutgers, or Maryland.
Can't muff a punt. Can't hit a cornerback in the hands and expect him to drop it like the Rutgers linebacker...
But still, I feel like this is going to be 41-18 good guys.