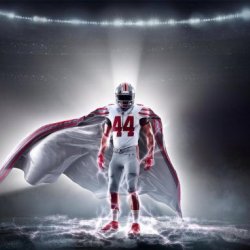 OldTownBuckNut
---
MEMBER SINCE January 05, 2015
Recent Activity
Haha indeed. Actually, "Silver Wizards" has a ring to it...
Great, I can already hear the SJW's complaining. It's going to be called the "Wizard" position before the season begins. ;)
No, "asking a player to compete" is not treating him shitty. Bringing in somebody that showed absolutely no commitment to OSU previously and assuming he will be the starter, and not trying to treat Tate like family and keep him around (referencing the "OSU did nothing to try and keep him or stop him from going portion of the article) is what I consider "treating him shitty." The Buckeyes are all about "family" and the "brotherhood" supposedly. Tate was part of the family and the brotherhood. And to hear that they just let a brother leave without any "hey, you're going to compete like we do every season and we need you to step up and be the leader with the QB's" is what is surprising to me, to be frank, and disappointing. In my mind, I thought that those conversations might have been had, and that perhaps Coach Day said "I'll be honest, i'm going away from the zone read/read option" and said he would understand with the coaching/scheme change Tate wanted to find a better fit. But none of that happened, which is why I think it's "shitty." But oh well. fuck our feelings. GO BUCKS!!!!!
I may be alone in this sentiment, but OSU treated Tater pretty shitty, and I hope it doesn't impact any future recruitment. While I understand, it's not unlike leaving your wife for a hotter woman or something. Tate put in work before her came to OSU to recruit others, then did what he was asked when he was here. Then Justin Fields. Oh well, life goes on. Best of luck Tate!
Smdh. When will these fools learn!?
Man, I need to get me out of the defense business and into the coaching football business. *sigh*
I think I speak for everyone when I ask, "Shea Patterson??" ROFL.
Smith HAD to be confusing Murray for Haskins. Nobody with his level of sports knowledge would say that Haskins was "more a runner than a thrower." Literally that's more Murray than Haskins, which is why I think he'll go later than Haskins, perhaps into later rounds even. Murray is an incredible ATHLETE, but an NFL caliber QB? Put me in the "undecided" category. He probably should have taken that baseball money.
Fortune obviously smiles on the Buckeyes.
+1 because you made Woody smile from beyond the grave.
Forgive me, but none of this really seems that new or ground breaking. "Hybrids" have been around for since forever. I guess having an "all time spy" could be of some advantage on teams with talent gaps (kinda like putting the most athletic player behind center, 2nd best at RB, and so on), but ideally you'd have the recruited personnel to cover their assignments accordingly.
Hartline deserves a TON of credit for turning Zone 6 into an NFL stable of receivers. Haskins for sure gave them the opportunities to shine, but it was Hartline that developed those skills that took them to the next level. Best of luck to all!!
I would never EVER call Haskins "overrated," but he is a risk. We have a very promising, yet very SMALL sample size to work with. But the same could be said for Nick Bosa, or even Charlie "Bird" Parker when he first got started. There's some dudes that just have the juice. What Haskins most needs is a situation that doesn't look like Sam Darnold's last year. He got thrown to the wolves and was savaged accordingly.
Haha what!?! What's a "Christopher?" Oh, I can already feel the snowflake triggering. Lol
Sweet Jesus, if THAT's the reason he left the CFPC we're all in trouble. It's not like we still have URBAN MEYER around the WHAC for Day to "call if he has tough situations." Good Lord. Smith being on the CFPC was THE REASON we didn't make the playoffs the past two years. "RAZOR THIN MARGINS" separated us from Alabama last year, and Oklahoma this year, RAZOR THIN. Losing ONE advocate/vote could have been the reason we're not sitting here with two more Natty's. Let that sink in. Perhaps not (I can hear the "BUT PURDUE AND IOWA" voices now), but you can't have the ONE team guaranteed to be in the hunt every season have a guy part of the politburo that decides the fate of all teams have to RECUSE HIMSELF when said team (OSU) is in the discussion. Have a nice Monday, Gene. I have the day off.
"Columbus Bulldogs." You're welcome.
I wonder how Braxton's throwing arm is these days? A few years removed from his injury, perhaps it's time to remind the world what a threat he was behind center. The AAF would be a perfect stage for that.
His threat as a runner alone will get Dobbins another 3-400 yards this season. Gonna be a lot of "who's got the ball" being played this year. Last year in obvious running situations it was pretty obvious who had the ball.
The level of stupidity he and Jim Delany exhibited in letting anyone associated with OSU in any way on the committee is breathtaking. Two years in a row he had to recuse himself and two years in a row very solid Buckeye teams were left out in the cold for two SEC and two ACC teams. Heads I win, tails you lose.
I'm referring to the last two years he's served on the committee, genius. Why he and the brilliant Jim Deleany didn't foresee a problem when the conference's Top program had a representative on the committee that had to recuse himself when said team (OSU) was in playoff contention I will never understand. Sad!
Haha what!? Its like one paragraph. I read the entire "article" in about ten seconds, mouthing each word. What in my post gives you the notion I couldn't be bothered to read past the headline?
This is fantastic news. Love that so many players read 11W as well. Let that serve as a reminder when we post. The kids are watching. GO BUCKS!!!
What's the point of stepping down when he already recuses himself all the time anyway? Seriously. Dude has cost us multiple trips to the post season because of that BS. Here's an idea: instead of recusing yourself for conflict of interest, why not replace yourself with someone from the same conference that does not? Hmmmm
That Cardale Jones "Beanie and the BOOM" interview yesterday was pretty illuminating. I've been aware of JR. High kids being held back a year so that they're bigger and more mature, but I never really knew how parking a kid at a military academy/HS worked, and how the Iron King volunteered to do that and let Brax play. They were the same age. So much intrigue. I think the portal, and the increasing frequency of transferring, will see recruiting get exponentially more difficult as kids will not only be competing against their own cohort, but they'll also be competing against fantasy football-like scenarios where a player comes out of nowhere to play for the team they're being recruited for. Exciting!