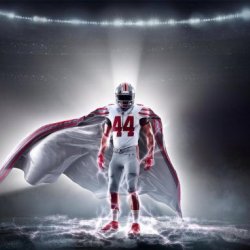 OldTownBuckNut
---
MEMBER SINCE January 05, 2015
Recent Activity
Kid is a violent, YAC route runner with jets and size. My God. Michael Thomas 2.0.
Yeah, I agree, but it is very difficult to gauge hypothetical matchups, especially when some teams get in that are undeserving like ND this year. I guess its possible that scUM would fare as well as MSU did a few years ago. An obvious talent gap with Alabama. Or, perhaps, like we did against Clemson, where talent wasn't the issue, but the fact that team was two years ahead of schedule and just so happened to beat a number of top 5 teams. Regardless, the path to the Playoffs runs through OSU, and if scUM remains the 2nd best team in the B1G, they just gotta take us down then they go to the dance. Providing they take care of bitness everywhere else which they've managed to do for the most part. What I really think kills them is the bowl losses, and the era of "sitting out" games for NFL draftee wannabes has killed them the past two years. Don't mistake my comments as pity or defense, fuck them, but it's hard to have your top 4-5 guys sit, and only a hurt Whinobitch play and think you can run with Florida. Anyways...if ifs and buts were candy and nuts, everyday would be Christmas...
I mean, hubris aside, Lewis isn't wrong. Though "only" OSU stood in their way, they were ready to punch their ticket to the playoffs till that game. Huge loss aside, it's not unreasonable for them to think that if they got the win in The Game this year, they could very well win it all. The fact they took their annual bowl dump afterwards aside, few people before our game would have said they weren't contenders.
You can't teach "high pointing." Either you can do it or you can't. Garrett Wilson CAN.
This is fantastic news. The Chiefs are only a better defense away from a deep run in the playoffs. They've got the offense to win the Superbowl. Lee will thrive in KC. The J.E.T.S. have been a dumpster fire since Joe Namath was behind center.
Would you believe me if I told you that Teddy and Troy (they lived together) were my next door neighbors for about two years? They were really great guys. Me and my roommate (both Army) always told them we wouldn't let them get into any trouble. Man that was an amazing time for a Buckeye fan. *sigh*
To me, the biggest challenge Day will face is the one that OSU and Meyer had during this "playoff" era. Sure, there will always be a convention called the "recruitment rankings" that vary from source to source, but for Day and OSU to be successful going forward, they need to win the battle in the committee. The last two playoffs have seen two teams from the same conference (ND is ACC, prove me wrong) and solid OSU teams left out in the cold (happened previously too as in 2016). What is the point of having ridiculous recruitment if that talented death machine only faces the ND/UW/USC yawn fest as a final destination. Having representation for the B1G that doesn't have to recuse themselves (looking at you, Gene and Jim) will help immensely, but we need to do more. The best conference in college football year over year shouldn't be punished for playing a solid 12 game schedule with 9 conference games instead of 8. Or maybe we should.
"aaaaand weeee'lll DRINK TO OLD OHIO TILL WE WOBBLE IN OUR SHOES!"
Well done, ladies. Well done.
This feels like a feel good story. I like it. The kid wants to play, and will get his opportunity to get into games (after Fields and the 1's completely eviscerate their opponent). Good for him.
Am I the only one (when watching QB highlight reels) that wishes we had some of the receivers in the videos? Some spectacular catches here. BOOM!
Maybe we should just start calling Coach Day "Allstate," because we're in good hands.
Forgive me for saying, but this is a complete disaster in all reality. The QB cupboard is just about as bare as it's ever been in the entire history of OSU football. I say when you've got only one (ONE!!!) backup QB who's not exactly a world beater (no offense), that's already a problem, but the perhaps even worse problem is that you don't have QB's learning the system and developing either. I've been a supporter of letting kids play wherever and whenever they want to play while they have eligibility, so I don't/can't necessarily blame them. I can, however, blame the coaches starting with Day for not doing more to either stop the bleeding by convincing Baldwin or Tate that there's light at the end of the tunnel, or at the very least, have a stable of back up back ups ready to scoop up off the portal (even though I know we're not supposed to coordinate that stuff har har har). Hopefully somebody is planning for that in this new portal era. All it's going to take is for Fields to injure himself doing something kids do and we're screwed. Very short sighted in the end for us to pursue this course of action, in my humble opinion. I want to be accused of being overly concerned and will most definitely be hoping for the best and some Natty's but man, this is bad.
Two things, first, Haskins DID struggle at points this season (as expected) early on, and it IS a fair criticism that his accuracy suffers when the pocked "isn't clean" and that there's an extraordinarily small sample size for him. Yes, Murray IS a first year starter too, but he has a different, less sophisticated QB style that relies mostly on pure athleticism. I mean, the guy could be a two sport pro like Bo Jackson if he wanted. But I digress. Only time will tell, and I've said from the get go that I hoped Haskins would NOT go to a dumpster fire organization, but rather to a NE, Pitt, NO, or another team with a solid squad, a future 1st ballot HOF QB, and be able to develop further. THAT SAID, if Haskins goes lower than the 1st round it's a disaster. Great deal for whomever gets him, but a disaster for Haskins. And now that we're at draft time, his stock has only slid. He really wanted to go to the Giants, most likely will go to the Bengals, but those are best case scenarios for him right now as it appears by the draft prognosticators. Had he put in another stellar year at QB at OSU, literally none of this tea leaves reading would be going on. THAT'S why the "one year starter argument" exists.
This is the point where the "man, Haskins really could have used another year in school" side of me comes out. It really sounds like his draft stock is falling rapidly, unfortunately. And frankly, as a coach and a front office, I'm not too keen on tweets about "chips on shoulder." Call it a maturity thing. It's great to demonstrate confidence, but with his skills, it comes off as immature and a weak sense of self confidence. All the NFL analysts are measuring data. The off field measurements are about leadership and maturity, especially for QB's. If he falls past the 1st round its a disaster. If he goes someplace he might sit behind someone, that too could be potentially a disaster. Haskins wants to start next year. Hoping for the best!
Well, I guess now we know how she WAS eating. Now would be a more appropriate time to ask the same question, however. ;)
Haha indeed. Actually, "Silver Wizards" has a ring to it...
Great, I can already hear the SJW's complaining. It's going to be called the "Wizard" position before the season begins. ;)
No, "asking a player to compete" is not treating him shitty. Bringing in somebody that showed absolutely no commitment to OSU previously and assuming he will be the starter, and not trying to treat Tate like family and keep him around (referencing the "OSU did nothing to try and keep him or stop him from going portion of the article) is what I consider "treating him shitty." The Buckeyes are all about "family" and the "brotherhood" supposedly. Tate was part of the family and the brotherhood. And to hear that they just let a brother leave without any "hey, you're going to compete like we do every season and we need you to step up and be the leader with the QB's" is what is surprising to me, to be frank, and disappointing. In my mind, I thought that those conversations might have been had, and that perhaps Coach Day said "I'll be honest, i'm going away from the zone read/read option" and said he would understand with the coaching/scheme change Tate wanted to find a better fit. But none of that happened, which is why I think it's "shitty." But oh well. fuck our feelings. GO BUCKS!!!!!
I may be alone in this sentiment, but OSU treated Tater pretty shitty, and I hope it doesn't impact any future recruitment. While I understand, it's not unlike leaving your wife for a hotter woman or something. Tate put in work before her came to OSU to recruit others, then did what he was asked when he was here. Then Justin Fields. Oh well, life goes on. Best of luck Tate!
Smdh. When will these fools learn!?
Man, I need to get me out of the defense business and into the coaching football business. *sigh*
I think I speak for everyone when I ask, "Shea Patterson??" ROFL.