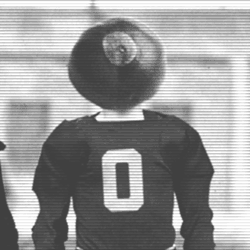 OLBuckChit
---
MEMBER SINCE August 03, 2017
Recent Activity
Probably a gray shirt in this case.
Likes Combine Throwers
Starting to lose track of the RB talent in the 2020/2021 classes. Sheesh.
Fran is the guy that gets into a heated argument with the waiter at Chilis because the prime rib isn't a "Two for Twenty"-eligible item
Hoping we don't see another Harrison-esque struggle with PSU and TSUN over Drennen.
What Baker did in his first season in the NFL(reviving the football fans of Cleveland and breaking the TD record for rookie quarterbacks) was unreal. Until Haskins comes in and shows that his first season starting wasn't an anomaly, Mayfield is the easy choice.
While most of us(myself included) snicker at the "offensive line driven program" moniker, I think we all realize that the race towards the CFP starts in the trenches. The impact of just one season with Jackson cannot be overstated, especially for the development of players like Josh Myers, Matt Jones and Harry Miller. Jonah has more of a "been there done that" aspect than any other current OL.
Rutgers losing even in the offseason. Sounds about right
Dwayne is going to put on an absolute clinic. Will be great to see Nick back at the WHAC!
Apologies, poor wording on my part. I meant the lineup with Ahrens, which seemed to offer a fresh flow to the game at points, especially when OSU was making it closer in the later part of the 2nd half.
Need C.J. to continue scoring but definitely cut down on the turnovers. Wouldn't be surprised to see Holtman put Ahrens back out there if Jackson starts to get sloppy with the ball.
No concerns with either Dobbins or Teague being the primary bell cows in the running game. Would love to see Crowley flash as a freshman and show a different skillset that can be utilized if his name is called upon.
While I would personally like to see Stover closer to the line of scrimmage, I agree that he could be very valuable in that rover/hybrid role.
Taylor is going to hit the NFL with about as much mileage as a 1994 Honda Accord. Damn I miss that car.
Seems like he had a shot at a TFL on almost every play against OSU last year...
This is a position where players like Brendon White and Pete Werner should excel IMO. Breaking away from traditional defensive "responsibilities" and simply getting athletes in positions to fly around and make plays.
Totally agree, Linga. I can't wait to see Tyreke Smith this season. He showed some serious flashes last year.
While Martinez and Moore obviously stand out from an offensive standpoint, I feel like Micah Parsons is going to make a major name for himself not just in the B1G, but nationally. Still scratching my head on how we screwed that one up.
I don't see a scenario where both Wesson brothers aren't starting next season. Yes, the incoming freshman are uber talented, but Andre and Kaleb have earned their spots.
Gus is the best in the business. Both on and off the mic.
I'd to think they were referencing Cousins' pre-Minnesota production. He obviously hasn't lived up to his contract since he's been with the Vikings.
Probably should have picked someone on your side of the family. LOL
Here's to hoping we can pull Bresee away from the Fighting Dabo's!
Just boys being boys. Big year ahead for all of these gentlemen!