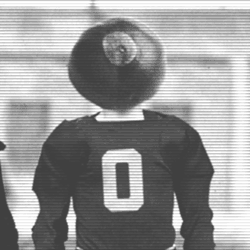 okiebuck
---
MEMBER SINCE September 30, 2012
Favorites
COLLEGE FOOTBALL PLAYER: Eddie George
COLLEGE BASKETBALL PLAYER: Jim Jackson
NFL TEAM: NY Football Giants
NHL TEAM: NY Rangers
NBA TEAM: OKC Thunder
MLB TEAM: NY Yankees
SOCCER TEAM: None; can't stand soccer.
Recent Activity
Tucson - Columbus pipeline is now flowing....smart move young Lathan.
Go Bucks!
To the star gazers; do y'all really think these 3 star kids that are going into their senior year of high school are not going to get any better?
Go Bucks!
Especially if the one she almost got engaged too has a bigger and better package.....
You got that right Hove; I went to take a harbough and come back to another BOOM!!
Welcome to Buckeye Nation Josh Fryar!
You crack me up Taylor; "many concerns about whether he can catch the ball or not"; seriously? I've yet to see a QB with hands of stone.
Three time All State and Player of The Year in the mitten state; suck on it skunks and spartans!
Pat Forde is a asshat moron; always has been.
I've been very impressed with how Ryan Day has handled the "keys to the program" thus far. He knew changes had to be made on the defensive staff, and he started with that. He's navigated the the turbulent situation at the most important position on the field and has seemingly not missed a beat on the recruiting trail. As we get closer to the start of practice, this Buckeye is excited to see this years version of our team.
Go Bucks & Go Coach Day!!

I'm with you Mr. green and I'll raise you; I paid my dues in the 90's while living up in *ichigan. Skunk weasel neighbor on one side and sparty dude on the other.
Star light star bright, I see 8 stars over the Horseshoe tonight baby!!
Go Bucks!
What's the story with Drennen from Dublin; I thought he was darn near a lock for the good guys?
This morning we welcome Vanderbilt to the *ichigan dream crusher club; well done Commodores, well done!
Boom Boom, out go the lights on whoever this kid is blocking.
It's a sunny Monday morning and I have to agree with Parris Campbell; michigan still sucks; always will.
Go Bucks!!
Bada Booooooooooooooooooooooooom Bada Bing baby!!!!!!
Kaleb has two years to work on his game and the weaknesses in it if he wants to get to the league. His lack of leaping ability would not likely be an issue with NBA teams if he learns to use his body better around the bucket; like a Pau Gasol. There's plenty of guys in the NBA who needed four years of college ball before they were ready or good enough to make an NBA roster; no shame in that.

Great news; welcome Ty Hamilton! I love the whole legacy aspect the Bucks have going. Michael Doss' brother has next.
Go Bucks!
Not at all Hove, but it's biscuit and gravy time right now.
As long as Coach Day doesn't play Tressel ball this game shouldn't be close.
The Buckeye coaching tree just keeps growing; congrats Andrew Stimmel.
Go Bucks; always and everywhere!
And the scrappy little cousin still has to sit at the kids table....

Vandy's a tough draw no doubt; take it to them Bucks!
We're up the road; same place as soon to be breakout Buckeye; Josh Proctor.
Asking for a friend; did Jourdan Lewis ever find his jock strap that he lost trying to cover Michael Thomas?
Thoughts and prayers to y'all in the Dayton area, We've had a rough few weeks out here weather wise around T-Town with a few tornado siren wake up calls at 1:15 and 4:00am and wouldn't wish it on anyone, especially my Ohio brothers and sisters.Stay safe y'all.

Hey Karan; how's all that smoke, people who know nothing, where blowing up your ass feel bro??