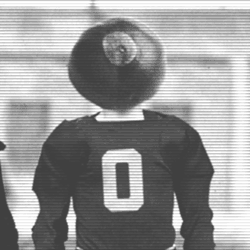 Ohiothomas1
---
MEMBER SINCE October 19, 2011
Favorites
SPORTS MOMENT: Braxton Miller's miracle game-winning touchdown pass against Wisconsin.
COLLEGE FOOTBALL PLAYER: Braxton Miller
COLLEGE BASKETBALL PLAYER: Aaron Craft
NFL TEAM: Falcons
NBA TEAM: Hawks
MLB TEAM: Braves
SOCCER TEAM: Everton F.C.
Recent Activity
Can you imagine Saban putting up with this shit?
Yup it's clear to me at this point that there is such a widespread level of ineptitude within the program that I fear the absolute worst in the coming years.
Perfect timing for a roughing the kicker penalty
Pridgeon - good riddance
Prince - good riddance
Sheffield - good riddance
Arnette - good riddance
The list goes on. Can we fucking shed the dead weight already?
Go for it. If we don't get the first, it's on Dixon
Wow. That's gotta put you on the bench for a game or two
Wow. We are gonna shit our way to a loss. The players simply do not care about this game. I've become so used to this shit that I'm practically indifferent to the end result at this point
Lol another game that we should have wrapped up in the first half that's gonna come back and fuck us
LOL. Couldn't depend on our defense for too long. Gonna regret it now
Haskins isn't right for this offense. Need a running QB that can throw. Also, can't wait for every starting OL to graduate, because they're all fucking ass and embarrassing a program that used to pride the OL unit
Half our team are captains lol
They barely lose to us when their teams are far inferior. They'll eat us up this year
Go ahead. Lose this game. No one gives a flying fuck on this team.
Pete Werner should lose his scholarship.
Alright this team doesn't even want to win.
What the fuck was that playcalling. Literally 3 and out 3 passes
I really wish I could look for any good part of this team, but there's just no hope. I really think we need to rebuild. I mean clear house.
That's game. It's over if he's out.
That's game. It's over if he's out.
Difference between Saban and Urban: Saban holds people accountable. If you aren't producing, you're fired/benched
So many reasons why this team is not a Playoff team
1. Defense is trash
2. Offensive line can't get pushes on 3rd and 4th and short
3. No discipline (too many penalties)
Does anyone know what the hell Grinch does here?
Won't have "til halftime" against teams like Bama or Georgia or even fuckking Michigan
Was it just me or does anyone think that he kinda looked like a lesbian?