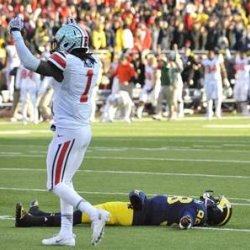 ohiopanda
---
Columbus (via Cincinnati)
MEMBER SINCE February 21, 2016
Favorites
SPORTS MOMENT: 2016 and 2018 Michigan games
COLLEGE FOOTBALL PLAYER: Braxton Miller
COLLEGE BASKETBALL PLAYER: Lenzelle Smith Jr. and Jae'sean Tate
NFL TEAM: Bengals
NBA TEAM: Bill Walton
MLB TEAM: Reds
SOCCER TEAM: FC Cincinnati, Liverpool
Recent Activity
Haven't watched any PSU this year, but Clifford seems like a decent QB
Patterson has benched himself
Back to back prime time Michigan beatdowns? Yes please
No other game matters as long as OSU wins out.
Harder to see players in all white in an all white stadium. Though the white helmet+white pants against Michigan's all whites hurts to look at
Ah yeah you're right, my bad
Harbaugh with a timeout before the first play
Claiming a share is one thing, but they weren't going to the conference championship game. Only the tiebreakers use record against the whole conference I think
Harbaugh: 1-9 vs top 10
Franklin: 1-4 each vs Michigan/MSU/OSU
Expecting a great coaching game tonight
Isn't the division rankings based on divisional record? It's going to be a 3-team race of us, PSU, and UM. We have to beat both barring anyone collapses
Illinois beats Wisconsin. Vandy beats Missouri. And Kentucky is tied 0-0 with Georgia at half. Quite an unexpected day so far
It's irrelevant. Our best chance to make the playoff is to win every game.
Depends on their offensive slugfest with Iowa, and how really Minny is
Yeah, they're season is on the line now next week.
Heisman candidate at RB, so you throw a pick on 3rd and 5. Hope Illinois softened up Wisky lol
Refs are giving Florida quite a few breaks
Defense is a tad off tonight, but can't complain much with 3 points on the board. Can't wait for next week and see this team against some proven competition
Next Saturday will be interesting. Gotta stop the run and not get behind if we don't show up until the 2nd quarter.
The team should all slip n slide after the game
A 55 yard field goal right down the middle? Damn
I keep waiting for a high school game to pop up. It's weirder than I thought waiting for a Friday night game
It would require the SEC eliminating all but one team, which won't happen unless LSU craps itself from now on. LSU/Alabama is in the same boat as OSU/Wisconsin, except the former only has to play each other once. One likely ends with 1 loss, and the other is undefeated. Wisconsin/OSU get to beat up each other twice, so either both end with 1 loss or one has 2-losses.
Les Miles could maybe train Bert Bielema