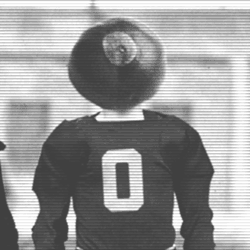 OHIOklahoma
---
from Fort Thomas
MEMBER SINCE January 27, 2012
Favorites
COLLEGE FOOTBALL PLAYER: AJ Hawk
COLLEGE BASKETBALL PLAYER: Willie Cauley-Stein
NFL TEAM: The Bengals
NBA TEAM: Oklahoma City Thunder
MLB TEAM: Reds
Recent Activity
Did we just have to many (3) guys this year on the team to really make a good run for heisman?
I think its good we have a few guys out of this game, but its still Rutgers so no trap
Hate that he has to miss another one but super excited he will be back
I am not sure it really matters if you end the season 1-4, your going to have to play some really good team to win it all
Imitation is the sincerest form of flattery - No?
It's still really shady
So i guess he can side in his letter now! Day is safe
Powerful - Urban Meyer loves Ohio State
I think this was the reason a while back we when to the BSC computers but i might be mistaken
I am not sure about you but i am losing interested more because there are a few teams that are so much ahead of everyone else the season is almost a formality
To me this is the first year i think the playoffs would benefit from and expanded playoff system 6-8 teams. I think in the other years they have go it correct but this year might be too close to call.
Lol true other wise we are talking about the Pitt just lost 24-3 to the "U"....
maybe after this game? lol
So just a question here on the Dixon play , can he not signal for a fair catch before is land and the ball should go out to the 25???
"It doesn't matter if your quarterback is throwing for 400 yards every Saturday. If you don't have a running attack, you're just Texas Tech." - +1 HS
Fickell / Vrabel / anyone to coach the LB's. Leaving the safeties to play run support and on a island has been devastating.
If they both get there, neither win's they will just split the votes
We might keep him 1 more year ... if we are lucky but after that he is going to splash down somewhere new
Just finding a new way to win the off season !
Just because I have not see it yet here is the schools that have won it all (or split) in the last 20 years
Clemson
Alabama
Ohio State
Florida State
Florida
Louisiana State
Texas
Southern California
Louisiana State
Southern California
Miami (Fla.)
Oklahoma
Tennessee
Michigan
Nebraska
The Ohio State vs Houston would be the worst case scenario I could think of
It's interesting because the saying is always respect your elders and betters, but what if the young guy is better?
So are you saying that ND will never make the playoffs since they will never win a conference?