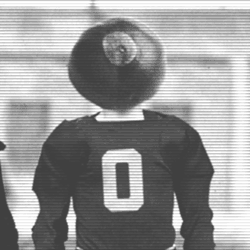 Ohiofoosball
---
MEMBER SINCE January 04, 2017
Recent Activity
What's wild is that Michigan is going to get worse every year over the next 3-4 years. They are trending more towards an annual 4-5 loss team rather than the 2-3 loss team they've had at a few points recently.
Gosh, if OSU gets the majority of the 5 star/high 4 stars they are either leading for or right there for...this really could be the best class of all time.
Herbstreit, a blithering meathead who has no medical credentials, has whipped the country into a frenzy. I would COMFORTABLY bet TENS OF THOUSANDS OF DOLLARS that the season will be played. If anyone knows of a place to make this bet, let me know.
Because FB will outperform the index, thats why.
I don't get this..."At some point the WR room is going to start looking crowded" What does this mean? He knows literally every receiver that will be on the team if he commits. What is the mystery? Either the WR depth chart is an issue, or it isn't....right? Nothing is changing with this over the next week, month, or year...
And not directing this at AE, obviously you have great sources...just seems like a weird thing to have in the back pocket. So OSU has a big lead now, but once he realizes the WR depth chart, they might not?
Chris Johnson is who immediately came to mind for me as well. GREAT comparision. Michel is almost the opposite of Henderson...
I mean sure, I can see that....no easy answer here. I just think you can't cancel school without some lead time...its just to big an impact to do it without a few days warning...
Provides families a chance to make plans and find care/etc....better than springing it on them with absolutely no lead time or warning.
If they aren't doing the same thing, they should be GRILLED AND ROASTED for not putting safety and health top of mind.
In the year 2020? I don't think that's true anymore.
Most ACL tears are a 5-7 month full recovery at this point...depends on each person of course....
Word now is its a strain and not a tear....Teague should be fine by fall camp hopefully....
If it indeed is a strain and not a tear, he should be perfectly fine by the start of fall camp (maybe even earlier)....
Hulu doesn't let you fast forward record shows, which is utter insanity and would drive me ballistic.
He could. Talent is talent. Experience is an advantage but only if the players are relatively equal talent wise.
I don't see a spot for Dalton to start in the NFL next year.
Patriots - Brady
Colts - Rivers
Then you have Winston and Bridgewater, both of whom are valued higher than Dalton. There just isn't a place for Dalton to start in the NFL, at least not in 2020.
The only team in college football that might have an elite passing game next year is Clemson. Every other major program lost a ton around their passing game....
It's all about getting by Clemson. Do that, and you'll win the national title next year. It's that simple.
The Masters, and nothing else is even close.
100% safe, just don't do anything dumb and wander around a place you're unfamiliar with at night. Which is pretty much the case anywhere in the world.
Outside of QB, all of the starters are going to be replaced by highly ranked veteran recruits. So, I'm not really worried....We've seen enough in college football the last decade to also not be afraid of freshman or redshirt freshman QB's. I am expecting whoever wins the job to immediately be one of the best QB's in the Big Ten. There is frankly no logical reason to think otherwise.
I'll be stunned beyond belief if even one game in the 2021 season is cancelled. Beyond stunned actually, if that's possible.
Well, here at Ohio State we have reason to expect a certain level of success. Since it actually happens most of the time. Them thinking they are going to go undefeated and win a national championship is just pure delusion.
Not sure I'd agree on Baseball...there are like 100+ pitchers who throw 98+ today....30 years ago there were like 3.
Usain Bolt's 100 and 200 meter records may stand for a LOOOONNNNGGGG time.....those times are real outliers, kind of like Secretariat's Belmont time of 2:24...
Didn't happen at Ohio State, so there isn't and won't be national outrage...PSU will just let this die out...