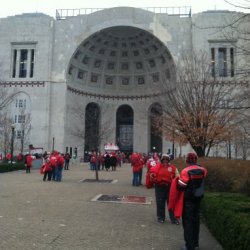 Ohio Guy in Jersey
---
MEMBER SINCE March 20, 2011
Recent Activity
Gotcha. We can enjoy the whole season along the way
No. I'm not nine. But indulge me. Taver Johnson flopped in his second act at OSU. What can we learn about Kerry Coombs and his return? Are we supposed to be concerned that Coombs will not do well because Johnson didn't? Of course not. One thing has nothing to do with the other.
I appreciate the research, but this is irrelevant to me. Each situation is unique and each individual is different. I don't think we can learn anything about Kerry Coombs situation from Taver Johnson. New head coach, different assistant coach. Players develop a lot during these years, so even if the names are the same the capabilities and expectations are not.
Andre is a good matchup for Stevens. If he's focused, I like our chances. Plus, LIMIT TURNOVERS
Didn't Goodwin de-commit? I take that as him passing on OSU
This will not be an easy game. We shot them out of the gym in Columbus. I don't expect that today so limiting turnovers will be essential. It seems to be the key stat of the Holtmann era
When he stays within himself, I really like Andre's game. Given what a sweet looking stroke he has, I'm surprised he doesn't shoot better. Defensively, he's very underrated. Can guard four positions.
Agree on Browning. Mitchell will be the co-starter in the middle
I agree that vision is the biggest issue for MT. When he played in games while they were still on the line, he showed a tendency to miss the hole. He's not the first back to deal with that issue. But it will be important for the offense that he grows, and it makes him less obviously the starter at that position for the time being
I saw Stroud listed at 6-4, 195. Hardly a bruiser and will never be mistaken for Tebow. But he's bigger than 180. Will he be the number two? Time will tell
One of the freshmen will get snaps, for sure. Maybe both of them. But you have to play the season you're in. If Hoak is the second best QB on the roster and Fields went down, he'd have to play. That said, I have a feeling it will be Stroud.
Aside from Wade, I see no players who are locks to start. Of the guys who played they made enough good plays to be presumptive starters. And of the younger guys, they were sufficiently well rated coming in that the deserve a look. That means a lot of opportunity and a lot of competition. In this situation, that's a good thing
OSU will play multiple wideouts, just as they have in the past.
JK was the guy OSU leaned on in big games
This was a masochistic exercise. I could only read the article. Couldn't watch the videos. I get your point Jason about mature debate about the game. I'm just not sure what is being debated. Did OSU make some fatal mistakes? Yes. Was OSU the victim of some bad bounces? Yes. Did the officiating tilt toward Clemson? Yes. Seems less like a debate and more like beating a dead horse, pouring salt in the wound, choose your metaphor.
I read the comments and many of you are right. Some players misread plays and made mistakes. But who did you think OSU was playing? Clemson is very talented and very well coached. I'm sure their fans could point to plays where we gashed them. It happens in games like this.
Urban referred to the 2015 Alabama game as a sledgehammer game. This was a sledgehammer game too. Ultimately OSU left themselves vulnerable to bad calls by refs and good calls by the opposition through some self inflicted wounds. So much so that this game will sadly stick In my memory for a while. But I'm not going to trash any of these players or coaches. They'll learn and grow. And I'll be there to cheer for them.
Happy New Year to all of you
You can't look at it in slow motion. You have to look in real time
/s
Great article, Avery. I thought the other reason Novice Fawcett moves off campus was the protests that gripped OSU during the Vietnam war. Maybe that was urban legend when I was at OSU in the late 80s/early 90s. Anyway, thank you for the history and insight
I believe OSU is one over the limit. And I disagree with you about Ahrens. He's staying put. Kaleb leaves to play overseas when Andre graduates. Andre might have a shot overseas too
Sullinger has himself to blame for that. Let his weight get up and now no one wants to take a risk with him.
Wesson isn't as skilled as Sully, but I think he a better outside shooter. Ultimately, that will help him play professionally overseas. I think he will do that next year and leave with Andre.
OSU plans to sign 26 players. Not only is that allowed, it is nothing like what used to go on in the SEC. Alabama would sign the equivalent of five full classes in four years. Not even comparable