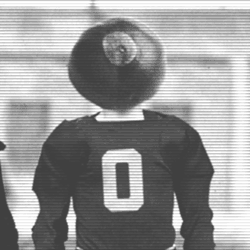 ohio gf
---
Member since 19 November 2011 | Blog
Recent Activity
If your talking about revenge for the Bucks getting Hilliard....your mistaken.
Not bitter...wish him well, except against the Buckeyes....but the Bucks will be just fine.
Thought that was expected...
Looks like Birm put JakeStevensIsSwag in his place.....look at the kids offer sheet....a lot of big time schools on it...all I need to know.
I was just down there not too long ago...it still is a horse shoe but looks better than ever.
Speaking of McVey...what ever happened to him?
Yep....Urban can't close...LOL
Still disappointed in the outcome of him....wish he was still playing for the Bucks.
He needs to get in Clarks ear!!!
Krenzel made clutch plays at crucial times....great leader, I really could not care less on his stats....he was a great leader and did what they asked him to do in big games.
Dixon looks like a seasoned player as a true freshman...that dude can play and I hope he gets to show case it.
You must live a miserable life.
While I understand Michigan is not what they have been in the past....still THE GAME...and he is 2-0 in that one.
Anyone surprised??? I really dislike beilein...first he goes off on OSU about showing Ohio beating Michigan...hey, he and his counterpart hoke are the ones that started the Ohio thing...it's funny when they do it, but don't poke them, they can't take it. I hope that school loses every game they play....I could not care less who they play, I won't root for them...EVER
As far as Miller goes....Meyer nor the medical staff would let him play if he isn't medically good to go...if he plays, he is healthy...period. Meyer said himself last week Miller could have played, so that and the fact that Miller was walking around in pads on the sidelines with no crutches or ice on his knee tells me he is ok.
I'm all for having the gray back on the home jersey sleeves.
Nope....all public record.
You know, I just went to youtube and watched that minnesota cheap shot again....I occasionally go watch it.......and everytime I see it IT PISSES ME OFF!!!!!!!!!!!!