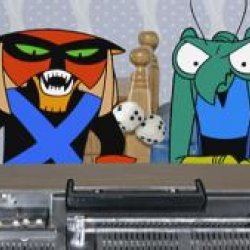 oh_dad55
---
MEMBER SINCE February 09, 2013
Favorites
SPORTS MOMENT: High Street after we beat Michigan in November 1968. (Reminder: OJ Sucks!)
COLLEGE FOOTBALL PLAYER: Archie
Recent Activity
I think the Clemson coaches told them to "Get out there and test their manhood."
I've been to both the Fiesta Bowl and the Rose Bowl. I had a much better time in Glendale. The weather was better and the stadium was far better in Arizona. The Rose Parade was good but there was a good pep and a good evening parade in Glendale. I'm happy with the selection. Beat the Irish... O-H
Thanks for posting those videos. I couldn't see squat from C deck with rain on my glasses and wondered what was up with Joey. You've solved the puzzle.
We had a time out that was used to ice their kicker. Why wasn't it used to stop the clock when M State let it run down to the final 3 seconds?
I don't understand why we didn't manage the time outs so that we could stop the clock so that'd we'd have one last chance to return the kickoff after their final field goal attempt.
Play to win against ttun, Don't play to not lose.
When people asked me all year long, "What's wrong with OSU's offense?" I'd answer that they are keeping plays hidden until they need them. They're keeping the offense under wraps until we play the big boys. Some of the games looked so easy that it seemed like the coaches were picking and choosing who was going to get the next touchdown.
Boy was I wrong. I didn't know that the offense was so disorganized that they didn't have a game plan at all and were merely guessing what play to call next. Who would have thought that all those hidden reverses, misdirection plays, and short field passes weren't just being kept under wraps but not even in the playbook?
I'm still a fan and always will be. Win or lose.
So much for the Heisman Trophy this year. How about the Hefeweizen Trophy?
If anyone hears of a travel agency running a bus trip to New York which will include a stop at this performance, please post the info. I never wanted to drive to NYC, but I'd sign up for this opportunity.
Great interview. I think you have to be really smart to execute all the different aspects of offensive line play. It looks like Mike's a prime candidate.
An offense that is built around a running quarterback increases the probability of the starter being hurt. You need a solid backup when that occurs. I hope that the coaches are giving Cardale as many reps as they can so that, if and when JT gets hurt, Cardale can step in and excel like he did last year. They just need to get Cardale to relax and get into a rhythm. More game reps (without booing fans) should help.
My wife and I are long-term season ticket holders since the mid 80's. We usually are notified by an email from the ticket office of any special attire recommendations and haven't received one for this game. People who don't follow the bucks closely may miss out on the opportunity to wear black to the game. We'll be happy to be wearing our black jackets in section 4C. I think it's a good idea worth trying.
Side note: I miss the little student produced videos on the old scoreboard and am sorry that the school has chosen to bombard us with music clips between plays instead. Games used to be a way for graphic arts students to show off their work on the scoreboard. It doesn't take a lot of talent to run the board the way it is now.
I can still see the play as I saw it from section 4C Saturday. It was third and two and they handed it to Zeke for a short blast to the left. He got absolutely stuffed on that play. That might be the time the fans booed when we didn't go for it on fourth down then. You can hand the ball to him all day, but if you don't block and the defense can hammer him like that he's not going to get his yards. Give him a hole to run through and he's gone. It starts at the line of scrimmage.
There were many times last year when Urban said that the quarterback is a product of those around him. I believe that to still be the case. When the offensive line starts blocking and pulling and the receivers run good routes, the quarterback play will improve. He mentioned something like that at his post game interview. He said that an offensive play was like a play with eleven actors in it who all have to perform their roles. We aren't "nine units strong" at this point, but there's plenty to hope for. Go Bucks!!
Zeke's moves in that gif look eerily similar to the salmoning he did to that commissioner on one of the post game podiums. Zoom zoom. Hope to see that often this season.
Watch his left hand in this video and imagine him with both hands on the ball. Or using the left hand to stiff-arm someone.
Oops. Looks like it was one post for each nut. Go Bucks!!
You can shoot me or hang me by the nuts if I ever make a doll of myself.
You can shoot me or hang me by the nuts if I ever make a doll of myself.
Dick Schafrath was from Wooster. He played for the 1957 National Champion Buckeye team and the Cleveland Browns.
I wonder if Braxton was a "Dance Dance Revolution" player when he was a kid. That game makes you move your feet big time.
I rather watch a few jiggly gifs than read many more of these kind of threads with so many outright personal attacks. Come on mods.
Should we worry about our coaches who were present for Austin Mack's announcement broke the no-contact rule? Maybe it was not at his school, wasn't an athletic competition, and they didn't "meet" face to face.
I believe there used to be some wrought iron fencing around what was then the admin building. The president used to live in the large house above the amphitheater on the south side of mirror lake. Somewhere I have a photo of guard members hustling down the street toward that house due to a rumor of it being threatened. It was taken from high up in Siebert Hall, my girlfriend's dorm.
I don't remember any bricks being pulled up, but I heard there were students who roamed the steam tunnels long before the time of the riots. I remember piles of rocks stored up under bushes alongside Steeb Hall. The police cars all had big X's of tape on their side windows that were used to keep the glass from flying when they were broken by thrown rocks.