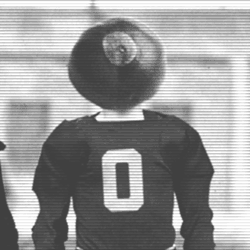 Ohbucksclan20
from Van Wert
MEMBER SINCE January 10, 2019
Favorites
SPORTS MOMENT: Ohio State beat Miami for the National championship
COLLEGE FOOTBALL PLAYER: Orlando Pace
COLLEGE BASKETBALL PLAYER: Jerry Lucas
NFL TEAM: Chiefs
NBA TEAM: Bulls
MLB TEAM: ROYALS
Recent Activity
I think smith will be the lead back in the class.
Wonder what the pecking order at rb is now? From what i have seen i like Bradford.
Congratulations to both! Very interesting to see how the year off affects enokk.
They will have to put in a few wrinkles this week. I predict a 7 to 10 point osu win. It will be close.
Love the hire! Unexpected but still an excellent hire!
Hopefully just minor. Get healthy soon!!
31 to 14. Depth might be a concern along dline. Plus new qb and system might create some growing pains early on. Need to be patient.
Surprised Harry Miller wasn't mentioned.
Hartline will be at least a coordinator within the next year or two if not here then somewhere. I wouldn't be surprised if he gets offers from the NFL this next year. Good thing we have keenan Bailey waiting in the wings who the receivers attribute a lot of their success to as well.
I believe olave success last year as well as Thomas with the saints has kind of helped our efforts out west!
Disappointing to hear about Jones and alabi especially how Alabi stepped up last year. Hopefully they step up. Other wise great news! Go bucks!!
I believe hartline is personally. I think he is a future head coach potentially at Ohio State.
It's good he is making changes and making the program his own. It is a good sign for the length of his tenure here.
Big mistake! The only way they will stay relevant is to talk! Desperate!
Candidates would include narduzzi, fickell, Campbell, babers, candle, brohm.
Why?
Awesome!! Representing Buckeyenation and the USA!!
Nd, Kentucky and the Spartans have taken advantage of Meyer national approach in recruiting in recent years.
None of these seem unreasonable or bold! A couple bold predictions of mine is Harry Miller starts at center and Justin fields will have a better season than Haskins. Oh and we win the national championship against Clemson!
Just out curiosity why is there a lot of uncertainty with the 2020 class? Lack of scholarships or something else? It seems like the 2021 class has more momentum!
Clemson
My prediction is Ricks, ransom, williams, Cowan, Robinson, knighton and one surprise (maybe large, or a qb).
Even though jarret didn't want to come to Ohio State, I think it speaks volumes about the culture that has been built and continues to be built at Ohio State. Back to d line recruiting I believe Cowan will be a buckeye in the end.
Lachey will be a great tight end especially at Iowa. 2021 receiver class is starting to get very interesting. Have a feeling spots will start to fill up soon.
Stay safe Jmmysms!