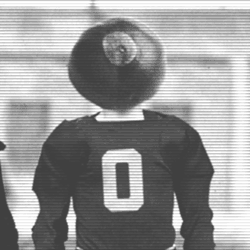 Ohbucksclan20
---
MEMBER SINCE January 10, 2019
Recent Activity
They couldn't shoot last year. I didn't say as a starting lineup. Only in certain situations.
It was kaleb. Put Andre or young at the 3.
Guard or another big?
Imagine Wesson at the 4 and diallo at the 5?
Any update on fields wrist or hand injury? I wonder if that impacted his play yesterday.
Congratulations and welcome to Buckeyenation. What's the scouting report? I am assuming his defense is ahead of his offense. Second didn't ledee transfer?
We have seen this movie before. We know how it ends!
Thanks for the perspective from someone that was there. Glad you and your son had a memorable experience at the horseshoe.
Who says there were lack of commits? Maybe just have been made public yet.
That too. I was being sarcastic. I forgot the italics.
The Ohio class in 2021 is the strongest that i can remember in a long time.
Maybe he wants to work for ESPN.
Haven't been impressed by fields at all. This is Baldwin's job imo.
I know he is recruiting fleming but i wonder what other players he is recruiting?
I believe he will be a buckeye, however in some aspects I wish he would have handled his recruitment like Harrison did. Take visits as a uncommitted player and if Ohio State is the right place then commit. Jmo fwiw.
Don't know if that's a good idea if Meyer decides to coach somewhere else as speculated.
Let me first say I hope this isn't true, but if it is it sounds like leroux might have gotten a bit complacent since his commit and that is obviously not a good sign.
I said a while ago I do not consider Johnson a commitment and was chastised for it. As they say watch what a person does not what they say.
Congratulations to Harrison!! Can't wait to see him in the spring game and in the fall.
TTUN is starting to sound like the Antonio Brown of college football. Worried about their ex and what they are doing instead of focusing on improving their team.
Bk put in a CB for Drennen to Ohio State.
Love these. A lot of bling and rightfully so. The players earned these.
Ruckert on offense and banks on defense for me. Also want to see Smith as well. Any updates on tyreke Johnson and how he is doing?
Congratulations to all student athletes on this great achievement.
Who is to say he isn't polished? Just because he isn't a five star doesn't mean he is any less of a project than a higher rated kid. It just means he doesn't go to camps or outings. Olave was a three star so was munford.