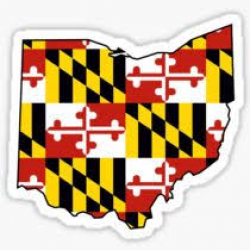 OH2MD
---
Maryland
MEMBER SINCE January 30, 2017
Favorites
NFL TEAM: Cincinnati Bengals
MLB TEAM: Cincinnati Reds
Recent Activity
^^^^Just spit out my coffee. +1
Yes. AG said it doesn't necessarily mean Davis or Wilcoxson will be impacted by taking Dunn's commitment. The staff is looking at him as Safety/Corner.
https://ohiostate.forums.rivals.com/threads/new-futurecast-for-osu.105579/
Zack, great work! I think you are spot on except for Bradley and Wilcoxson. Jaylen Johsnon maybe more of a LB which would open a spot for Wilcoxson. I do think Story will find a way into the class as well. There is a need for another DT if Bradley goes local to UMD.
Quite simply, I don't want them to have nice things.
Unfortunately, TTUN will probably finish with a Top 10 class this cycle. Their O-line haul will be very solid. If they can match Edwards with the O-line haul and McCarthy they will have a very nice class on the offensive side of the ball. The meltdown will be monumental if Edwards heads to UGA and Spindler picks ND.
Xichigan is off to a very slow start and the recruiting shutdown will put them in an even tougher position. Unfortunately, they are in the running for enough top 300 players that they will probably end up in the 260-275 point range.
Are Teague and Crowley able to rehab at team facilities? I would think this could set back their timetable if they were on their own. Just curious.
I wonder if we are still in the hunt for Wilcoxson?
Where does Wilcoxson fall in this hierarchy? Is he still a target?
Unfortunately, I agree. I understand..."Let Coombs be Coombs" and "It's still early" but if JK Johnson doesn't choose the good guys then the cupboard begins to get a bit bare. It's not panic time just yet but this is beginning to feel like RB recruiting in 2019. DV me into oblivion if you must.
+1 for #158. I will never understand the anxiety over the 85 scholarship maximum. It ALWAYS works out.
Edwards & Kiner -- I realize Kiner is probably lower on tOSU's board but it wouldn't surprise me if they locked up Kiner and then went big game hunting mode (Henderson, Edwards, Wheaton, LJ Johnson, Pryor, etc.)
No chance TTUN gets eight Top 100 but they are CB favorites for McCarthy, Edwards, Spindler, El-Hadi, and Dellinger. All of these players are Top 100. The state of Michigan has a strong class this cycle.
Corey Kiner down 3 spots to #117.
I really had high hopes for Marvin Wilson (queue the honey fired chicken comments). If I remember correctly, tOSU was having troubles landing highly ranked DTs at the time and Marvin was going to be the answer.
Is there a link to that anywhere? I cannot seem to find where Futurecasts are logged/tracked. Thank you very much.
"If we really want Kiner we can get him"
Fool me once shame on you. Fool me twice shame on Alford.
TTUN's inability to develop talent is staggering.
I'd throw Gary into that group as well.
Agree for the most part. Losing Campanile and Partridge were huge blows to TTUN's recruiting efforts. Even Lorenz admits that Campanile's replacement of Bob Shoop is a downgrade on the recruiting trail. Unfortunately, the state of Michigan has produced several top 2021 prospects. If TTUN can add Spindler, Edwards, Dellinger, Raheem Anderson, and Jamari Buddin (to the already committed McCarthy and El-Hadi) they have a shot at slowing the bleeding.
Congratulations to you and Mrs. Txsbuckeye! Thank you for making the world a better place.
Most level headed comment I've seen all day. +1 from OH2MD
If my calculations are correct, that class would grade out at 314.59 for 25 signees.
The WR haul wouldn't be as ridiculous but the defensive side of the ball would have serious playmakers (potentially). Wingo, Sherman, and Bresee would be a crazy haul.
You're toying with the emotions of a very delicate fanbase AE. Shame! Shame! Shame!