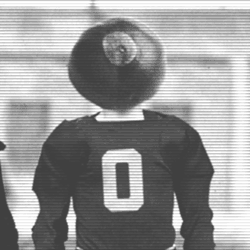 OH10G419
---
Member since 20 March 2014 | Blog
Favorites
SPORTS MOMENT: Ken Dorsey pass falling to the ground! Only OSU championship in my lifetime (from sports I follow)
COLLEGE FOOTBALL PLAYER: A.J. Hawk
NFL TEAM: Cleveland
NHL TEAM: Detroit
NBA TEAM: Cleveland
MLB TEAM: Cleveland
Recent Activity
See how fast he runs padded up!
Only if Iron Sheik is headlining the main event!
These articles are on point! Heads up to the writer! Thanks for the good read!
We got division titles... 2 Michigan wins, possibly another BCS (title or bowl) game appearance ( if not for the post seas ban) I'm sure 24-0 swayed some recruits
I'm a big fan of our qb stable right now! There's like a farm system going on!
Can't spell composite without SEC
What players were in the bobblehead set? What players do you have?
We need more of this: Back when troy was at qb (Sr n Jr yrs) Tress used to call plays in shotgun w 1 Rb next to qb .. when the snap came qb n rb run to right a few steps like its an option then qb drops back a step or 2 n throws mid/long pass.. I'm not too familiar w football plays but this used to work really good..
Those bobbles are sick!! I just recently got into collecting *game issued bobbleheads. I'm kinda curious how nice those are. The ones they give away at pro games a lot of the time have a shit ton of defects.. paint smudge, chips,.. Were these given out or sold at a sports memorabilia store? BTW... Indians are having a Nick Swisher Brohio bobblehead night.. I am going to it but I'm curious to see what the brohio bobble is? My friend thinks it'll be him w the arms up going into the O.... but idk how feasible that is w the big head on the bobble... any speculation from you animals?
Simple Jack
Would love to have him, even if its a 1 yrs stop gap.. We still need some more big men coming our way... after next year, we have dave bell as the only true big man... being from Toledo, I've seen Loving play a lot...IMO, him at a 4 puts him at a disadvantage.. Don't know enough about a KBD to put judgement on him, but he looks closer to a 4 but still an oversized 3. I really wish Trey was redshirted his frosh year... he had barely any PT, and for being a back up big man, hes not terrible considering his current team situation and actual game experience.. would be nice to have him one more year just for experienced depth at big man (if we get a few of these big men recruits this comment is null)
24 straight wins is a feat no matter what level or schedule.. There were still teams that had lots of talent that we played. . Sry we took a year or 2 off from Texas USC miami, and scheduled Cal 10 yrs ago when they were good... Our schedules are still better than Michigan's consistent UCONN UMASS DELAWARE.. yea they play ND... ND is relevant till about week 7 as is Michigan... but Michigan is usually the ones with hardons after going 4-0 to start every year
If Q comes back and Russell is as good as I think he will be, ADV may have sat the bench even next year.. if he couldn't beat out LSJ this year then idk about next year.. either way... good luck napoleon dynamite! He was a good kid
That guy is lucky Trey isn't Marcus Smart...
IMO: His draft stock can only go up.if he stays
If deshaun didn't make it, neither will Q. Might as well stay n get a degree that lasts for life... once ya stop playing, school gets a lil harder ( just like highschool, athletes get the help they need) Craft won't make it either.. we saw how a 1 tool guy got treated in Diebler...