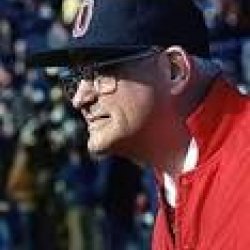 OH-IO
---
MEMBER SINCE January 08, 2015
Grew up in Columbus and attended Ohio State during the Keith Byars era. Sold coke at the 'Shoe as a kid, snuck in the stadium dorm on game days! Lived in Atlanta from 1986 until 2017. Winters still SUCK.
Recent Activity
WTF. That's what March Madness is for!
Tim "know what I mean?" May. Better read than heard, "in that regard".
"Follow my drift"?
AHHHHHHHHH
Let's bring back Urbs to stand on the sideline, hands on knees with head down!
"Not a smidgeon of corruption:
Geaux Jeaux from Ohieaux!
I hope we see good Luther, not out of control Luther.
They get trophies for that at Georgia.
Take you pick of the also rans from the SEC! SEC!
Their come-uppins ahead in 2020.
It's been since 1/1/1981 since they won it. Today is 1/14/202. Count the days.
P.S. Fromme will long wait to hear his name called. Training Camp arm, hold a clipboard for three years and out of the league.
Karma
Targeting defensive leader and taking a TD off the board.
Suck on that, Clemson.
Love THE Lydell jersey stripes and a shame we didn't show out in the "Championship Reds" (Daron Lee).
But hey Coach, hey AD, hey NIKE, MAKE THEM PERMANENT!
We had the tiny rented fridge.
Watched the start.
Luther was Luther, the 2018 Luther,
Clicked
I did the same, Story then comments not clear.
Hope dashed.
I'd take three squares from that buffet table.
Between Mick and Larry they will get him right.......and hopefully a step or two twichyer - if that's a word.
Paying forward
Once a Buckeye always a Buckeye
Love and thanks to "Chugs"!