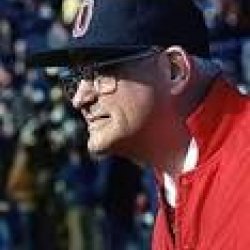 OH-IO
---
MEMBER SINCE January 08, 2015
Grew up in Columbus and attended Ohio State during the Keith Byars era. Sold coke at the 'Shoe as a kid, snuck in the stadium dorm on game days! Living in Atlanta since 1985.
Recent Activity
I was wrong.
WON and NOT DONE!
Good luck vs. Clemson, Tweetin' Tate.
Life's not fair. Then you die.
Those protective headgear and 'do's make for an interesting look, eh?
Corey Smith needs Real Life Wednesdays
As earlier predicted, a 9:50 Tip.
One, done and no one watched.
Thus they're better off playing a few in the NIT than one and done in the Dance.
They'll play a 10:30 PM EDT game in a West Bracket, get blown out and we can focus (again) on Spring Ball.
Not what I want to see, but what I expect to see.
I feel confident KWes will foul out with 15 minutes on the floor.
1 vs. 12. Good luck with that. Perhaps we'll draw Zion.
With a whopping 15 minutes on the court. It's not November. It's freaking March. So much for Holtman and the 7' "student coach" developing his greatest weakness.
So you're saying you want banned, are you?
Perhaps a better experience and more development minutes that a one and blown out in the dance.
Stoneburner of The Bogey Inn fame?
As long as they don the Scarlett and Gray with courage, honor and conviction!
If UGA is not on his list something's wrong.
"self-honest"?
That's a new one.
The "Amir Williams Role"?
Ban the Tathan britches above the knee look!
Ban the "Percy Harvin Role"!
Great, a new freakin' "Percy Harvin" role.
AHHHHHHHHHHH!!!!!!!