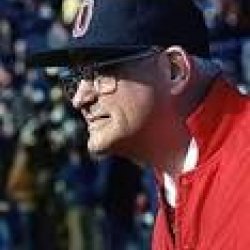 OH-IO
---
MEMBER SINCE January 08, 2015
Grew up in Columbus and attended Ohio State during the Keith Byars era. Sold coke at the 'Shoe as a kid, snuck in the stadium dorm on game days! Living in Atlanta since 1985.
Recent Activity
Georgia hasn't won jack since 1980. Last Century. Herschel Walker.
Win a NC for the first time in almost FOUR decades - then, and only then, do they belong in the conversation.
Should not have left early in the first place IMHO.
Georgia is a joke.
Ain't won jack since 1980 but they blow their horns like they're in the 1st Tier.
SEC! SEC!
Come North, Bama, Come to the Shoe in late November instead of playing the annual SEC! SEC! Cupcake Saturday aka Chickenshit Saturday.
We know - it just means more.
Life sucks and then you die.
J. K. was a freshman and he kicked ass.
You lost me at "kinda douchy".
A new reason to be a Cowboy's fan. Hope Mike Webber is jacked for the opportunity. #oneplayaway
Double digits millions, with a big chunk of a signing bonus, doesn't suck.
TM - one of the good guys!
Zeke still needs a new "look".
Doesn't Johnny Football have some eligibility remaining? He's looking for a new gig.
I wonder if Fields just has bad body odor and no one can be in the same QB room with him?
Asking for a friend
Good luck, Baldwin. We hardly knew ye.
ESPN playoff percentages in April doesn't mean jack.
Drue better damn well be a Captain this season!
Zeke needs a new look.
Just sayin'
Zeke needs a new look.
Just sayin'
"DON'T GET TOO EXCITED. Today is our first live look at Justin Fields and Matthew Baldwin, at least in Buckeye uniforms, and I know damn well some of y'all are going to try to crown a starting quarterback at the end of this public scrimmage."
They will be wearing black "don't touch me" jerseys.
Hardly THE Buckeye uniform.
#bringback1968