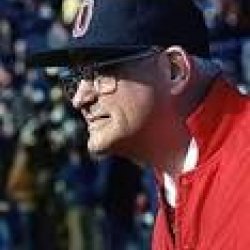 OH-IO
---
MEMBER SINCE January 08, 2015
Grew up in Columbus and attended Ohio State during the Keith Byars era. Sold coke at the 'Shoe as a kid, snuck in the stadium dorm on game days! Living in Atlanta since 1985.
Recent Activity
We still don't know what was on the damn menu and who catered it!
Enough with the Fields to Victor 98 yard TD in the Spring Game.
#meaningless
"who aren't equipped"??
It's called BRAIN chemistry.
You are forever a great Buckeye, Brady. You'll go places in life.
#13 does not matter.
But F secESPN anyway.
The Athleticesque.
Great read.
And the other 50,000 undergrads?
The trolling youngsters are 0-0 vs. TTUN.
Anywhere but Georgia, son.
"Defensive Pass Interference, # 3.
15 Yard Penalty
First Down"
Lather, Rinse, Repeat.
A fool and his money........
Georgia hasn't won jack since 1980.
Present day Zeke needs a shave and a haircut.
Just sayin'
SALADS
CORNELIUS GREENS
Seven seasonal mixed greens, tomatoes, carrots, red onion, roasted pine nuts, chopped walnuts with a "high step" habanero lime dressing
TOUGH TURF AND DAIRY
Harbaugh's Well Done Strip Steak with a chilled 32 oz Borden Whole Milk
DESERT
The "Basic": Three scoops of vanilla ice cream
https://twitter.com/bzimmerman9/status/776170701954830336
FEED ZEKE
48 oz. Cowboy Ribeye with a large side of Cheerios.
Nuuuuuuuuuuuugggggggggggeeeeeeeee
Doesn't UGA will off-season National Championships during the off-season? Or, is that Signing Day, Or, the spring game. They win them all except on the filed in January - A tradition since 1980!
Wonder if Cade's Dad has any remaining eligibility ?!?