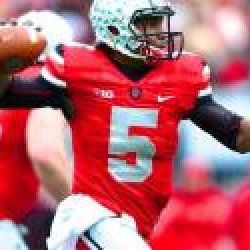 ogama843
---
MEMBER SINCE October 19, 2013
Favorites
SPORTS MOMENT: Holy Buckeye!
COLLEGE FOOTBALL PLAYER: Jayson Carter
COLLEGE BASKETBALL PLAYER: Craft
NFL TEAM: Browns
NHL TEAM: Jackets
NBA TEAM: Cavs
MLB TEAM: Indians
SOCCER TEAM: HUH?
Recent Activity
Mmmmm. Pimp snacks. They are my favorite. Salty.
I feel he showed his worthiness during the first three games this season. I believe in Mr. Day.
Bold prediction. I hope you're right. But I'm not very confident it will happen.
LOL. If this. Happens as you say, will you give me numbers for the next powerball drawing?
Hook'em Horns! Yea I just said that. Weird.
All of the calls could be Justified in some manner as there was "some" contact. But if that is the threshold for throwing a flag we should have PI calls on almost every play. In my opinion, at least two of the calls were made on great defensive plays.
Oh yes they do. I heard jimnslipped them some cash.
Easy for a quarterback if he has that much time.
Bet that kills the drive.
All xichigan needs to do is find a kid with a terminal disease and make the media narrative about his last wish being a win for ttun. Then they will win by at least three touchdowns. It's worked for Iowa and Purdue.
Whenever the game narrative is about kids wIth cancer, we get our asses handed to us. I'm happy for the kids with cancer. But I still wanted to win.
Congrats to Purdue. Outplayed us in every aspect of the game. The buckeyes aren't hungry enough. Let's go Bucks. Let's beat MSU and -ichigan.
Yup. It's all in his master plan. Don't want us peaking too early. Lots of football left to be played.
O-line playing totally flat and uninspired.
Did we practice this week?
I hate the "hangover" excuse. I do not accept it. I never will. No excuses. Just keep winning. Go Bucks!
Absolutely not! Enjoy the win.
I don't know what to think about this comment. So confused.
Don't go to the game thread. It's dangerous.
I won't go to the game threads. Never do. But I give a pass to passionate buckeye fans in a game like this. It's full of people documenting my knee jerk internal thoughts. I never give up hope though. That's why I watch every game to the end.
Honestly, I don't know if it was his call.I think Mcpoorly audibled.
My heart.... my heart. Go bucks!
Bosa will have 2 sacks at least, and will disrupt TCU's passing game, opening up opportunities for the secondary to get interceptions.