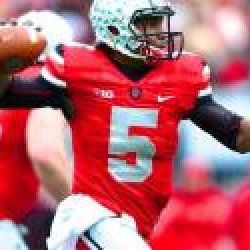 ogama843
---
MEMBER SINCE October 19, 2013
Favorites
SPORTS MOMENT: Holy Buckeye!
COLLEGE FOOTBALL PLAYER: Jayson Carter
COLLEGE BASKETBALL PLAYER: Craft
NFL TEAM: Browns
NHL TEAM: Jackets
NBA TEAM: Cavs
MLB TEAM: Indians
SOCCER TEAM: HUH?
Recent Activity
I don't want any props. But this would be it if we did.
You wait. This will become a pre game narrative for Nebraska or Northwestern. Shoot, I hope not. I'm scared now.
His undisclosed injury didn't allow him to remain erect in the pocket.
That's exactly how I played against Luke Fickell when I played guard in high school. The only thing I could do was go low and grab his ankles. He still sacked our quarterback a few times and complained to the refs. they didn't call penalties because I believe they felt sorry for me.
It's just funny. That's what haunts the Buckeyes opponents when they sleep at night.
I had a feeling our defense was going to be good this year before the season even started. So many returning starters, extreme depth on the defensive line, better coaches etc.. I thought there were more question marks on the offense. So I chose Justin's fast start as the most exciting.
edit: lol, sorry this comment was supposed to go under the latest 11W survey.
Word is, Penix has some sort of back injury. It is hindering his ability to remain erect in the pocket, reach the climax of his potential velocity, rendering him unable to release his balls.
Even if they lose, it would not be and Appalachian State type of loss. Close, but not quite. Buckeyes 38-12.
I saw "DJ in the Shoe" thought DJ Byrnes was going to be a halftime show or something. Wishful thinking I guess.
Mmmmm. Pimp snacks. They are my favorite. Salty.
I feel he showed his worthiness during the first three games this season. I believe in Mr. Day.
Bold prediction. I hope you're right. But I'm not very confident it will happen.
LOL. If this. Happens as you say, will you give me numbers for the next powerball drawing?
Hook'em Horns! Yea I just said that. Weird.
All of the calls could be Justified in some manner as there was "some" contact. But if that is the threshold for throwing a flag we should have PI calls on almost every play. In my opinion, at least two of the calls were made on great defensive plays.
Oh yes they do. I heard jimnslipped them some cash.
Easy for a quarterback if he has that much time.
Bet that kills the drive.
All xichigan needs to do is find a kid with a terminal disease and make the media narrative about his last wish being a win for ttun. Then they will win by at least three touchdowns. It's worked for Iowa and Purdue.
Whenever the game narrative is about kids wIth cancer, we get our asses handed to us. I'm happy for the kids with cancer. But I still wanted to win.
Congrats to Purdue. Outplayed us in every aspect of the game. The buckeyes aren't hungry enough. Let's go Bucks. Let's beat MSU and -ichigan.