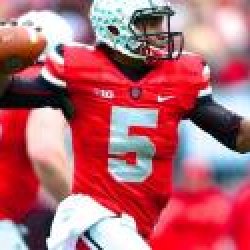 ogama843
---
Member since 19 October 2013 | Blog
Favorites
SPORTS MOMENT: Holy Buckeye!
COLLEGE FOOTBALL PLAYER: Jayson Carter
COLLEGE BASKETBALL PLAYER: Craft
NFL TEAM: Browns
NHL TEAM: Jackets
NBA TEAM: Cavs
MLB TEAM: Indians
SOCCER TEAM: HUH?
Recent Activity
The anticipation is "TOO DAMN HIGH!".
Ohio State beats a top ten team by 59 points, and ESPN is saying Alabam's 10 point win over a mediocre opponent is the best win of the day... Smh
Super Jealous of Mr. Seater being on the sideline for that historic play. But Inhave to ask why he is filming with a potato.
Today's slate isn't bad as it features four games between ranked teams and Michigan trying for its first win at Rutgers in program history.
Best #hottake ever. Thanks for a great start to my day!
I stand Corrected. Forgot about that.
We had a "Couger in the holler" according to the man who used our back 40 for growing corn when I was growing up in Bainbridge, "Ahia". Maybe it headed north.
You know what I like about Urban Meyer? He doesn't struggle against inferior competition. I remember having heart attacks in the past when we would play MAC teams close under Cooper and even Tressell.
Even great leaders can make mistakes. All of those with that moniker have made a mistake. Some may have never been caught publicly, but I can guarantee none of us are without sin. JT will be defined by how he responds to the situation. Will he fold? I don't think so. He will get right back up on that horse and move on.
I really like the progression. Somehow I feel I like it better than if we came out clobbering opponents from the get go.Now we can peak at the right time. It was UFM's plan from the get go.
I know that sounds awesome. But it's only one per customer. Not worth moving for. But awesome if you live there.
We did have a turnover. And Maryland got a garbage touchdown. That pissed me off more than anything. I was all hyped up for one more touchdown.
YES! PLEASE TAKE THENTURNOVERS AWAY. PLEEEEEEEEEEEAAAAAAAAAAASSSSSSE!!!!!!
I truly believe Indiana was 4-0 for a reason coming onto this game. I had a bad feeling about this game from the get go. I read DJ's Skull Session today and watched the "Breaking Bad" video reference and thought to myself, "that may be us." Fortunately the reference was impeccably accurate. The Indiana fan psychosis continues. We are truly fortunate to have come away with a win. We were one more mistake away from a loss. Hey, remember 2002? A win is a win is win. If we continue, we have nothing to worry about, no matter how ugly. GO BUCKS! On to the next victim!
No, I still think last week's win was uglier. Although this week I was more concerned.
did you know you can now stream radio broadcasts of the games for free on 971thefan.com? Never mind, you were probably at a meeting or wedding or something that required silence.
Just a dozen?
i remember being up against a bigger more athletic defensive lineman in high school. I held him, tackled him, grabbed onto his ankles every play. Otherwise he would manhandle me and get to my quarterback every time. Think I got called for two penalties the entire game. He complained to the refs once, but took my cheating like a man. His name was Luke Fickell.
I've watched that GIF, vine, or whatever it's called almost as much as I have watched the 2015 Sugar Bowl.
My grandpa had a cane that actually shot .22 rounds. It was really neat. Nobody messed with him, so he never used it. But I did (at a target on a shooting range).
Yes! While Cardale looked horrible last Saturday, let's not forget TWO fumbles by our running backs, wrong routes run by our receivers, AND sub par line play.
Urban and his staff will have our talent clicking soon enough. Mark my word.
edit: Forgot to mention costly penalties on plays that would have resulted in first downs last week. Just an all around cluster muck on offense.
This was an off game ALL AROUND for our offense. Even Zeke coughed the ball up, as well as Sammuel. Our line was not blocking well, AND, from what it looked like our receivers ran some wrong routes. To top it off, our quarterbacks looked lost. Maybe we need to simplify our offensive scheme. It seems like we are trying to do too much.
LMAO... Thank you! Needed that after this performance.
Welp, we survived our Apalacian State moment. (I know Northern Illinois is much better than A. State.) but Phew. ... Thank goodness for our defense.WE WILL GET OUR RYTHIM GOING. MARK MY WORD! Just like last year we will get back into the swing of things. Remember, we will get the best of every team we will play this year. A win is a win is a win. GO BUCKS!!!!
Ricky Dudly... Was he 6'9?
No, that is not a gangsta seal. These are gangsta seals. (The news anchor is pretty gangsta too, if you know what I mean. ;-)