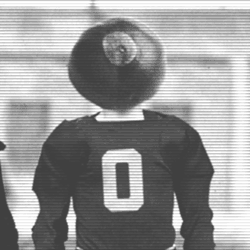 OfficerRabbit
Louisville, KY (via Toledo, OH)
MEMBER SINCE February 09, 2012
Favorites
SPORTS MOMENT: The improbable NC run in 14', so great because no one expected it.
COLLEGE FOOTBALL PLAYER: Malcolm Jenkins, Bosa
COLLEGE BASKETBALL PLAYER: Craft, and Oden.
NFL TEAM: Detroit Lions
NHL TEAM: Redwings
MLB TEAM: Detroit Tigers
Recent Activity
This made me chuckle... +1 for you sir.
Unless he does so quietly.... it's a thing.
I think if Fields goes down early or in a close game, Hoak is going to get the nod from Day... he's proven he can come in and be a game manager. If it's a blowout, alternate series' with Stroud and Miller and let them get some live game action. Hopefully, one of them will separate themselves and we'll have a clearer picture of what 2021 will look like.
I can't imagine any scenario where we have both Stroud and Miller on the roster in two years... one will transfer knowing they have McCord coming in that will also be pushing for PT. At this point I just hope McCord stays committed, there is a very real chance he may be coming in behind a 2-3 year starter in either Miller or Stroud. I guess time will tell.
A close game and Fields goes down.. it'll be Hoak and a ball control offense. Blow outs (of which I expect more than a few), he'll get the young guys in for experience and live game evaluation. IMHO.
Well said.. it would be a disservice from OSU fans not to acknowledge what Warriner has done for their O-Line. Their biggest problem, as I see it, is development. Name a 5 star they've landed that has actually produced like a 5 star? Kareem Walker, DPJ, Rashan Gary, Aubrey Solomon, Shea Patterson, Jabril Peppers.... the list goes on and on. And those are only the 5 stars that never lived up to their billing, or transferred.
Sheesh.
Your last point is especially relevant... a century ago the US didn't have modern interstates or jet travel, isolating communities was much easier back then. As has been pointed out by many, the recent protests and the upcoming holiday weekend have increased interstate travel quite a bit.. the genie is definitely out of the bottle.
You seem knowledgeable, I posted a question in a thread yesterday. There seems to be a great deal of uncertainty surrounding immunity and how long antibodies last in people who have had Covid, or at least enough exposure to the virus to build antibodies. The world seems to be waiting on a vaccine, but if immunity only lasts 3-6 months (I've read that multiple places), wouldn't that mean we'd just be signing up for quarterly booster shots for the rest of our lives? If so... that sounds terrible, and not really sure many people are going to sign up for that.
I'm getting to the point where I'm believing this virus is just going to be around.. forever. I hope I'm wrong.
I'll preface this with, I am an older millenial... but social media has only amplified the "invincible" mentality that most developing young adults have. Not only are you invincible, but you can now share what a badass you are instantly with all of your "followers". I have no faith behavior will ever change now.
#getoffmylawn
Honest question for you, or anyone with actual knowledge not gleened from reading internet forums. If antibody immunity doesn't last for more than a few months, does that not mean that immunizations (when available) won't either? Are we looking at a future where we need a shot four times a year to remain immune?
This! Anyone with their underpants in a bunch about "a rise in cases" is either incredibly stupid, or watching far, far too much sensationalistic news. We locked down to flatten the curve, not eliminate the virus... that was never going to happen. Now we've opened up a bit, people are getting back out to restaurants, bars, playgrounds, and now, demonstrations and marches. There was never NOT going to be an increase in cases after we opened up. Until ICU's are completely overwhelmed across the country, this has been the logical outcome all along.
And for the fear mongering folk... good luck trying to lock down again, we'll see how that goes over.
I'd guess somewhere around 100-105?
And this folks, is what GREAT writing looks like on a blog with a lot of good writers. I feel like we could choose any game in the last 30 years, give it to Ramzy, and a week or two later we're enjoying another fine article.
Time for a dilly bar now.
A casual peruse of MGo would tell you that "The Spot" in 16' single handedly ruined Harbaugh's chances at ever being elite. If the spot had been short, they would have (allegedly) won the B1G Championship game, gone to the playoffs, pulled in elite recruits, and would now be at least on par with OSU at the national level. All of this.. from one play ending differently.
It's delicious to see...may their smugness never again realize a win in The Game!
Buddy's is LEGIT. We lived in Plymouth, it was fantastic if you wanted a 2k calorie dinner!
I NEVER get tired of seeing that!
Pick anything... anything that has been cancelled post "opening up" has been cancelled out of safety concerns for the performers, athletes,crowds, etc (not to mention the legal liability no one wants to discuss). Concerts, comedy shows, the NFL HOF game, an innumerable amount of events have been cancelled, and are continuing to be (the marathon I was signed up for in April was postponed until September, and was just cancelled permanently for 2020 two weeks ago). I was all for the lock down initially, I was extremely careful going out for anything, and for good cause... we had no idea how deadly the virus was, who it was going to kill, or how it could be treated effectively. But we have much better knowledge now, about transmission, what population segments are most likely to be adversely affected, etc.
My fear is we're going to be in a perpetual state of "what if" until a vaccine comes, and there isn't any guarantee a viable vaccine will ever come. Will we be cancelling things through the rest of 2020? 2021? It's a very ugly topic to discuss, but what is the threshold for "acceptable" covid deaths to return to normal life, sports, concerts, etc?
I don't pretend to have the answers, but as I said in my original post, I have no optimism we'll ever have the nicer parts of life back until we accept that personal risk and death is part of life. We're certainly not there yet.
In what universe is this country's problem an excess of caution?
Caution at the personal level? I'm with you.. there are certainly people doing "fuck all" to help stop the spread.
Legal and public relations caution??? It's insane... and we all know it. The threat of litigation or a bad PR perspective drives many, many decisions.. however small the actual risk is to the company/organization.
while doing absolutely fuck all to prevent it from spreading
I guess you didn't see where I wrote I'm all for (and practice) masks, sanitation, and distancing?
I hate to say it, but I agree. We've gone from "flattening the curve so hospitals don't get overrun" to "if there is a chance one person gets seriously ill or dies, we must cancel the whole event". I have no optimism or any hope of normal life going forward... if people can't accept that risk and death are part of life, we'll never get to have nice things again because of the "what it??" crowd. I'm all for masks, sanitation, and distancing.. those are obvious and easy measures to take to help contain the spread... but it's a fucking virus, IT IS going to spread. Apparently we need to end fun things as we know them for a virus with a less than .5% fatality rate.. and much smaller than that for a significant portion of our population.
Downvote me to hell... but this is getting absurd. We know much more now than we did three months ago.. let's assume some personal risk and get back to some of the more enjoyable aspects of life.
Also.. OSU will pull away in the 4th.. 38-24.
Not to mention the absolute torch of a seat Helton will be on if USC doesn't markedly improve this season. I know kids are supposed to commit to a program and not a coach, but USC hasn't exactly been a premier in the last decade either.
Being a father has changed my life in so many ways, it's hard to put into words. You think about all the "little" milestones in one's life... your first kiss, your first car, going to college, your first "real" job, saying "I Do" to the woman you love... but nothing really compares to raising your own little piece of you. The world seems a little crazy now, and so many people are so divided on so many topics, yet I have to believe every Dad out there is hoping to leave the world a little better than they found it for our children.. because once you have them, life truly comes into perspective.
Happy Father's Day to all the 11W Dad's out there.. hug your fathers, and hug your kids.
And teach them to love the Scarlet & Gray.
Most of the time it's for customers... if they can't crack 100 in 18 holes, they don't really need to be keeping score anyway. I usually shoot 85-90, best round ever for me was an 81.. so I'm by no means a good golfer.. just more interested in the people I'm golfing with having fun.
No idea what your skill level is, but whenever I'm out with people who don't play often, or are not that skilled, I always bring a ton of balls and just throw one out wherever I think their ball landed, and tell them to just play it as their shot. It's a game, it's meant to be fun... and we're not exactly playing on the tour.
Golf is one of those rare games that hitting a great shot, even if they're a pretty bad golfer, can be thrilling and very rewarding. I love seeing someone blast a drive straight down the fairway, or parking an approach shot six feet from the pin.. it's what makes it so fun.