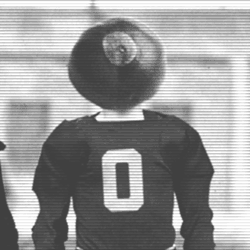 Ocbucks
---
MEMBER SINCE November 14, 2012
Recent Activity
Comment removed for violating the site's commenting policy.
How does this guy have a job writing??
Would not get a C in sixth grade English.
Good facts. One added one that would be interesting is a rank of colleges with players winning the super bowl.
There is more to this. You don't leave a chance to chance to coach the next Heisman trophy winner. Something clearly was not working. Day was not on the same page with him. This is a force out.
No overall record in article. No list of games. Seems like a piece done quick and dirty.
Crushing blow. ???
exactly why recruiting info is boring.
That's the wrong equation. It should be:
inmobility > not playing
playing > health.

there is no option to be mobile and play.
Vegas doesn't use audacity. It doesn't care about any history or coach. It is only driven by money. They are the ultimate ranking and the spread is just a real assessment right or wrong. Don't read anything further.
.
I was born up north dad went to UM but grew up on worthington and went to OSU. One day at an alumni game watch in CA my dad walk up with a UM shirt and my friend turned to me and said " I didn't know you were a half breed". True story.
I think Dobbins knew what he was talking about. Why does have to be a 4 quarter game? Right JK it doesn't despite the media wanting say that to be safe. Be to be honest the better chance is it will be over at the start of the fourth. We have not seen this team and coaches really get fired up. Penn state is good but there is another level to this team.
they are now eliminated from going to Indy
Housers are going to beat or give UM a close run. They are not close to Ohio state.
Blueprint that's very laughable. Absurd. Shouldn't be an article. :
they scored off the 2s and 3s
they scored off turnovers
it's Rutgers!! we played D vanilla like FAU and no surprise those were the most points. If a team thinks they have something from that.
The winner of the game wins the big ten East. TTUN Can't win even both osu and penn lose last 2 and there is a 3 way tie at 7-2 which penn state would win the tie breaker. Penn state has Rutgers in last game so even that is impossible.
The media gets an F. Why didn't they ask about how this makes the NCAA look in light of the recent admission the rules are outdated. CY could walk in any bank today and get millions in loans. He will get a $40+ million check 6 months from now. And we are talking about a $1000 for his GF to goto the Rose bowl?? The NCAA are idiots. The fact he missed any game is plan ridiculous. CY is a millionaire now and the NCAA would let him touch it and penalizes him for making them money. So idiotic. Gene smith should had to answer to this but our media is just as idiotic.
If it is the situation chases says thats not an extra benefit. Seems like something else is up because that case is no game loss.
there is definitely something else going on.
Why now? Who brought this to light?
if this happened at a SEC school you would never hear about it.
The Vest liked noon games. So it can't be all bad. I think it's true what is said here but from my calculations it's about 0.5% of things that matter.
All major sports use some type of conference or pool elimination system where the best 2 teams can be in the same pool, league or conference and not meet in the final except stupid college football. Some how they think it had to be "the best 4" which is impossible to pick. As Day says it should be a berth for conference champs plus any other undefeated team. From this group of 5-7 teams let the committee pick 4 if it's has to be 4. This is much simpler choice and the method for getting there is known.
I would just challenge the wording "games with Penn State and Michigan will certainly challenge OSU". Probably will or could challenge OSU would be more accurate. I wouldn't be overly surprised if both of those are easy wins. It's easy to make that case. There is a some ( good) chance both final teams will add a loss before seeing OSU.
So the Buckeyes went from 33% chance (3:1) to 40% chance (5:2)
young went from 4% chance (25:1) to 12% chance (8:1)
Vegas need to get out of the dark ages with odds.
The safety against Miami is 2 points off a turnover and missed in the article.
Is Duce related to Joey??
You say "Rutgers Is home underdog "
check the line again. They are favorite.
You don't see Borland or Werner in these outstanding discussions just saying.stock down.
Interesting. The story implies homecoming was as Ohio state invention. Is that true??