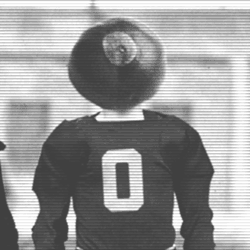 Ocbucks
---
MEMBER SINCE November 14, 2012
Recent Activity
https://twitter.com/dh_simba7/status/1082068685127323653?s=20
what does it mean. ??
Exactly. Someone who gets it.
"Root for" is just the wrong wording. I root for the Buckeyes period. I hate the TTUN period. All others are entertaing football games. Sure one may have more or less of a impact on Ohio State but you control your own destiny. Relying on others or making a statement is not really needed. Simply Go Bucks.
Gene smiths commentd are not correct here. He said Osu would not hold a Friday game in columbus.
Hating TTUN is always in season. Dont give me that do good BS. Woody says it's OK. Even on the grass we'll beat their ass.
Lost opportunity yes but not just this year. If Haskins was at least given a chance that he deserved last year osu would have gone father. He beat Michigan and was clearly a better QB than J.T. urban says the best man plays but he does not live by that. A victim again of loyalty over reality.
If you evaluate the 5 teams in contention it's really Notre Dame that is out.
They didn't win a championship
Ohio State beat NW and Michigan by more
they are not impressive by the "eye test"
Not saying it will happen but that's the best choice
Well if you want to know why. Tradition in all sports going back 100 years. And mostly in the start because of fabric choices we not as easy as today. Tradition is good even if white is not our color.
This is the MO of the fake news media. You see it every day. Enemy of the people. A perfect example.
Almost no passes thrown with air where the receiver is in stride running downfield and can adjust. This is a great skill Haskins has and we have receivers that can come down with it. Most passes were fastballs on a hitch or slant route which are hit or miss. We need to take advantage of Haskins and our recievers and allow them to make plays.
Correction it was a 7-3 lead at half time not 9-6.
The editor is not were he needs to be but improving.
Beware of the Hoosiers. The will give the idiots more trouble than expected. TSUN is over rated.
Disagree we need to and can run. Texas Tech didn't win much. Even Urban said the short passes are Runs. Without short yardage ability to run you won't win a championship. It's not simple but we have the skill. The offensive staff gets paid 8 million a year. They will make adjustments and we will run good.
Might want to add Kerry Combs leaving to the reasons. I'm sure that's not everything but you can't help but wonder how much impact that has.
You forgot they called us a bunch of Bums. We are not a bunch of bums.
Did you know his brother joe went to OSU and sang in the local bars with Putr Jam. Older than john.
And we had these 2 on the bench all last year??? Urban time to get real... you don't pick on the best player for the team. You have favorites and they play. No way Haskins did deserve time and probably starting time last year. We blew away a national championship because Urban loved J.T.
Simple to me Harbaugh is over rated and always has been. He never won the PAC 10 even with Luck ( no pun). His personality wears on you or more bluntly he is a dork. It's called the Peter principle. He is at his top.
There is a darker cloud coming. TSUN schedule after the next 2 is tough. I predict a significant losing streak
Liked this series. What it points out is Ohio State is bigger for the athletes than the NFL. These are the cream of the crop and they average maybe a few years in the NFL. All the great athletes who get a lot from there connection and playing are more than the few who play a few years in the NFL. The college system is win for athletes and fans and of course OSU. Those who say they should paid don't get it. There is a lot of value in the Osu and other brands that needs to be considered.
How come in 4 of the 5 years we have 5 road games and 4 home in BIG??? Doesn't seem right.
Wow could have been a very cool article if it some one who can put thoughts down in writing had organized it. I take it composition wasn't your best class.
He signed with the colts for $12,500 per year and a $1500 signing bonus they paid in one dollar bills. He had 5 sons and eight daughters.
If you are going to point out QBs in the Oka state bowl game, you have to say Teddy Ginn too. Remember??
The whole notion of trap game is stupid and made up by media who really don't understand players and the game. No such thing in reality. It's a stupid discussion point.
Wouldn't the headline be Bucks predicted to be undefeated by Vegas.
In case you didn't know Watching 2 games at the same time is entirely possible these days. Someone should tell 11W on the modem technology and take them to a sports bar!!