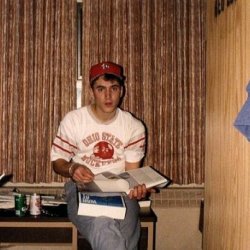 OCBuckeye
---
MEMBER SINCE January 05, 2015
My picture is from my Navy days in the mid-80's. Lifelong Buckeye fan...I still have the Akron Beacon Journal sports page when Woody was fired. I keep is as a reminder of that red letter day.
Favorites
SPORTS MOMENT: Watching the 85 yard march through the heart of the South. Worst: Watching Woody throw that damn punch.
COLLEGE FOOTBALL PLAYER: Any Buckeye and whoever is playing against Michigan
MLB TEAM: Cubs
Recent Activity
So glad to see Austin Mack making a statement
That was the nastiest defense, collectively, I've seen in college, until this years. Just a wrecking crew led by Hawk, who, if you remember, was a beast. I loved the tension of that season, but I don't miss it. Like winning by 24 much more.
His mom and pop are solid people as well. Very enjoyable to see the pride on their faces after the game when they were talking to Urbs
Before moving to SoCal, I lived in Chicago for 12 years, and used to love making weekend trips up to Madison with my wife. Great town, great farmers market on Saturday by the capital building, and just a pleasant place to hang out. I also lived near Ann Arbor for a few years...other than Zingerman's, it's not a place I would ever want to go back to.
I have had a hardon for Clemson since that dark day in 1978.
My favorite part of that idiocracy:
2018 OSU: Traveled to Happy Valley and to East Lansing. Both wins. Stunning loss @ Perdue
Not Purdue, PERDUE!
This is a whole other kinda team than we are used to. I can see them lighting up Wisconsin 48-10. I can't dog Wisconsin too much for the brain fart today against Illinois, given the mental breakdowns the Buckeyes had the past couple years. But we have too much speed, power and skill for them to play 60 minutes with us. Hell, OSU's number 2's would be a top 25 team. I cannot wait.
A few things I've been thinking that the data seems to confirm:
1) If the season ended today, LSU and OSU would be the top two team by far. Alabama would be out after getting their ass handed to them by an LSU squad that, quite frankly, scares the living hell out of me. JB looks like an assassin out there this year.
2) Clemson isn't playing anywhere near NC level. Neither is Alabama.
3) Michigan is right where I thought they would be...nowhere in sight, staring at 4 potential losses. They play Penn State and then ND. JH's days are over if he looses to MSU and gets lit up at home, yet again.
There is a storm rising boys and girls and it's comin for Bama, Clemson and anyone else dumb enough to get in the way. This defense has the nastyness of the 2002 NC team amped up to 11, and the offense is like the 2014 NC team, amped to 20! If they do to MSU what I suspect they are going to do, the Buckeyes will start getting the attention they deserve. It would be great to see LSU and OSU in the NC game, just to see two Day trained QB's going head to head. I would pay to see that game.
De-Nile ain't just a river in Egypt.
You know when a performance like Olaves goes unmentioned, some really good things happened. It was a pretty dominate performance.
In a Carlos Hyde way. He's a beast for sure
My wife, Mrs. James Smith, finds it increasingly funny every time Cincy punts. :-)
Is Austin Mack in the doghouse or something?
Does anyone have a better receiving corps than the Buckeyes this year?
I can already see a next level aggressiveness in the Bullets. I love the attitude they are playing with!
Heaven is not even finishing my second cup of morning coffee, and already being up 21 - 0!
This is not last years defense either. :-)
I told my wife I'll be disappointed if the Buckeyes don't hang 50 on FAU today. They might get that in the first half! I hear there are some good High Schools looking for a new coach...that seems to be Kiffin's career trajectory.
Didn't mention that sick ass spin move Braxton put on that defense either.
Still, you gotta respect a man that punches that time card for 33 years at the same place, and doesn't try to get over his skis. Contrast that with the asshat we face this week, Lane Kiffin.
I watch as much as I can, whenever I can...I don't watch the pro game much anymore, so Saturday's in the fall mean I'm watching football all day long when I can get away with it...BTN with my coffee in the morning, all the way until the PAC games are done.
The first question my wife asks in the fall is "what time is the Buckeyes game?" Everything gets scheduled around that 4 hour block. She's a keeper for sure. :-)
Chase Young added: "Man, watch out. Watch out. He's done it a few times, especially when we go situation defense, he'll take the ball down and run."
Imagine how spectacular that had to have been to impress someone the caliber of Young.
Penn State, Sparty and Ohio State...I cannot see Michigan coming out of that without losing 2 of 3, so #7 is kind of high in my opinion. I doubt they will be top 15 when January rolls around.
I'm definitely going to catch more Redskins games this year. Redskins / Cowboys is going to be Buckeye reunion now.