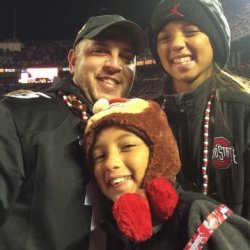 obucksrule
Mechanicsburg,PA (via Akron,OH)
MEMBER SINCE March 10, 2015
Die hard Buckeye fan, originally from Akron.....twin daughters, named one Scarlett for the Scarlet and Grey, would have named the other one Gracy, but their mom would not let me! GO BUCKS!
Favorites
SPORTS MOMENT: HOLY BUCKEYE
COLLEGE FOOTBALL PLAYER: Manimal
COLLEGE BASKETBALL PLAYER: Jimmy Jackson
NFL TEAM: Cleveland Browns
NBA TEAM: Cleveland Cavs
MLB TEAM: Cleveland Indians
Recent Activity
Speechless Barf, just speechless......
HAHAHA! Nice early morning laugh there!
I'll be there, I cannot freaking WAIT!!!!!! Night before THE GAME....what more could you want!
I like a LOT of food, but in the summer, there is nothing I like eating more than MD blue crabs.....we pulled bushels of them out of the Wye River one year, ate them right after they were steamed with cold beer. Not much better.......for me anyways.
Hard to watch at first but kept in mind first game and on the road.....second half much better, and as said multiple times on here that officiating was horrendous. Tuuuuuurible. Great fight loved to see emotion from the boys, good road W to kick the season off.
You just can't let things go huh? OK, I get your point, thanks.
I was making a point about the two minutes I watched.....I saw the final score.
I watched about 2 minutes of the Temple game last night, and almost every time a player for UCF caught the ball, there were a couple guys there to tackle him. Yeah, they caught it, but that was it. I was just sitting there thinking to myself how OSU has the athletes they have, and whenever someone catches a ball, there is literally NO ONE in the entire screen! It is mind boggling.
Was thinking how we missed out on Spence and Joey as being dominant as possible on the field at the same time....now we miss out on Young and Bosa....dang.
Could not agree more. There's nothing better than wearing teams down, and then run it down their throat with the 2 headed monsters we have.
Hell yeah, greatest time of the year.....
Thought this was pretty good. My fave still was the VA Tech before Blacksburg video, with the clock ticking. EPIC
Speaking of Clemsuck....my buddy in SC is big fan, and runs his mouth constantly, fueling the flames of my hate for Dablow and their team. I decided to take a glance at their schedule the other day.....has anyone seen that?!?!?!?! WHAT A JOKE! I know it's conference and all, but that is borderline embarrassing. I know they just played A&M, but wow.
haha, miss those days....I still remember the cheat code to get to Iron Mike(did not look up, so might be off), 007-373-5963. Remember Contra's also!
I agree with all the comments. One of the best I've ever seen.
I've always said that was one of the greatest football plays I've ever seen. On that stage and at that time....against ST one of the best to ever do it. Mo was a relentless competitor, see that play if ever any doubt.
What I remember most about the JT Barrett fiasco, is everyone talking about how he got injured on the sideline, then with that 'injured leg', we ran him up the middle 50 times in the first half. I think the first play of the game may have been that call!
Live in PA, hate PeeSU beyond belief and lost to them twice, I don't follow wrestling all that closely but watched us lose that also, I cannot stand it.
Watched a bunch of times....have to see clip of the PurDONT cheerleaders as that unfolds.....classic