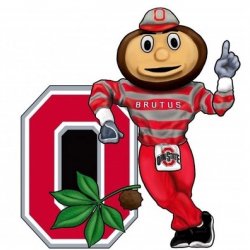 obsessed_buckeye
---
from Cardington, OH
MEMBER SINCE January 01, 2017
Favorites
SPORTS MOMENT: 85 Yards Through the Heart of the South
COLLEGE FOOTBALL PLAYER: Archie Griffin
COLLEGE BASKETBALL PLAYER: Granville Waiters
Recent Activity
Automation still need people to build & fix the robots.
Play of the Decade (2010-2019), can't really argue the 2013 Iron Bowl Kick Six. Bama was ranked #1 & Auburn was #4. 56 yard FG attempt with 0:01 on the clock that Coach Saban fought to get put back on the clock. Bama coulda played in OT but they went for the FG to end it in regulation. Welp, it ended in regulation in the most improbable way.
A close second is the failed TTUN punt against Sparty in 2015. TTUN was up by 2 with 0:10 on the clock. All the punter had to do was catch the ball & kick it. Phase 1 failed, the snap hit the TTUN punter in the hands. The rest is some of the most enjoyable history I've ever witnessed. Thank you random TTUN student for introducing me to the term "surrender cobra"
RIP Coach Fry. Thanks for the memories.
The cat adopted you. Congrats.
Every rivalry week I'm on pins & needles because of the unpredictability of rivalry games. It's true, all the stats being thrown around about which team is superior are worthless.

Just like the phrase "Remember the Alamo!" Buckeye Nation should NEVER FORGET

1996 - Brian Griese comes off the bench - https://www.cleveland.com/osu-michigan/2012/04/osu-michigan_1996_brian_griese.html
1995 - Tshimanga Biakabutuka - https://www.cleveland.com/osu-michigan/2012/04/osu-michigan_1995_tshimanga_bi.html
1993 - Tyrone Wheatley's first half - https://www.cleveland.com/osu-michigan/2012/03/osu-michigan_1993_no_5_buckeye.html
1969 - So many parallels with 2019 - https://bleacherreport.com/articles/1638930-michigan-vs-ohio-state-1969-the-game-that-changed-a-rivalry-forever

It may seem like a long time to hold a grudge but if you ask me, IT WILL NEVER BE LONG ENOUGH

GO BUCKS!
BEAT TTUN FOREVER!
Said this in a PL thread... BB Landers is a gift. The world needs more BB Landers

GO BUCKS!
Beat Penn State!
BEAT TTUN FOREVER!
Tee Hee, I LOL'd
GET TO KNOW PENN STATE

Rutgers University is located in University Park, PA.
So, who was #6 on defense in the second half without a name on the back of their jersey?

*EDIT
Roster says #6 on defense is a DL, Taron Vincent. However, in the game against Rutgers, #6 was one of the back 7 (either LB or DB).

Obsessed Buckeye fans need to know these things.
It was to get them some experience against talented opposition. Our 2s & 3s are still damn good. Definitely gives them a confidence boost for the remainder of their season and for the guys coming back next year.

I'm over my 'meh, only won by 5 TDs against Rutgers' funk because we avoided injuries & WE WON BY 5 TDs. Both being really good things. Best thing about being 10-0...

GO BUCKS!
Beat Penn State!
BEAT TTUN FOREVER!
Love the Brutus Buckeye tweet with the cannon & cheerleaders.
Still giggling like a school girl

GO BUCKS!
Beat Penn State!
BEAT TTUN FOREVER!
We're only allowed to travel with 74 players
New this year, and just announced, @B1Gfootball has upped players allowed to travel to 74; it used to be 70.

Coaches will like this, especially with the new redshirt rule. pic.twitter.com/bQ9AjRm8WV

— Big Ten Network (@BigTenNetwork) August 27, 2018

Don't want to be overconfident/borderline cocky but it will be hard to keep it under 60 for us.

Wouldn't be surprised to see us with less than 175 total yards passing and 400+ yards rushing just to keep the clock moving.

GO BUCKS!
Beat Rutgers!
BEAT TTUN FOREVER!
It's not bread, it's raw toast
<ba dum tiss>
Mr D. Hamilton is a physically substantial human being. LOOK AT THOSE ARMS! He looks like he bicep curls railroad axles.
Nice to see him getting the attention he deserves for being both a great young man as well as a great player.

GO BUCKS!
Beat Rutgers!
BEAT TTUN FOREVER!
Fair point my fellow Buckeye fan. I do enjoy reading the theories that are waaaaaaaaayyyyy outside my box of thoughts.
I'm of the opinion that these preliminary rankings are just an advertising money maker for ESPN as they're the ones broadcasting the results show.

GO BUCKS!
Beat Rutgers!
BEAT TTUN FOREVER!
None of these preliminary rankings matter. Only CFP rankings that matter are the ones on Sunday 8 December.

GO BUCKS!
Beat Rutgers!
BEAT TTUN FOREVER!
There is Maryland and only Maryland this week.

The worst part about being the favorite is that you can only disappoint. If you win, you were expected to. If you don't then you didn't live up to expectations. There is no best part to being a favorite.

Screw polls.
Screw Vegas odds makers.
Focus on beating Maryland.


GO BUCKS!
Beat Maryland!
BEAT TTUN FOREVER!
I agree with Fox Sports - Gus Johnson is a national treasure.

Just like this

You're not the only one. Regardless of opponent, I'm a twitching ball of nerves until the game is comfortably in hand. This year, so far, has been much better on my nervous system.
Shut it down... EnonBuck79 wins

look up to the skies and seeeeeeeeeeee....