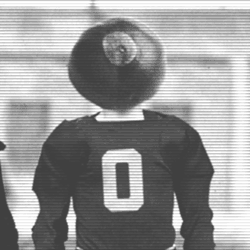 O H Y O
---
MEMBER SINCE August 27, 2018
Recent Activity
Hopefully its just wisdom teeth or something.
Even if this statement turned out to be true, what would be wrong with that? If the average lineman is 245 then what difference does it make?
Pure speculation, just a hot take, I could be totally wrong, but I wonder if his parents moved to Columbus after his freshman year because they were worried he would end up in trouble if they weren't there.
We all know Tress is in bed by 8
Eh, I believe Ohio State would have had a better shot against WVU than LSU, but at the same time WVU with Pat White and Steve Slaton would have given OSU the same fits that Juice Williams and Rashard Mendenhall gave them in the loss to Illinios that year, probably even more so. Just saying, Ohio State would have been favored, but "destroy?" I don't think so.
I think we have more talent on paper at the skill positions than arguably we've ever had, up there with the 2014/15 seasons, especially adding guys like Wilson and Gill, and Okuda and Wade will only be getting better. But two things concern me, offensive line and linebackers. The oline recruiting has been pretty mediocre to Ohio State Standards the last few years, remember we lost that 5* kid from Ohio to Clemson last year, and even though guys like Borland, and Browning were top recruits out of high school, they haven't lived up to their 4* potential and last year our LB core struggled mightily.
I never said EA cant make the game, it probably wouldn't be profitable. But for 2K that's a different story. 2k cant legally make an NFL game, but they can make a college football game. You're right, if EA would make another NCAA game it would be a madden port, and it wouldn't sell well. But who wouldn't buy a football game made by 2k? The last time they made one it was really really good, and it was only $20!
I can't say anything negative about Dabo because if I did I would just be a hater because he wins. A friend of mine, who I'm not going to mention for the sake of his and my own anonymity, coaches D5 high school football here in Ohio and has met multiple college coaches and he says Dabo is by far the coolest and most down-to-earth coach he has met, his word, not mine, he's a teacher and a head football coach so take his word for what its worth. Anyways, Dabo is a good coach and he deserves the contract no doubt.
In all honesty? This kid has a more legitimate reason for immediate eligibility than Fields. Players shouldn't have to sit out a year regardless of the situation anyways.
Only good at making 2 things, vodka and Kalashnikovs
I've seen Chug play at WVU when Grier went down with a broken finger. Lets hope to the football gods he will never have to play for us...pleease football gods
I've mentioned it countless times on here, the Power 5 conferences need to get together and create their own league and rid themselves of the NCAA. Can you imagine a 60 team league with its own rules, meaningful non-conference games and its own TV contract? Man, I can dream.
Yeah, would have been a great day to attend, I'm a little distance from Columbus so I wasn't able to attend. Too bad there isn't a full game video floating around the Tube, there was one for the last few years about a couple hours after its conclusion. Guess we're not as lucky this year, someone probably got popped for copyright or something.
Missed the spring game, was way too nice of a day Saturday to be inside. Is there a link on YouTube for the full game? I couldn't find one.
I hope Tate does well in Miami, as long as he's not beating Ohio State I hope he tears it up. However, I think the better fit for him would have been WVU, I think if he went there, with their new coach, he would have won the job, especially over "Basic Defense Austin Kendall."
Probably an unpopular opinion but oh well, I try to look at things without the Homer Glasses on. These kids should just be suspended for one game if its their first offense. Why? JT Barrett got one game for a DUI (also fair) but in my opinion driving drunk is much worse than smoking some weed.
Corrupt? Extra benefits? Are we just making assumptions because we are jealous of success? Because I haven't heard a damn thing about Calipari or K. Unlike so many other coaches. Funny, no one hates on Bruce Pearl like they do Calipari or K, and that dude got caught red handed, lost his job at Tennessee because of it. But no, Calipari and K are the evil ones.
EXACTLY! Everyone bashing the one and done rule and Duke and Kentucky blah blah blah, are just mad that Ohio State can't recruit and get one and done's. If Zion had come to Ohio State everyone on here would be defending the one and done. We did one year with Conley, Cook, and Oden, but in the grand scheme of things, aside from 2012 Kentucky and 2015 Duke, there hasn't been a Freshman team that has won a championship. So it definitely hasn't been "won and done" that's for sure.
Parody? Is this sarcasm? What is he even saying? Ya'll say this as if the One and Done's are dominating college basketball. The only thing they are dominating are the media headlines. Look at the final four, none of them are "freshman" teams like Duke. Look at the last few champions, aside from Duke in 2015, and Kentucky in 2012, all of them have been veteran teams. Its almost as if, get ready for this, the one and one scheme doesn't get you championships, but rather recruiting "B" level players out of high school that stay together and develop over four years is the formula for success.
You just sound like a bitter and jealous hater. How is he a douche? As someone who has read his book, I can tell you the man is extremely intelligent, I mean, he is a West Point Grad. He also genuinely cares about the players he coaches, even after they are long gone. NCAA basketball and even USA Basketball would be worse off without Mike. When have you ever heard of Mike caught up in a scandal in the billion years he's been coaching? None. Just because Duke always wins and everyone loves to hate them you think Coach K is a douche? Ok hater.
Edit: He is literally advocating that players should make money off of their own likeness, who the hell disagrees with that? If some restaurant offered Zion $1000 to go sign autographs for a few hours why not?
Yeah it's getting worse in Ohio and much of the Rust Belt. But there are a lot of places in America and the world where quality of life has improved drastically. Just because Dayton, OH has an increase in drug ODs and crime doesn't mean "the whole world is going to shit"
Dear sir, how do you get privilege out of anything that I said? You're blind if you can't see how social media fabricates social perception. Back then you just read things in the news paper, today you see hundreds of opinions and accounts of the same incident. Reading something in the newspaper is completely different than seeing live footage or reading accounts from multiple primary sources. And historically speaking, the small proxy wars that are going on across the globe today don't even come close to the killing, genocide, disease, and carnage of past conflicts and wars throughout history. Find me a more peaceful time in human history. Refugee crisis in Europe? Yes, but there have been far worse refugee crises. What I'm saying is not just my opinion but shared by many political scientists and historians alike, its literally called "Long Peace." But just because you have access to more information than humans have ever had you see all the drug od's, all the robberies, all the rapes, and hate crimes, thus it fabricates your perception that the world is on fire and worse than it has ever been.
I have to agree with Scarlet. Even though I think society is slightly worse off today than it was 20 years ago I feel like a lot of the issues today are exacerbated by social media, but as a whole, I don't think things are as bad as they have been. If we compare our society to other points of time in even relatively recent history, we are living in the most peaceful time, arguably, ever. 24/7 Social Media magnifies our problems. Imagine if we had social media during the Second World War. Germans in Dresden Facebook living the carpet bombing of their city. Russians posting accounts of cannibalism and mass starvation during the Siege of Leningrad, Japanese civilians being suffocated and burned alive during the firebombing of Tokyo. I think if you're alive in America today, you should consider yourself lucky, yeah it's not 1950 to 1970 America, but its also better than literally every other time period in history.