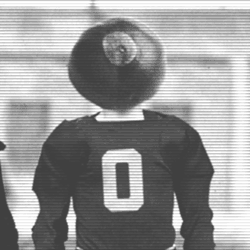 O-H-I-Owe-U
---
MEMBER SINCE September 29, 2010
Recent Activity
If you choose to go play for Kirby not-so-Smart, you will suffer the dumbest of defeats.
Unless there is something going on with the health of a family member--which I would totally understand driving this kind of decision as with Grimes--this move is weak as hell. You are one play away.
Now I feel stupid for saying I thought that Baldwin was cut from the same cloth as Craig Krenzel. When Krenzel failed to be named the starter, he fought everyday until he finally stepped up and told Tressel to give him the damn ball. Guess you can take your ball and go home, MB.
We won't match last season, but great things coming. I feel confident w either QB, Baldwin is cut from the same cloth as Craig Krenzel plus has better arm talent, and Fields has the talent to take over games. They just need snaps. O-line will get stronger as a unit each week. Dobbins, Teague, and Dmac create a lot of options in the backfield. Receivers and tight ends need to embrace physicality early.
Jaelen doesn't have the top end speed of Parris but is definitely more shifty. A better comparator is Jalin Marshall in terms of athleticism. Just the kind of physical tools that Hartline can mold into an amazing route runner. Do it JG.
Thanks for posting the link. Can't wait to see him light it up on Sundays.
This line—especially with a new quarterback—needs a vocal leader so do your thing Mr. Bowen.
Were they hoping our band would do script Colgate?
Anyway, seems like a nice gesture on our bandmates part to contribute their energy to the game atmosphere.
I give props to Herbie, and anyone else, who drives back and forth to Cincinnati in the same day. I-71 is a mess of potholes and construction zones.
Carmello? Sure, emulate a guy who doesn't play defense. Good luck.
Andre is a tough kid and I know Holt appreciates the work he put in during the off season. But in the second halves of games, he looked tired, slow and was largely ineffective. We should have seen more of Ahrens, who noticeably improved between the stretch when Kyle was sidelined to the games he started during Kaleb's absence. Hope Holtman keeps a long bench and allows players the opportunity to grow during games.
Prayers that they both stay strong of mind and can completely heal.
Great effort guys and thank you seniors. But I don't think I'll ever understand why, when you have a shooter like ahrens--a guy capable of getting white hot from deep--why you don't try him. Excited for the future!
We could have won this. Should have played Ahrens for the experience for next year if nothing else.
Get andre out, he's exhausted
Going to say it a 3rd time in case it's like a Beetlejuice thing...put in Ahrens!
Cmon Holtman, get Ahrens on the 3 point line
I don't get why Ahrens isn't playing.
Best news I've heard all day. Go JK!
Buckeyes put on a class show today. You continue to make us proud guys. And thought I saw Chris Olave and a couple of our young receivers on the sidelines, learning from the best and getting juiced up to push through spring.
Jalen Robinette, air force
Me thinks Greg Oden would be a heck of a mentor
So cool to see Terry with his role model. 2 legit ballers in that picture.
Lose faster.