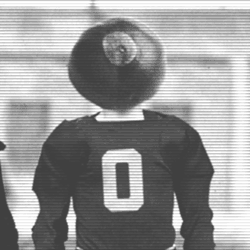 O-H-I-Owe-U
---
MEMBER SINCE September 29, 2010
Recent Activity
Bright spot during a dark time. Return of the Seth!
Hoping for some good news.
Do you know if Duke, Kansas and Arizona continue to pay players for the games that were called off due to the virus?
C'mon home, win a Natty, be a Buckeye legend. Simple choice.
Get well and good luck DJ. Cheer for us when we're making a championship run next year
Love this Buckeye family. Welcome Evan!
Is anyone else completely disgusted by the lack of prosecutions of the basketball programs involved? Cheating scumbags. No doubt in my mind that Clemson is deep into it after that FBI tape, yet nothing. Media is a joke.
That was Kyle Young type mental and physical toughness across the board. Great job, and congrats to Andre and Danny on closing out the home career with a big W!
Was the second play on his highlight tape CGI? Unreal
Love seeing Buckeyes step up, so thank you Luther. Excellent effort by entire team. Player improvement is clearly happening so it's interesting the trolls can't give Holtmann credit when it's due. Sucks losing Kyle, have to imagine he will be out at least 2-3 weeks with a high ankle. Hang tough, men!
I see it now--tight end diamond formation.
Seems to me coach is helping everyone (press, fans, etc) manage expectations. We're not going to have a kid who is struggling get thrust immediately back into a spotlight that could heighten whatever he's feeling. Take your time, ease back into things, it will all work out in time. Thank you Coach.
Let's keep it rolling, Buckeyes. Props to CJ for playing harder on both ends of the floor and so glad to see Luther finding his stroke. Big challenge on Thursday, Luka is for real.
CJ has greatly intensified his defensive effort since DJ stepped away.
The limited clips I've seen he's shown great effort and toughness down low, and surprisingly good knee bend and lateral movement away from the bucket.
I imagine the joy of being at Ohio State is 10 times that of coaching in the pros. Kudos Mr. Hartline!
This x100, Pastor. It's not shown in the clip against Sierre, but Key is an excellent defender. Great knee bend, lateral movement, and energy. We'll finish in the top 3 of Big next year and win it outright in '22.
Give me a break, guy has won coach of the year on 3 different conferences. Talent is on the way and we will run the Big in 2 years.
Don't understand why Kaleb can't shoot from within 6 feet
Mat drills don't care about star ratings. Rise and grind Buckeyes!
This is the effort we need every night. Kaleb's best game of the year. Duane's 2nd half was great. Kyle Young was a man. Thanks for giving it everything you have team!
The human brain is so complex, especially around the ages of 17-23. That's the time when the brain is physically 'rewiring' itself, shedding memories and cells it doesn't believe it needs to hold onto. The rewiring complicates how we process feelings and emotions, and is believed to be why mental health issues like schizophrenia often develop at this age. So glad he's taking the time he needs.
Key looks for real. In a 1 minute clip you can see that he consistently bends his knees and gets into an athletic stance on offense and defense,, that he has quick twitch athleticism, and that he can finish strong around the rim. Throw in the dive on the floor for a loose ball--dude is going to be a winner!
Hope Holtmann learned some things about his bench and rotation. W's feel good.
Carton should be playing 32 to 34 minutes per game