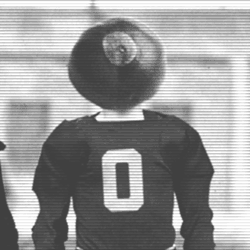 NYWoodyFan
---
Albany
MEMBER SINCE November 21, 2015
Favorites
SPORTS MOMENT: USA Olympic Hockey and 85 Yards through the Heart of the South
COLLEGE FOOTBALL PLAYER: Archie Griffin
Recent Activity
Prediction: If Georgia loses a close one to Notre Dame, we drop to seven.
The holding I am seeing is extraordinary. And Houston D is just bad
Let's see what everyone thinks of Grinch now
As long as OU can hold on every play, and Houston can't tackle...
No one gave Va Tech a chance in 2014. I think we are looking at history having a chance to rhyme here.
One week to fix a host of problems against aggressive phase from FAU defense. Fickell was there in 14, Day wasn't. I expect The Bearcats to "bear" down. Sorry, but I expect growing pains. Will come down to turnovers.
Read option won't work without the actual option.
We are losing two straight quarters to these guys.
Hello Cincinnati. Nervous already.
Really terrible series. What is going on?
If things go as planned, we will be breaking in a new QB against Notre Dame, and doing some polishing up the next week.
At least once over the next two seasons, our National title hopes will come down to Gunnar Hoak making a play.
Coming to play under Day is the perfect place for anyone with coaching ambitions.
A far more interesting question is prognosticating where he will rank after this season. Top five is my guess.
Kids exercising a little bit of leverage on millionaire coaches in order to keep their buddies together hardly deserves a scintilla of criticism. Get real.
Congrats to all three.
If this is the weakest position depth wise, well, I think we can sleep pretty well.
We won't quite control our fate because it's virtually impossible to run the table.
Penn State, Michigan, and Big West wins put us in.
Playoff may depend, per usual, on Michigan beating Notre Dame, or someone knocking off Georgia bfore SEC Championship.
These leagues may actually save college football. College football can no longer be considered a monopoly, therefore scholarship play can be preserved as players have options.
this just hurts the SEC bagmen,and gets rid of players who have no interest in their junior season. All good.
Who finished 3rd in the polls? Did they have clean bowl tests? Whoever that team is should award itself a national championship.
In a blow-out, does keeping your starter in really trigger quality reps?
I hope we don't see the old mentality of keeping the QB in past 50 or 60 reps without relief.
The offensive wasn't the problem. The defensive line wasn't the problem. Good news.
Time for Nester to sign up and face Larry Johnson's dojo, the best possible NFL training for a stud O-lineman.
Frankly this is exciting, but we are playing the 4-3 almost assuredly.
Even at a distant remove, the lack of chatter and communication on defense was concerning, including the simplest notion of calling "ball" on passes.
Scheme gentlemen. You're talking apples and oranges in some way. Personnel will perform far differently in next year's scheme. For example, if schene is designed to strengths, both Borland and Werner could be more successful. And I see LB rotation, with different linebackers involved more as matched up against certain teams. Only Harrison has earned full-time snaps.
Werner is a hybrid player, who might play better as a LB/SS in a scheme that resembles some of what TTUN employs.
I want to see this guy in the backfield or tight end on the goal line.
Luke Fickell would be the perfect replacement at Iowa.
I prefer head coaches who come from the offensive side of the coaching tree, and who seek aggressive defensive coordinators.
What Happened at the press conference?