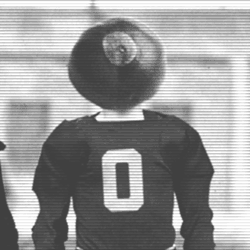 NYCBuckeye
---
MEMBER SINCE August 28, 2012
Favorites
SPORTS MOMENT: 2003 Championship / 2006 TTUN Game / 2013 Penn State Game
NFL TEAM: Philadelphia Eagles
NHL TEAM: Columbus Blue Jackets
NBA TEAM: Cleveland Cavs
Recent Activity
Incredible. Best one yet!
Exactly. Saw the same types of comments in the article announcing the new B1G Commissioner. Tells you all you need to know.
Just a horrible take in every way possible. Haskins was 13-1 as a starter, won the B1G Championship and Rose Bowl. Rewrote the single season record books. OSU is currently #1 (likely #2 tomorrow) and undefeated. Not to mention the fact that OSU has another year with a QB it wouldn't have landed had Burrow stayed. So please, tell me...how was starting Haskins a mistake? How would we have been better off?
It's not about simply "being paid." It is about denying an athlete the opportunity to be compensated for possessing 'value' others are willing to pay for.
If I had a full ride academic scholarship - should I not be allowed to a paid TA? or private tutor?
If I had a full ride for musical talent - should I also not be able to offer private music lessons?
And in no way, particularly at reputable power 5 programs, are those benefits commensurate with the value they bring in. If we're talking about fairness here.
Love this dude. He's quickly joining the likes of Demario McCall and Richard McNutt (am I missing anyone?) in the canon cult heroes of OSU football.
Can't be said enough: the quality of the people (not just as players) being brought into this program is special. Damn proud to be a Buckeye!
He's either being shady or intentionally uninformed. There are videos of him working with QBs individually or at camps. It is extremely common for players of any position to have individual coaches off the team's staff.
It's like saying "I'm not sure what Butch Harman or Hank Haney does." Avery coaches QBs and his track record suggests that he does it very well.
Reminds me of the concern after '15 of losing Eli Apple, Vonn Bell and Tyvis Powell.
Safe to say that '16 secondary filled in admirably.
It was one game on the road against a good team. Calm down. As for the Army game: this was a good Army team and Service Academies are always difficult (Navy 2010 - you know, same year OSU lost to a bad Purdue team and an overrated USC team? Season turned out pretty nicely)
Virginia Tech 2014, Iowa 2017, Purdue 2018, etc. Is UM as talented as those OSU teams? Not at all. But let the meat of the schedule play out before we presume them dead after 3 games. Not defending them, and I thoroughly enjoy their demise. But reports of it may be premature at this point. Thx
Malik Harrison has entered the chat
Why? He was going to be behind a quarterback who as significantly better. He chose to leave instead ifbbe his backup. I don't understand the continue obsession with someone who doesn't even play for Ohio state.
The 2017 and 2018 recruiting classes were ridiculously good
Hard to blame him as I assume he was born around 2001-2002. Children of a different era, indeed. He will soon learn.
Wondering how different the responses would be if it concerned Nick Bosa last year. I know the situations were different - given Nick Bosa was (involuntarily) injured - but he still chose to leave the team to begin training/rehab in California (as a captain). I had no problem with him doing it at all, just think the thread would tilt more towards give him the damn ring than we see with Bryant.
the original bum juice formerly known as Jourdan Lewis
The headline is almost as funny as the Mark May...motion. Almost
All facts. But keep in mind you're responding to someone who legitimately thought Tate Martell should start over Haskins (DURING the season). *Bosa shrugs*
Give Haskins that 2016 defense and we're looking at another title.
Here for all the internet tough guys who would have *definitely* punched the doctor in the face (and thereby run the risk of sacrificing their scholarship, possible criminal charges, and a ruined reputation)
Zeke was such a screw up yet it was a) Joey who was suspended for the first game and b) Zeke that still went 4th in the draft (high for an RB) and dominated his final year (Joey too had a strong year but to suggest Zeke was 'horrible influence' is a bit much)
Qwhite the head scratcher
People will make a big deal out of this, but it is not THAT much different from JUCO rankings that 247 also uses. It's an easy way to find / organize information on transfers in a given offseason.
I have yet to see any evidence that the transfer portal has caused a rash of transfers in CFB. It's not as if the portal created transfers. Just seems to be a good marketplace for schools and transfer players to connect. It's going to be fine.
Did Harbaugh's mother make these predictions?
Same can be said for Haskins and Barrett last year.
Martell couldn't beat out a guy who had not started a single college game (Haskins). Fields didn't beat out a guy who led UGA to within a play of the national title as a true freshman the prior year. B1G difference.
Fair point. They also dominated inferior offenses - which is what good defenses are supposed to do, and where we failed, even with superior athletes.
What's so difficult to see?