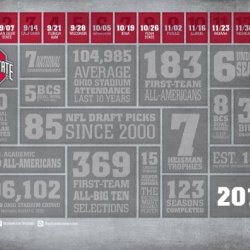 nvbuckeye
---
MEMBER SINCE September 12, 2010
Recent Activity
True and YSU was 15-0 one year in the 90s.
Fouts was an ass-hat the entire game.
Agree, Porter first signaled holding then PI. Whichever it was still a penalty and the official made a good call. Fouts was supposed to be non-bias but showed the entire game he was in miami's sideline.
Agree.especially the part about Fouts. That was the most bias football broadcast ever on TV
September 1966, went to the back to college dance on the roof of the Student Union. Saw lots of gorgeous girls and knew I made the right decision to attend OSU. Spent lots of time there for lunch, movies, some studying and just hanging out.
Drive, drive on down the field. Never be the class that breaks the streak.
GO BUCKEYES!!!!!!!!!!!!!!!!!!!!!!!!!!!!!!!!!!!!!!!!!!!!!!!!!!!!!!!
An Up Vote for each comment. All is right in the world for another 365.
GO BUCKEYES!!!!!!!!!!!!!!!!!!!!!!!!!!!!!!!!!!!!!!!!!!!!!!!!!!!!!!!!!!!!!!!!!!!!!!!!!!!!!!!!!!!!!!!
Heard it in Gardnerville loud and clear, too.

To the Funk brothers, I remember your dad kicking that 17 yard FG to beat the skunk weasels in '65. It was an awesome battle and he did his job to win the game for the Buckeyes. Do it again this Saturday: Beat _ichigan.
GO BUCKEYES!!!!!!!!!!!!!!!!!!!!!!!!!!!!!!!!!!!
One more comment: last year I attended the Rutgers games, 51 years between seeing games in person in the Shoe. I have seen them play in person in Arizona and California 3 times. Next year I will be in Eugene to watch the Buckeyes destroy the ducks again.
GO BUCKEYES !!!!!!!!!!!!!!!!!!!!!!!!!!!!!!!!
September 1966, my freshman year, I sat 4 rows up from the field on the last seat before the end zone. I could see the back end zone line right in front of me. Also, the prettiest cheerleader was right down in front. Not the best seats but I was inside the stadium. The '66 _ichigan game was cold and wet and ended a sorrowful season (on the 2nd losing season for Coach Hayes).
In '67 I sat in the south stands, looking right over the goal post crossbar. For the Iowa game (last game of the season at home) many of the Block O did not show up so they invited anyone to come sit in Block O. It was at the north end then and out of the wind. It was so cold that day. I don't remember if I held a red or white card but I was for one game a member of Block O.
Great memories of the games (even the losses) in Ohio Stadium that I still cherish today 50+ years later.
GO BUCKEYES!!!!!!!!!!!!!!!!!!!!!!!!!
So agree, Buckeye 1964. It is nice to read someone else writing what I have been thinking all year. This defense is 180 from last year, probably because the coaches are using the players like they should be used. Attacking instead of running to a spot after the play went elsewhere.
GO BUCKEYES!!!!!!!!!!!!!!!!!!!!!!!!!!!!
Don't remember Kiffin being the backup in '94 with Fresno State. My wife and I were at that game as the Buckeyes kicked off a great season. GO BUCKEYES !!!!!!!!!!!!!!!!!!!!!!!!!!!!!!!
Baldwin read the writing on the QB room wall and made the right decision. He was never going to get a real chance to play at OSU anyway (ala Joe Burrows). If Day did specifically go after him to be his starter than why did Day go after Fields too? Don't give me the "you need 2 QBs to play and win." Baldwin should get a better look somewhere that appreciates his type of QB.
He'll probably telework for that scratch.
For sure, in my last year before retiring, I made slightly more than $100K. Maybe I can figure how to reverse the equation to the opposite of Meyer's change in income.
Agree, another case of Meyer not wanting to embarrass a friend. It could have been 49 - 23 if OSU had played a full out 4th Q.
Still, another Rose Bowl trophy for the Woody Hayes center.
Your comment about the "confident, arrogant fan base" of oregon is well said. I sat in a gaggle of ducks in 2010. There were appalled that I told them the Pac 10 or 12 or whatever it is, does not play defense. They kept honking their pitiful duck call until the 4th Q when the game was mostly over. By the last 4th Q most of them had left.
2019 Rose Bowl was another awesome day for us in Buckeye Nation. Thanks for the quick highlights.
GO BUCKEYES!!!!!!!!!!!!!!!!!!!!
Martell is, was, and always will be a primadonna. Why do you think he was recruited by Bishop Gorman? No one plays at BG unless they are recruited. It is a private Catholic school that has a nation-wide recruiting base. When Coach Meyer went after him I knew it would not last. He is not a Big Ten caliber QB: to short, not enough arm strength, and defenses know, with him in the game, all you need to do is go after him. He won't throw the ball much because he wants the spot light on himself. Just ask any of his former BG teammates.
He is from that stink hole down south (from my house here in west central Nevada) and was a primadonna there, too. His cry and bolt reaction is no surprise to anyone out here.
Now is the winter of our discontent. 8 months of emptiness. Can we fast forward or time warp to Aug 31?
GO BUCKEYES!!!!!!!!!!!!!!!!!!
So agree with others about Okudah. White was great but Okudah made several outstanding plays that screwed up the huskies many times. Between them both the back 4 made life hard for WA all game. Too bad White missed out on the INT pic 6.
BTW, the official stats did not list an INT for the Buckeyes. Did I miss White's or was I dreaming?
GO BUCKEYES!!!!!!!!!!!!!!!!!!!!!!!
Not the dominating win it could have been, it was still a win in the Rose Bowl. Thank you 2018 Ohio State Buckeyes football team for another super season. Too sad it is over already as this team was really jelling. Time to build for the 2019 season with Coach Day.
Seven years ago when OSU hired Urban Meyer my thought was "if he stays more than 7 years, I will be surprised." Sadly my thoughts are real. He did super with the program and leaves on his own terms. Ryan Day has an unbelievable base to begin on. What Tressel and Meyer built will continue to grow and win. Buckeye Nation will be strong and so will the Ohio State football program with Day in charge.
GO BUCKEYES!!!!!!!!!!!!!!!!!!!!!!!!!!!!!