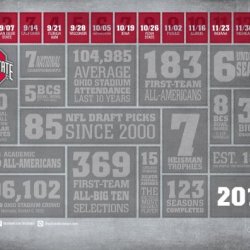 nvbuckeye
---
Member since 12 September 2010 | Blog
Recent Activity
True, but you need to include the pic of him in that piss yellow clown suit?
This Buckeye has to agree with scheduling Ohio teams for early home games instead of Eastern Michigan or UNLV. Why not keep the dollars in Ohio. Yes, it is not Ohio State's job to help other Ohio teams make their budget but seeing Toledo, BG, Miami (the original), or Kent in Ohio Stadium makes more sense than UNLV. GO BUCKEYES!!!!!!!!!!!!!!!!!!!!!!!!
For anyone writing about JT's scheduling early season cupcake games, especially in 2002, just remember that those 2002 games were probably set long before Coach Tressel arrived at Ohio State. GO BUCKEYES!!!!!!!!!!!!!!!!!!!!
How about Likskillet (sp?). Bob Kelly, WCWA radio Toledo, used to talk about Likskillet and Knockemstiff back in the 70s.
If not for G. Smith, the Buckeyes would be playing for #900 in September. Also, if not for Ohio State playing 1 game less each year than other teams in the 50s, 60s, & 70s (9 in 50s & 60s and 10 in 70s), the Buckeyes might already be past 900. Maybe even ahead of that community college team up north. Still, I will be sitting here in the Brutus Cave this fall watching as they charge towards #900.
GO BUCKEYES!!!!!!!!!!!!!!!!!!!!!!!!!!!!
BTN did a great job of broadcasting the match. Still, the match was over before OSU #1 Singles player F. Di Lorenzo beat their #1. The match was still in the first set with Di Lorenzo leading. Also, the #2 player was tied, so a 6-0 sweep could have been.
Congrats to the Lady Buckeyes on a great weekend of tennis. Best wishes at the NCAAs. GO BUCKEYES!!!!!!!!!!!!!!!!!!!
Thanks, LMFAO this morning at this. GO BUCKEYES!!!!!!!!!!!!!!!!!
If it was not for scum's pr hype-machine, no one would have heard of him outside of the outhouse.

Probably was traveling to some high school kids house to sleep on his floor, too.

This play happened right in front of me. If Sein had any speed he would have scored. Still loved the play and how much the Buckeyes whopped the ducks that day. GO BUCKEYES!!!!!!!!!!!!!!!!!!!!!!!!!!!!!
You must be referring to Carlos Hyde in 2013.
OK, all you old Buckeyes: the video shows Bill Mrukowski faking the handoff to Bob Ferguson, getting a great cut block from Matt Snell and throwing to Charles Bryant while Paul Warfield watches. This is a 1961 game but I can't make out the opponent. Still the one of my favorite years of Buckeye Football. GO BUCKEYES!!!!!!!!!!!!!!!!!!!!!!!!!!!!
One bright spot in this is that we will never have to watch Loving play in a Ohio State men's basketball uniform again. Maybe with that boat anchor gone, Coach Matta can develop some leadership for next year's team. I vote for Kam Williams or Trevor Thompson (if he stays) for 2017-18 team captains. GO BUCKEYES!!!!!!!!!!!!!!!!!!!!!!!!!!
Please NO!!!!!!!!!!!!!!!!!!!!!!!!!!! Let this season end.
Forget the hat, where did he get that coat?
This story reminds of an incident several years ago here in Nevada. Nevada Coach Chris Ault had to be a Woody clone. He was a tough as nails football coach that served in the community much like Coach Hayes. Like Coach Hayes, Coach Ault hated their rival, UNLV. So much so that he let everyone know that he would never wear red and had no red clothes in his wardrobe. At a Carson City Toyota dealer charity event someone offered a $100.00 donation if Ault would have his picture taken in a 1970 red Toyota. Ault refused until the donation got to $500.00. Then he only leaned against the car but never got inside. You have to respect a guy like that. Somewhere Coach Hayes was smiling down on his protege.
If that is what you think then you do not know much about OSU Women's basketball.
Considering Ohio State had one senior this year it is pretty easy to identify which player he meant. Loving might go down in history as the all-time worst 4-year starting player on any OSU team.
Just a couple of thoughts about OSU Men's Basketball:
1. I have watched the Buckeyes play BB since 1959. I still hate Cincinnati for what happened back then. Still think those were the best overall teams in OSU BB history.
2. Marc has to be the most disappointing 4-year player in OSU history. He showed great promised his freshman year but disappeared since. The .gif of his "half-assing" the rebound defines his career with the Buckeyes.
3. With Coach Matta's system of wanting players to play both ends of the court he will find it hard to sign the top players each year. Today's "playground bball" guys only want to score to impress the pro scouts. They don't care about defense because that adds no points for pro scouts (just ask Aaron Craft).
4. Reference #3, without 4 & 5 stars players, it is tough to compete against today's high-scoring offenses. Then you add in the "half-assing" play of some of today's players on the roster, you get results of the 2016-17 season.
It was really hard to watch this year's team play. They had no leadership. They hade no heart. Plus, I totally disagree about the talent level of the players and assistant coaches. These are 3-star players trying to compete against 4 & 5 star players in a system that does not want them to free-lance. How could they total destroy Wisc. then stink up the Schott against Rutgers?
My opinion is to end this season today and start building for next season. If Coach Matta stays then okay. Maybe OSU needs a new culture in OSU BB. That might start with dumping more assistant coaches then players. It seems to be working for Coach Meyers.
Great win, Buckeyes!!!! This is what we fans have been waiting for lately. Good luck the rest of the season.
GO BUCKEYES!!!!!!!!!!!!!!!!
If you want to know more about Warren Buffett, there are several good books about him. He is a big sports fan but I don't remember reading too much about him being a Husker fan. It is really cool that the he has the JT signed football. I have one very similar to it.
GO BUCKEYES!!!!!!!!!!!!!!!!!!!!!!!!
Another great day for Buckeye football recruiting. It will take a few years to really grade whether or not this is truly a #1 class nationally. It is certainly the #1 class in the Big 10. However, while I believe this is a top 5 (at minimum) class I am not sold that UFM has a top 5 coaching staff nationally. After what has happened the last 2 seasons I will withhold judgement on the current staff until January 2018.
Welcome to Buckeye Nation to all the new players. We look forward to great success from you. GO BUCKEYES!!!!!!!!!!!!!!!!!!!
See you all in Section 441, Row 14. GO BUCKEYES!!!!!!!!!!!!!!!!!!!!!!

Only 26 more hours to go. See all you crazy Buckeye fans in Glendale. Can't wait to be in Buckeye Nation Arizona this weekend.
GO BUCKEYES!!!!!!!!!!!!!!!!!!!!!!!!!!! Skin the tigers.
HAPPY NEW YEAR BUCKEYE NATION!!!!!!!!!!!!!!!!!!!!
My wife and I have seen the Buckeyes play 4 times on the west coast (Anaheim, Tucson, Pasadena and Berkley). All victories. She won't be with me this time (new job and can't get time off). Still, my faith in the Buckeyes winning on this side is ultra-high. Anyone not wearing Scarlet & Gray will be a tourist. See you in 2 weeks. GO BUCKEYES!!!!!!!!!!!!!!!!!!!
It has been almost 2 weeks since I bought my tickets. I know of at least one other Buckeye couple from here that are going, too. The west coast portion of Buckeye Nation will be out in force in Glendale. See you there in 2 weeks.
GO BUCKEYES!!!!!!!!!!!!!!!!!!!!