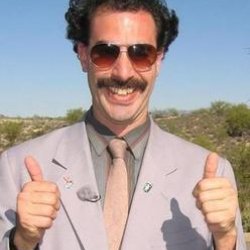 NuttyBuckeye
---
Lake Orion, Michigan (via Bellevue, Ohio)
MEMBER SINCE March 20, 2014
Recent Activity
Aha! Thank you for that, I forgot.
I think Dobbins will rush for 1,200-1,400 yards this year and be a large force in a run game that should be back in the top 15-20 nationally at the year's end.
I feel like I've been out of the loop with the O-line... Jonah Jackson is a surprise to me. I didn't pay much attention to him in the Spring Game. Good for this young man!
If you could place a bet on one of these records to never be broken, it's Archie's 31 consecutive 100-yard games, for sure. That is almost unbelievable and if I didn't actually watch it for myself, I wouldn't believe it.
Simply amazing college athlete.
LOL Lighteyes, kinda like a certain team up north??
Exactly, Earle!
I wonder if Reggie will be paying for Meyer's house the way his parents had money handed to them. That USC "recruiting" is illegal fella.
LOL - it's almost the equivalent of a change-up in baseball.
This young man may get his 5th star before he graduates. He throws a nice ball. Great placement with some throws for a young guy as well.
That call against Ward still pisses me off...
Not only was it a clean hit - he got the receiver UNDER his pads AND used his shoulder - but it was a clean fumble...
Dammit...
LOL - hence my screen name.
I thought the player of the game was Wilson - young man is a STUD. That TD catch was an INT waiting to happen and Wilson came in and stole candy from a baby on that play. He will be starting by game six I feel.
Potter is the spitting image of Joey Bosa - minus the pigeon-toed walk. This young man will be a future stud as well.
Petite-Frere has the perfect O-lineman body! Nice long arms and he is a mammoth that can move. Both he and Bowen look the part of an O-lineman. Wished they both could be on the field at the same time.
Young Mr. Harrison will be a stud but first he needs to add muscle and learn from Coach LJ. He has a tough time engaging from the lineman, but that is easy to fix. In two years, he will be nearly impossible to stop.
At this point Fields should be the starter. He is the much better runner and he will be damn scary in open field. He reminds me of Troy Smith and Braxton Miller. I think he leads us to a National Championship before he leaves.
The linebackers WILL BE BETTER than last year. We have lots of speed and power there and this won't be our weakest position group this year.
I know I am a little biased but that has to be the very best way to propose to your lady. Wow...
Congratulations, you two!!
The talent above him better be worried. If they don't perform and catch the ball this young Buck will find them a spot on the sidelines in a hurry. Wilson DOES NOT look like a freshman!
I agree, Sav. If you want to charge us, make this more like a game. I can understand the not wanting to risk injury but this is football. If you don't like to get hit - go find another sport.
Start the nickname now - Tyreke the Freak!
Jd - yes I did because you were talking about Tuf not being agile and not able to cover in pass coverage. They both play the Mike and it is fair to compare them.
Now, if I was comparing Chris to say, Darron Lee, that would be wrong. They both played different positions of LB. Lee was EXPECTED to be able to cover and use his speed at his position.
Edit - I think Fields will be over - DID NOT realize the article said total offense for him...
I need to wake up.
Let's hope the "too much talent" at receiver ends up being right this year. We have quite a few young-uns and Vic NEEDS to catch more balls and not let them slip through his fingertips. The WR group HAS the talent to be great - BUT they are young and inexperienced. I also think we have a few deep threat guys to help open up more room for Dobbins on the ground.
This could be another playoff run season.
Oh yeah! Hence my tag. I want a tattoo of it on my arm.
Seems to me a certain LB who played for the Lions, Browns, and Bills was from that same mold and he did pretty damn good at Ohio State. Chris wasn't the biggest or fastest player on the field but he sure was the smartest - and by far.
House - you bring up a great point.
I will be really watching The Game this year and a little nervous. Mattison and Washington were on the perennially losing side of that battle. Our offense seemed to shred their defense and their D came in highly ranked in almost every category in the stat book.
On the flip side though, these two should know the scum offensive tendencies and this could be helpful in preparation for the ugly helmets. The outcome will tell us.
They sure do - look at all those wins against high school teams and "clubs".
Sounds like it's a Night and Day difference.
A coworker of mine is from Jersey and is a BIG Giants fan. He heard the G-men may be interested in a trade for Josh Rosen and he hopes it is BS. He wants Haskins badly and says he fits the system. Rosen does not and he thinks Rosen would get broken in half if he became a Giant.
I can't wait to see how this shakes out.
I'm with you, Pastor. I would take OSU straight up this year.
Many scum faithful up here think they finally get the monkey off their back and they will start to own Ohio State again. I tell them that Day is no slouch and The Game will be much closer than they expect. But yeah, go ahead and get over confident.