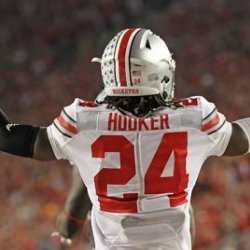 Nuts4MyBucks
---
San Diego (via Toledo)
MEMBER SINCE October 14, 2017
Recent Activity
He's my favorite player since Malik Hooker.
That would be more of a insult to us.
We're winning it all this year.
We're winning it all this year.
Omg what is happening!!!!!
I'm predicting a shut out.
Holy crap. Let's play some football!
Defense will be my favorite side of the ball again!! Go Bucks!!
Fields to be named starter around noon.
I am beyond excited to see our defense this year.
ALRIGHT....
I'm F-n excited!
Kids have no heart nowadays.
Absolutely love this!! I hope Harris humbled Arnette, personally I don't think he's that good. Decent at best.
I'm right behind you bro lol (pause)
Thank you for everything!!! You have been a joy to watch young man.
Seriously, I can't wrap my head around this. We lose a Mount Rushmore coach and somehow get better. Lol feels good to be a Buckeye right now!
I wouldn't call him elite and yes the SEC championship wasn't on him but he still didn't do what was necessary to win.
I have a friend who is a UGA fan and he's so pissed at Kirby Smart for it ultimately coming to this, he's swears up and down that Fields should have been starting since mid season. He's even went so far to say he's going to catch a couple more OSU games if Fields transfers. They all seem to share the same sentiment that they (UGA) let a phenomenal player walk. Jake Fromm is a game manager, I understand their pain.
Hurts me to say Haskins needs to go. OSU hasn't produced talented QBs like him in a while if ever. Let him go on to the NFL and dominate.
Agreed. UGA's loss was embarrassing, Fields is definitely gone. I for one wish Tate would just be quiet and let his play speak for him it seems he's threatened already, rightfully so. Personally I'm not sold on Tate YET mainly because of how our offense is ran now, I wish I was more confident in his accuracy and arm talent but I'm not. Will he have the discipline to go through all his progressions or will he take off at the quickest opportunity? I don't know and that's my issue. All that said I'm going to be behind whoever's at the helm. Go Bucks forever!